RevoLaze, LLC (USA) recently launched CarbonLaze, a breakthrough software tool to automatically convert pictures of jeans into laser ready files. By greatly decreasing the time to create a laser file while keeping the authentic look of the denim standards, CarbonLaze strived to provide a much-needed solution to the rapidly expanding laser finishing market.
Speaking to RevoLaze about the launch of this new product after two months, we had an enthusiastic response from the RevoLaze team:
"Over 40 users from 15 different counties have already signed up and tested CarbonLaze software, resulting in 100s of laser files being created and available to use in production. The market reception has been filled with positive outcomes and satisfied customers."
Laser designers have realized the ease of use to convert files with CarbonLaze, including laser designer Myrm Sheikh in the Pakistan market who mentioned –
"CarbonLaze is very user-friendly software. As I observed in my development during the trial version, these kind of natural effects were not easy to draw before CarbonLaze".
Myrm also was impressed that CarbonLaze files only needed "a few minutes" of editing before they were ready for production.
DCC Clothing's Noman Khan, Manager of Laser Design and Production, stated that he "observed that this software will be a solution to eliminate hand touch-ups." Please see one of Noman's designs below.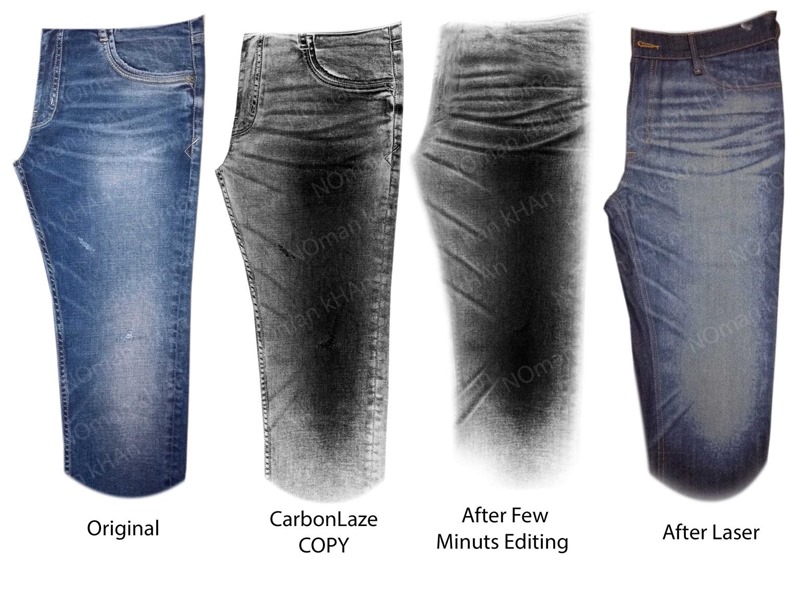 Along with denim manufacturers, several denim brands are also using CarbonLaze as per RevoLaze. These brands can now go back to their archive of vintage garments, quickly convert them with CarbonLaze and send the laser files to their manufacturers. By starting the laser file creation process with their internal design teams, they can ensure they get the exact natural and authentic look they want from the finished denim garment.
To assist with new and current users of CarbonLaze, RevoLaze has representation around the world to remotely or directly train employees and answer any questions. For the Asian market, RevoLaze has two country managers, Affan ur Rahim (Pakistan) and Ankur Chauhan (India), who have a combined 20 years of laser design and production experience.
This experience has been instrumental towards the creation and implementation of CarbonLaze, a software that Affan describes as "one of the greatest developments in laser technology." For Affan,
"Normally, before CarbonLaze, we designers could spend a whole day to try to get our design to look natural. The result can be artificial. CarbonLaze resolved this issue as I get good characteristics on the fabric from the software. Overall, I am doing 5 hours of work in just 20 minutes."
RevoLaze has also started to partner with industry representatives, including GDS Chemical, to provide support to Bangladesh and other key countries.
RevoLaze gave another example of how their software works wonders:
"Another of our customers took one of their vintage garments and converted it with CarbonLaze. In just a few minutes, a replica of the garment and wash characteristics were ready to be laser etched."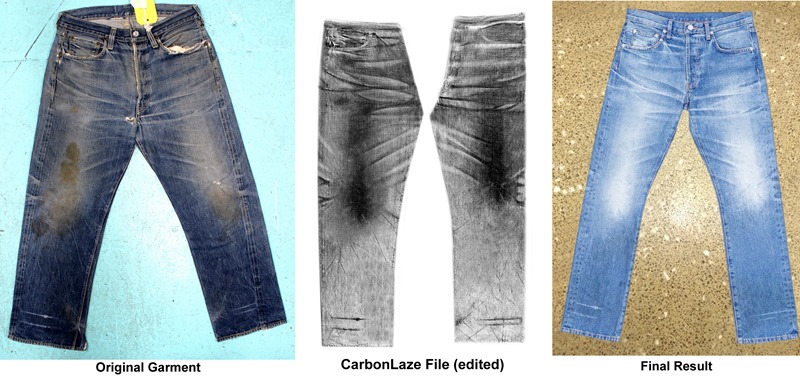 For more information on CarbonLaze online software, please go to https://www.carbonlaze.com or contact Ryan Ripley at info@carbonlaze.com. On the website, you will be able to trial the software and even watch a CarbonLaze design tutorial. The CarbonLaze membership is monthly and includes 12 downloads each month.
About RevoLaze LLC
For over 20 years, US-based technology firm RevoLaze has been dedicated to creating and implementing patented laser processes. RevoLaze technologies help mills, manufacturers and denim brands lower overall cost while increasing volume and design capabilities. With over 30 patents granted, some of the biggest denim brands and manufacturers in the world license RevoLaze technology. For more information, please visit http://www.revolaze.com.