When the rental cloth model of business was introduced, millennials as well as the Instagrammers perceived this as a disruptor in the clothing industry.
The initial few years were very encouraging and according to a market research report – the global online clothing rental market was valued at $1,013 million in 2017 and is estimated to reach $ 1,856 million by 2023, registering a CAGR of 10.6% from 2017 to 2023.
In 2017, the rental clothing business was mostly ruled by North America with a 40% share globally, however, later Europe and South East Asia also picked up with this new business model.
The report further states that the women fashion contributed over 58% share and Ethnic Wear emerged as a category that posed considerably high growth over the period of time.
All the good stories and all the great business models were put to litmus test when COVID actually started infecting cash flow and disposal incomes all around the globe. The disruption in the supply chain was apparent, people were keener to spend more on necessary articles including immunity boosters and insurance, and therefore renting a cloth for the members of the household turned out to be an unpalatable deal.
There are many new startups which were considered as the market disruptors are now closing their business citing liquidity crunch in the market, the recent casualty is the clothing rental start-up Rent the Runway.
Rental clothing business heavily relies on the special events and occasions happen within the society in different capacities special like weddings, birthday parties and black-tie events but COVID forced everyone to follow social distancing which adversely impacted this model of business.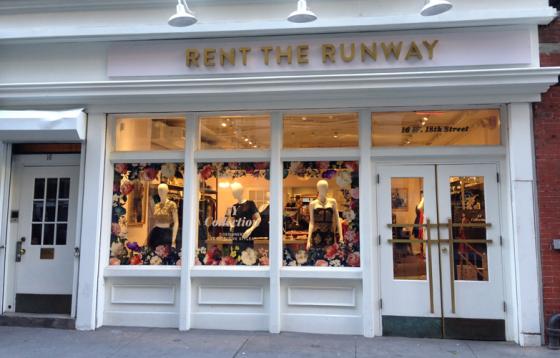 While speaking to The Wall Street Journal, Jenn Hyman- Co-Founder of Rent the Runway said she was hopeful business was going to bounce back, and the company would come out of the pandemic even stronger than before it went into it.
Another rental clothing start-up which announced its exit is Le Tote which bought Lord & Taylor stores also.
Clothing rental is "really operationally complex," and so far there hasn't been "a proof point" that the business model will be successful, said Byron Ling, a partner at Canaan Partners, who invests in consumer startups but isn't involved with Le Tote.
Le Tote had performed pretty well until 2018 however last year the company witnessed a massive slowdown. In 2018, the company earned $60.8 million however in 2019 the revenue dropped up to $32.6 million and in 2020 COVID led to an unexpected fall in the subscriptions due to sudden liquidity constraints amongst the American households.
LEVIS LATEST COLLAB IN RENTAL SPACE
The Danish fashion retailer GANNI has recently collaborated with iconic denim label – LEVIS to bring an exclusive collection named- LOVE LETTER, a rental only capsule collection.
The articles of this collection can not be bought, one can only rent articles for their use. The ownership model has been swiped with the sharing model and this could be construed as final beta testing for both the brands. GANNI launched a similar project last year in Denmark also to test the water.
Ganni handpicked each pair of vintage 501's with Levi's for the project to upcycle and give them new life making it a personal process.
The collection is supported by Near Field Communication (NFC) digital experience and will be available to rent in the UK, Denmark, and the US. This will enable delivering of a 'post tap' curated experience through the NFC chip embedded with the back-patch of each piece.
Consumers will be able to rent the products by simply tapping the NFC enabled size patch with a smartphone. Later on , they will be able to unlock the history of each piece.
There would be three denim articles in this collection – a button-down shirt featuring Ganni's signature oversized Peter Pan collar, as well as a pair of jeans, and a shirt dress. The attraction of these garments would be its processing. All garments are made from upcycled vintage Levi's jeans and repurposed denim. User will be able to enter a connected world videos , stories and exclusive content from global shoots, style inspiration etc.
As per GANNI, the weekly rental starts at exhorbitant $55 for a week and goes upto $145 for 3 weeks and users can choose to rent each piece (or multiple pieces) for one to three weeks at a time through the Ganni Repeat website.
Ganni's creative director Ditte Reffstrup told Vogue magazine that the collection was born before the worldwide Covid-19 lockdown began. She said: "We joked about how it was the easiest and lightest collection we had ever made."
Whether this experiment by Levi's will work out or not , time will tell . But it is a great sustainable effort where the repurposed denims will get a new and long life adding value for all concerned.
The rental prices seem high compared to existing rental service providers but it remains to be seen how consumers will react in the current climate.
High-End:
Rent the Runway (Starts at $30 per rental)
Vince. Unfold ($160 per month)
Rebecca Taylor RNTD ($159 per month)
Switch Jewelry (Starts at $29 per month)
Work-Ready:
Infinite Style by Ann Taylor ($95 per month)
Infinitely LOFT ($64.95 per month)
Express Style Trial ($69.95 per month)
Trend-Savvy:
Le Tote (Starts at $69 per month)
The Ms. Collection (Starting at $59 per month)
Gwynnie Bee (Starts at $49 per month)
Haverdash ($59 per month)
NY&C Closet ($49.95 per month)
Rocksbox Jewelry ($21 per month)
Armoire ($149 per month)
nuuly by Urban Outfitters ($88 per month)
Mens:
The Mr. Collection (Starting at $59 per month)
The Black Tux (Suit rentals start at $95)
(via- mysubscriptionaddion .com)