According to a CNBC report from US , sixty-five percent of the women said that they will not feel safe trying clothes in fitting room while 54% men and about 49% of millennials also felt the same due to the Covid-19 crisis through a poll conducted in End April. Similar numbers say that they will be very uncomfortable coming in contact with sales people.
So how can we arrive at a "low touch" solution for an industry accustomed to "high touch" . However, not withstanding these problems, the stores are on their way to reopen. Kohl's became the latest major retailer to reopen stores this week, with four stores opening on May 4 and 10 more opening on May 11, all with additional safety precautions but the fitting rooms will be closed. Luxury lifestyle retailer Tapestry has opened all stores in China and plan to open many in Europe , Australia and Japan. More than 300 Coach, Kate Spade and Stuart Weitzman stores across North America may provide store pickup options
Many retailers are rushing to create their own solutions to this problem and to attract customers back into their stores .
Macy's plans to only leave open a few fitting rooms and will hold all merchandise tried on or returned for 24 hours as they enter into their phased opening of stores.
Kohl's is holding all returned merchandise for 48 hours and has closed all fitting rooms .
Gap is holding the merchandise for 24 hours and will not open fitting rooms.
Saks will quarantine all clothing used in fitting rooms for 48 hours They are also offering appointments, curbside pickup, and virtual shopping appointments via FaceTime or Zoom.
Kick Pleat has clear signs that all customers and employees must wear masks , all surface and handles are cleaned after every customer visit.
ByGeorge has installed door bells on its stores so that they can control the traffic coming in .
However, these measures are not enough. There are much more detailed procedures which the retailers must adopt to ensure customer trust. There are , though, no uniform strategies being followed by the retailers or the governments. This is bit strange because there should have been SOPs in place by all major governments by now to ensure that the protocols are followed as business opens and pandemic does not spread.
More permanent options are being explored-
To clean the garments using ozone-based technology within 1 hour which ensures 99.95% of all bacteria and viruses are killed.
Killing Covid-19 with ultraviolet light is another option retailers are looking at.
Number of major retailers deploying its products in stores or backrooms.
Some stores like Men Suit Suppliers are even allowing customers to pre book the fitting rooms so that they can sterilized the fitting rooms before the customer's arrival.
Some employers from men's apparel brand Bonobos are turning their social media accounts into virtual shops, showing off styles and various outfits online, then directing people to buy them on the web.
Customers will be allowed in only after they undergo thermal screening and they sanitize their hands. Air conditioners will be switched off.
Virtual meetings are being planned before the visit , so that the garments can be prepared for an individual customer before his visit .
Men's suit maker Suit supply is installing standing partitions in its stores as they reopen, which it says allow for "safe up-close interaction" for people who want their jackets & pants to be fitted. The giant Mall of America is planning to open on June 1 but they have not clarified what health and safety methods they would be following for the opening.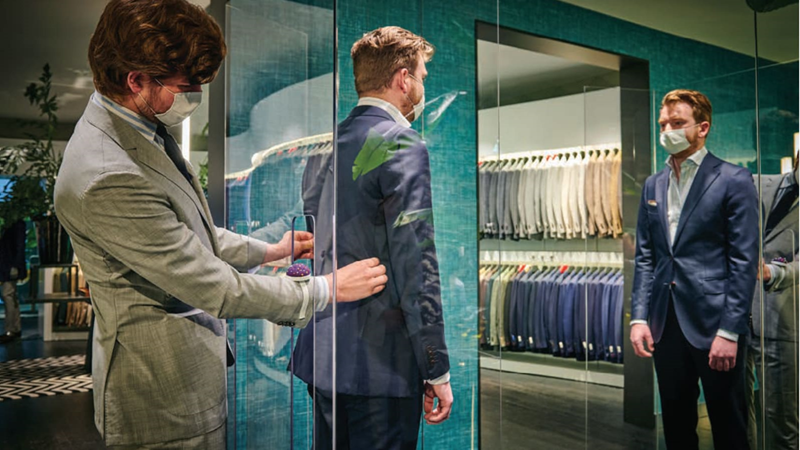 Window shopping might also be making a comeback if consumers feel safer like this more. A boutique teen apparel clothing shop in New York has been shut in this pandemic situation. But the mannequins in the store stand fully clothed in the windows. And a sign over the door reads: "See something you like in the window? Feel free to text or call"
We need to see if these precautions work against the COVID19 and we really hope they do. Otherwise we face painful lockdowns and closures again.