With a history of more than 150 years , Tavex is a name to reckon in the global textile industry. Starting in 1846 as "'Fábrica de Hilados, Tejidos y Estampados de Bergara" , the mill produced Indian and other cotton fabric using the indigo dye right from the beginning. It took the strategic decision to invest in denim manufacturing in 1970 and brought the first Rope Dyeing machine to Spain. Thereafter , it has been a story of continuous growth and expansion crossing various milestones on the way. A few years back , Tavex and Santiesta (Brazil) merged and created a large textile conglomerate.
On the recent visit to  New York , I met Tavex team who participated in the show . It was a good oppurtunity to know more about the company and I chatted with Jeannie who looks after the marketing and product development for the North American market  . She  very kindly updated me with  various informations. Here are some excerpts from the chat :
Hi Jeannie, Tavex and Santiesta have merged. How is the group operating now ?
The merger  happened almost 4 years ago . Tavex and Santiesta came together and created the NEW Tavex Corporation . We are doing upwards of 150 million mtrs of denim and we all work under the Tavex umbrella for denim . We manufacture both flats and denim. Denim is made in Morocco, Brazil , Chile , Argentina and Mexico .
Flats and work wear fabrics are produced in Morocco and Brazil. TAVEX purchased 2 factories in Mexico a couple of years back WITH THE INTENT OF doing DENIM product at the same level as we do in Europe but closer to the American market. These factories are the primary responsibility for the North American Sales team although we also represent our highly influential European collection here in the US, as well.
Under Santiesta name , is denim not produced any more ?
Denim is  all Tavex now . A Lot of people still reference Santista,  in South America , because it has always  been a big name in denim and it  is still very much a part of  our workwear / uniform  business in Brazil..
So  probably you are the second biggest in the world now for denim production ?
We are the largest in the Americas and Europe , but not completely sure how we stack up to some Chinese mills. So I am guessing that we are 2nd .
How have the last couple of years been for Tavex's growth ?
The last 3 years for Tavex have been all about restructuring to meet the needs of each region . In Europe and the US , in particular , we made many many changes – buying plants , moving or replacing equipment , hiring new teams etc . But , today , we have overcome all the start up and restructuring issues and have emerged a much stronger force . We have always had a strong financial position . But , today , the company worldwide is much stronger in product innovation , quality and service . We are expecting  great results for 2010.
What are the latest trends in the denim fabrics that  you are noticing?
Stretch and more stretch, always with a soft touch , continues to be the biggest volume trend. In Mexico, we have put a LOT of emphasis on growing our stretch business – both comfort and stretchy stretch. We have a great deal of internal yarn capability that allows us to offer a wide range of fabric characteristics that emulate our premium , European stretches , but manufactured much closer to the market. We have a very nice menswear business . In better fashion basics that we are continuing to expand with new shades, finishes and yarn aspects as we see the menswear market continuing to demand better , more interesting fabrics as well. One of our largest programmes is actually a stretch programme for the men's market . We see this segment growing as well.
Any other products of Tavex that you would like to tell us about ?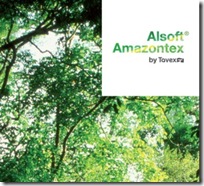 We have a few really unique developments like eco friendly , fair trade products and Wellness textiles. We have a finish called Amazon Tex which comes from a nut which is harvested in the Amazon that supports the indigenous people of the rain forest . We are also embarking globally on Therapeutic or Wellness textiles . Our first development in our 'Denim Therapy ' Group is called ' Energizing' . It is regular denim improved with a bio – ceramic complex application. This application pulls the far infra red rays of the stun, stimulating the molecules in the body , which in turn improves ciruclation and gives you a better sense of well being . It also improves your equilibrium giving you better balance .We have had a lot of fun proving this improved balance with our customers. It really works and the BENEFIT  is IMMEDIATE . The application has been used in lot of high tech fabrics like skiwear and medical apparel . This is the first time it has been APPLIED TO FABRIC FOR EVERYDAY CLOTHING.  It is not a cheap process but there is a growing market out there – Clothing for the elderly , skate / surf / performance market etc . We think this is a very exciting category and will continue to introduce new and and different therapeutic concepts into this segment.
Which dyeing technology do you use ?
We have Rope and Slasher in all locations .
And here are some pictures from their Summer 2011 collection
Tavex Global Tribes :
South America with Africa, India with aborigines.Multicultural humanity: respect for different cultures and traditions.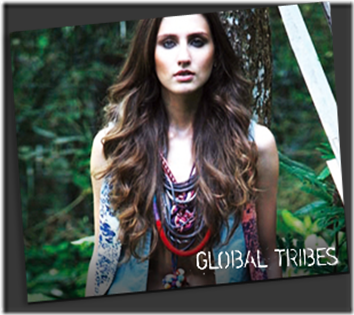 Tavex Backwood :
The combination of rock and roll with hillbilly, in the 1950s and 1960s.
Young escape to rock and roll icons.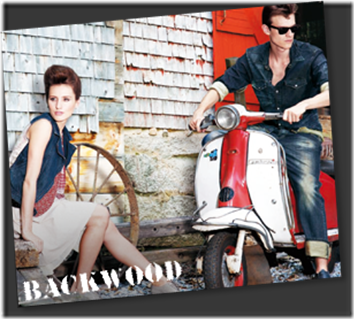 Tavex Decelerate :
Northern coast of Europe, sandy beaches and landscapes swept by the wind, MILAN, L.A.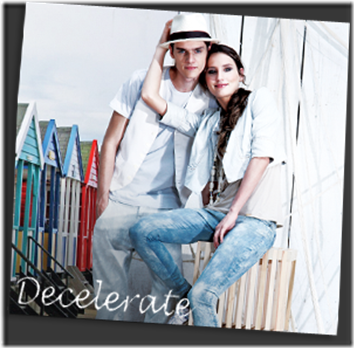 And since Jeannie won't allow me to put up her picture , I could only put one of  Steve Naturale from NY Sales 🙂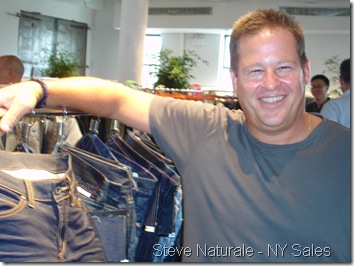 Contact Tavex – Email here