In a continuous marketing push, ISKO™ takes its marketing beyond traditional fabric marketing . It collaborates with a number of well known international brands and retailers for co –branding and takes its own brand image to consumer level. Isko is very clear in its marketing push.  It wants  to have a consumer level awareness for its fabrics and looks for demand pull from the segment adding to the industrial demand.  Its collaborations with brands get weight from its various patented and high tech fabrics that it develops.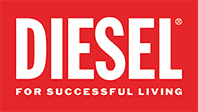 The new formula for future fashion: Diesel style + ISKO™ technology, for the revolutionary JOGG JEANS & Diesel shoes made by the extraordinary 3D Denim known as ISKO Scratch & Jean™.
When distinctive Diesel style was blended with the extraordinary quality of ISKO™ fabrics, the result was JOGG JEANS, the revolutionary 'jeanetically modified denim' that combines iconic jeans fashion with the comfort typically associated with jogging pants. Labeling on the jeans' inside pocket conveys the exceptional value offered by the collaboration. Described as: 'One small step for Diesel, one giant leap for denim-kind', the durability and softness that JOGG JEANS provide is guaranteed by ISKO FUTURE FACE™ patented technology, for a perfect fit all day long.
The collaboration between ISKO™ and Diesel continues, with the addition of Diesel shoes made by ISKO Scratch & Jean™ . This fabric is known as ISKO™ 's revolutionary 3D denim made by using ISKO™ 's patented technology, which allows the fabric to take extraordinary effects.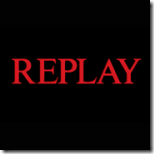 Replay Reinvents Athleisure With ISKO™ 's New Development Blue Skin™ and created Hyperskin
Wellness is not a trend; it's the perfect balance between body, soul and the environment: it's a philosophy and a lifestyle. Replay took this as an inspiration to merge it with its denim DNA and created Hyperskin. The technology behind this product is ISKO BLUE SKINTM: entirely based on 360 degree freedom of movement. The construction offers total comfort and freedom by defying gravity with its 4 way holding power. The real second skin experience.
The Jeans come in four different washes: a Raw Grey shade washing which keeps an original raw fabric look, a Blue shade washing achieved with a light bleaching process to obtain an intense mid-blue shade and a super softener for an amazing feel, a Marble and Dark Black.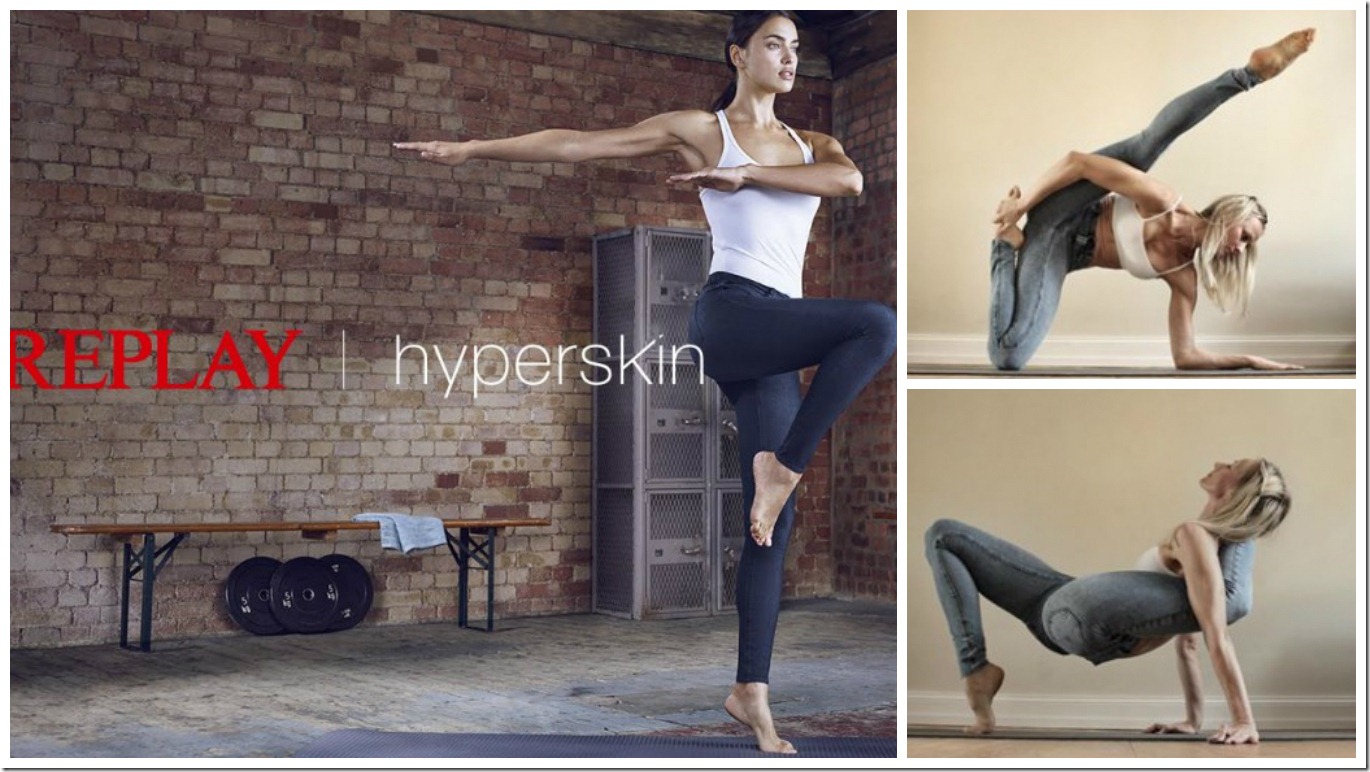 Pierre Cardin and ISKO join forces and launch FUTUREFLEX, the future of flexibility.
Well-known brand Pierre Cardin expands its clientele with a premium denim line that boosts maximum functionality. A highly regarded brand its dedication to quality brought the FUTUREFLEX collection to life and was specifically designed for someone who wants to look good and feel comfortable all day.
ISKO POWERFLEX™, was the perfect fit for this collaboration, it's the perfect travel mate for anyone who wants 24/7 flexibility and freedom of movement, together with unique style and a perfect fit.
FUTUREFLEX jeans come in three colors:
Black on black: a saturated and classic black.

Kanto blue: dedicated to real denim enthusiasts, Kanto blues is a pure, deep but bright indigo shade inspired by the typical Japanese super-saturated indigos, but with a chip off/contrast effect.

Reef green: A blackened green cast perfect for the vintage Aficionados.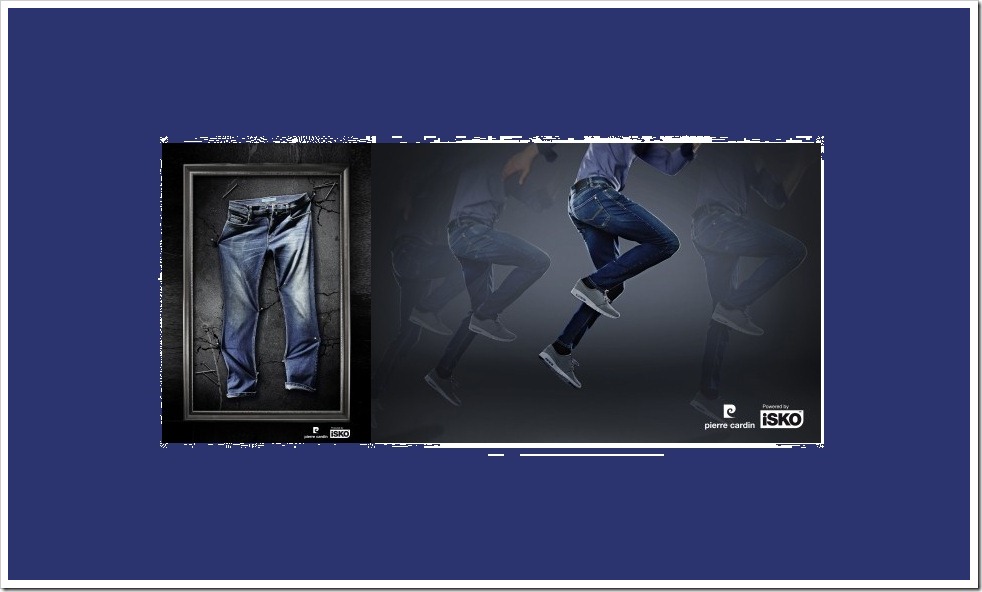 AYR Introduces Flex Tech, Powered by ISKO™ Premium Denim Technology, in Collaboration with modelFIT
With all the flexibility and recovery of a second skin, this premium denim technology powered by ISKO™ has 4 way holding power, offering complete comfort and freedom. Flex Tech was designed with 80% stretch, making it the ultimate performance jean, defying gravity and complimenting the body with a balance of stretch and recovery that is unprecedented in denim.
In collaboration with ISKO™ and modelFIT, AYR introduces the scope of movement and beauty of versatility in their Flex Tech denim video. Shot at the modelFIT studio in downtown Manhattan featuring ballerina/muse Suzanne Diaz, the video highlights the versatility of the most future forward fabric on the market.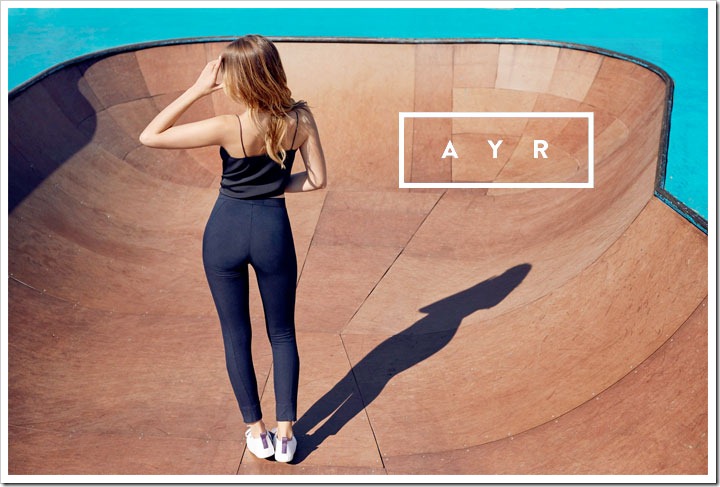 Premium children's line IMPS & ELFS brings in ISKOTM for the most adorable collaboration yet!
IMPS & ELFS is the first kid's brand ISKOTM has collaborated with. The Dutch premium label for the younger generation focuses on Design, Comfort & Quality. The brand is sold over 500 boutiques worldwide and shares a clear vision on 'how they want to be a child again and how a child would love to see the world.
Two special denim lines for S/S 2016 are made up of all ISKO patent technologies.
'Fashion in Action' allows the kids to play & run with freedom, comfort and most importantly in style, using JEGGINGS™, ISKO POP™ and ISKO REFORM XP™
"We are all artist" is made of ISKO™ SCRATCH'N JEAN fabric specially crafted for children who love to draw and doodle.  With a simple scraping technique, kids and parents can make every piece a one of a kind masterpiece.
"Collaborating with ISKO™ has been a great success, bringing our designs to life and giving kids the freedom of movement in a high-quality fabric. Performance is key for kids as jumping, running, and being active is what they do" says Fons Cohen, CEO of IMPS&ELFS.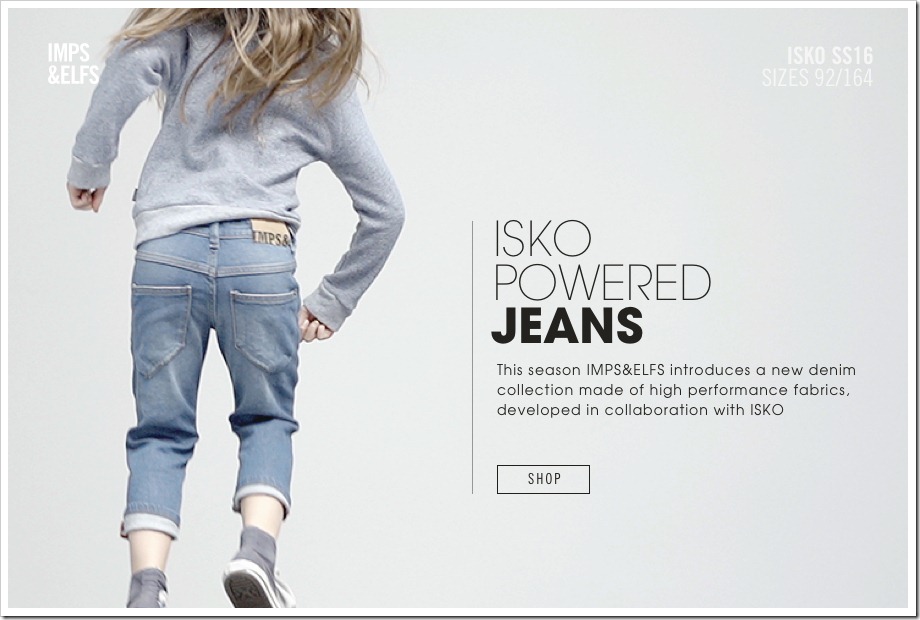 Think comfort and seduction, femininity and contemporary look: that is the BOTTOM UP AMAZING FIT collection, born of the collaboration between LIU JO and ISKO™. All BOTTOM UP AMAZING FIT collection garments are constructed in ISKO BLUE SKIN™. It's a stunning innovation that meets the unique design of LIU JO for an eye-popping collection that's totally dedicated to today's busy and stylish women.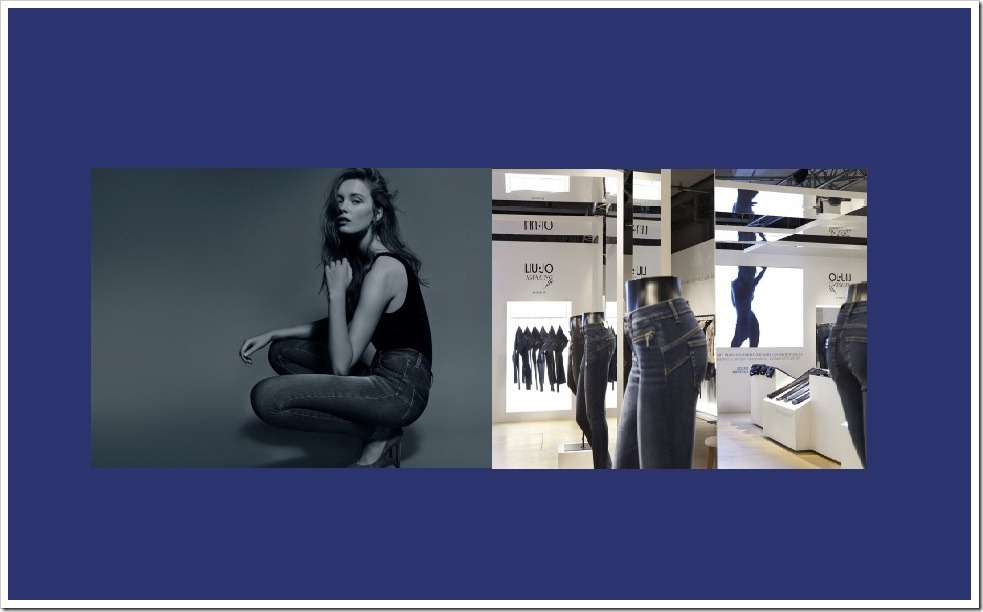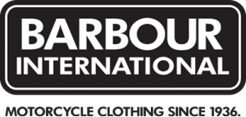 Barbour International launched its first denim collection for women using ISKO™ fabric technology.
Barbour selects ISKO™ renowned REFORM™ technology fabrics enhanced with ISKO STAY BLACK™ and ISKO PJ SOFT™ to ensure perfect fit and outstanding softness in their new womens collection.
The collection comes in a variety of washes on indigo denim or a sleek black finish with ISKO STAY BLACK™ technology, special finishing allowing jeans to maintain their saturated black colour and long-lasting biker look.
ISKO PJ SOFT™  finishing gives the garments a super soft hand feel inside and out.
Check out the new line
www.barbour.com/blog/elle-biker-blueprint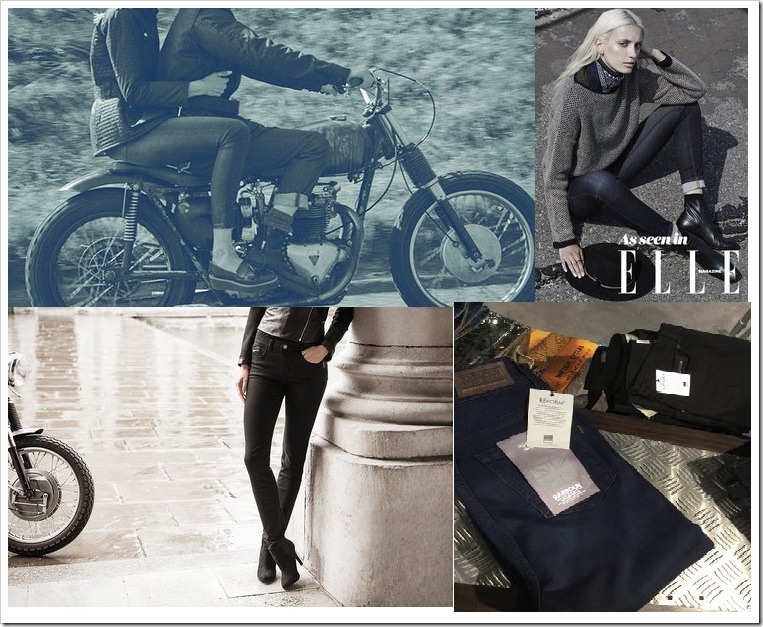 JULES introduced a new line dedicated to ultimate freedom of movement
The French brand JULES presented a new collection featuring the ISKO REFORM™ advanced technologies, to be communicated under the JULES LAB umbrella. This special line, enhanced by ISKO™ ingredient added value, is leveraging the idea of 24/7 fashion comfort, catering to the urban lifestyle for the contemporary man made possible by smart and practical innovation.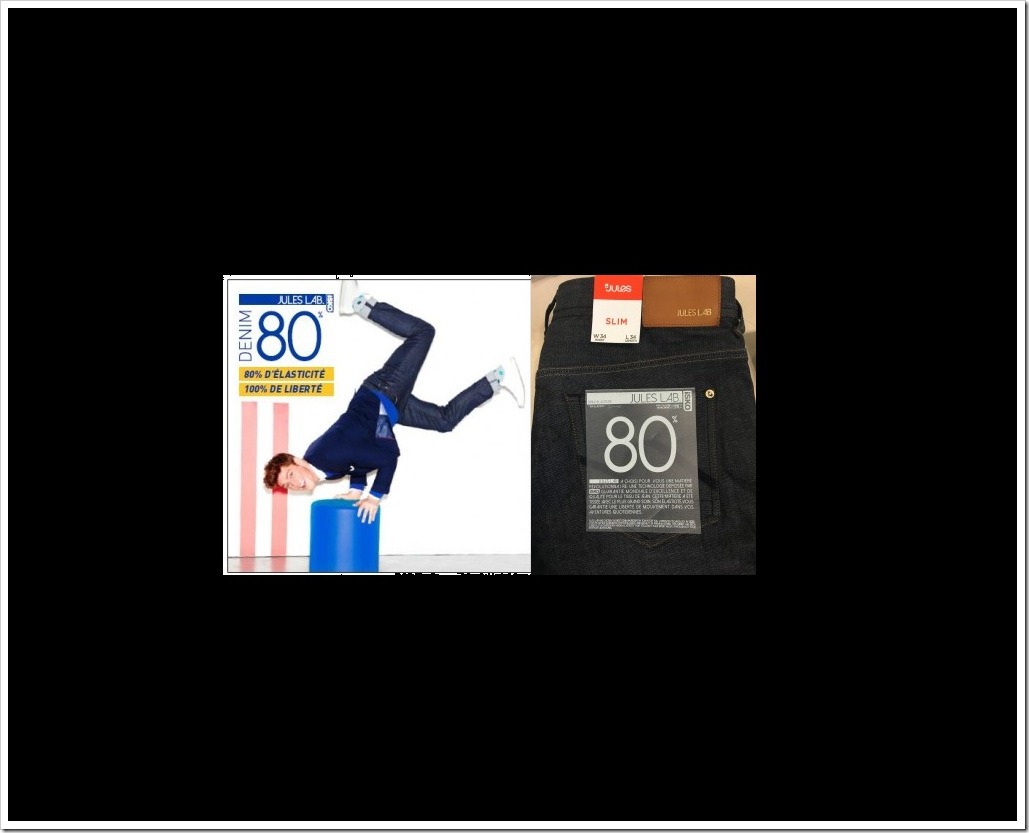 Bodycon: a revolution in Denim
By encircling traditional cotton yarn with a tight coil of stretch fibers, innovative ISKO REFORM™ fabric gives Bodycon denim extra stretch power. The greater the pull on the fabric, the more it rebounds, both holding curves in and smoothing them out – making Bodycon jeans the most flattering jeans of their kind. Since its launch, the Bodycon collection has expanded with new fits including the Bodycon 5 Pockets, Bodycon Marrakesh and Bodycon Zipper Skirt.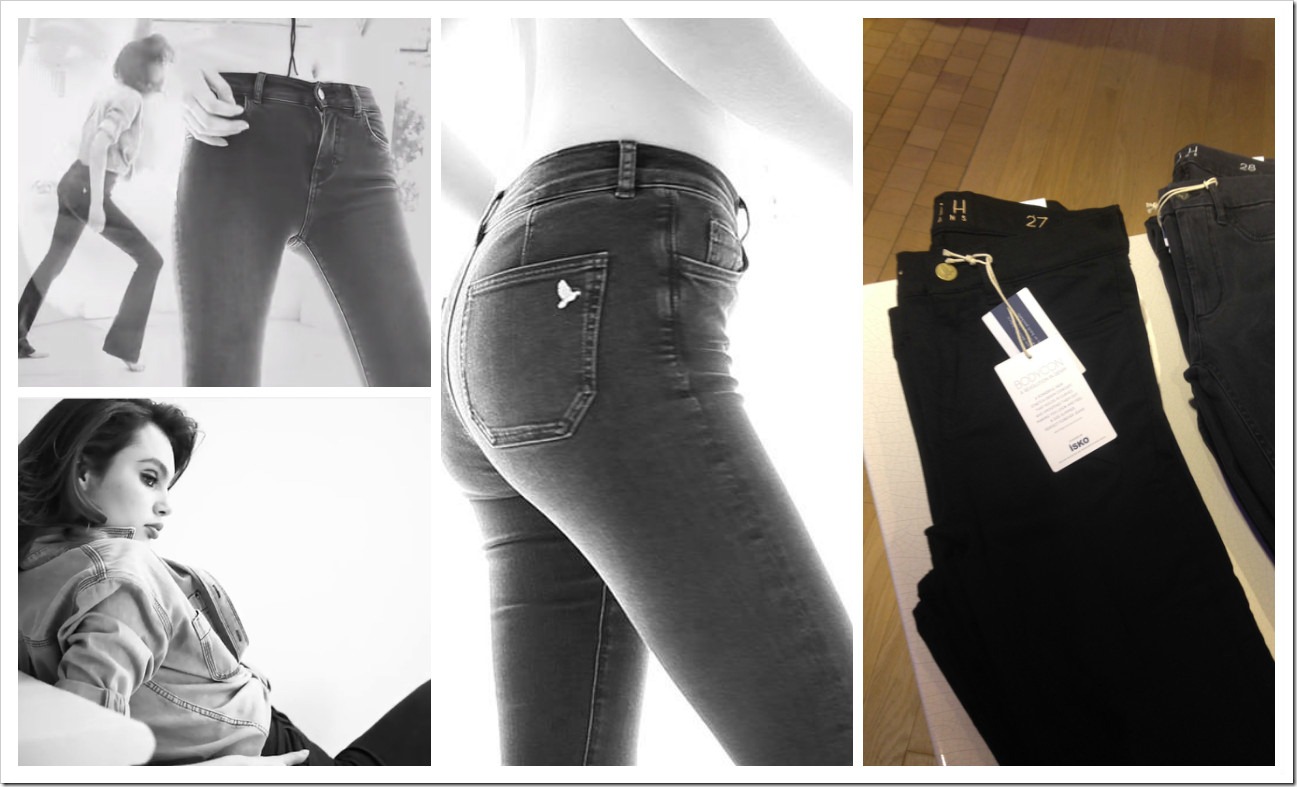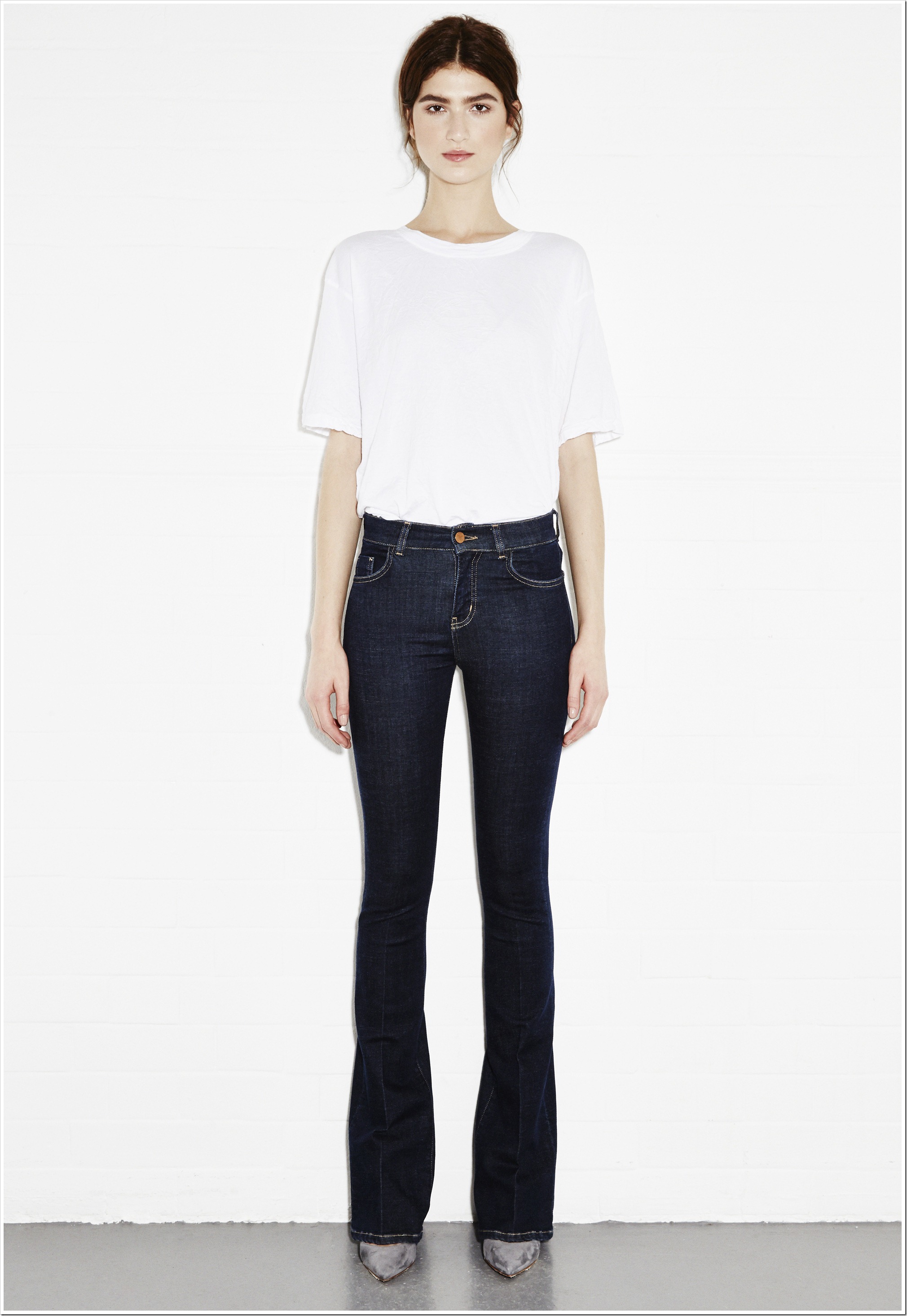 ISKO™ announces the collaboration with MCGUIRE Denim
ISKO™ collaborated with McGuire Denim to create a guerrilla marketing campaign launched via posters in downtown Manhattan and Brooklyn. Inspired by classic 60s and 70s film icons, the campaign featured model Olivia Frischer photographed by New York photographer Darren Keith. McGuire's glamorous take on heritage denim was enabled by high performance ISKO REFORM™ stretch technology .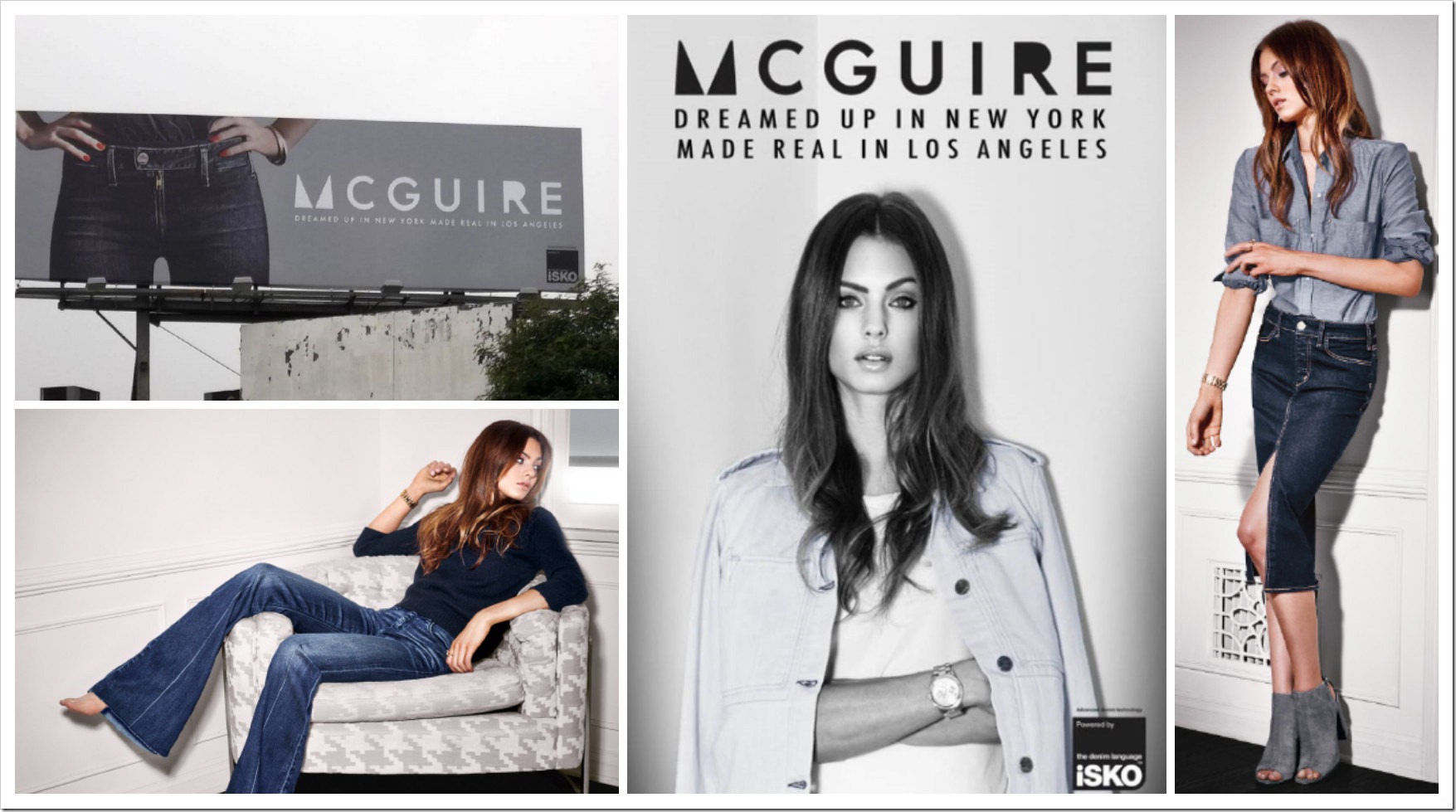 ISKO™ & Pull In 'Dening' Collaboration
Pull In, who is the well-known underwear specialist from France launched denim pants four years ago, but wasn't satisfied with the outcome. However, after conducting some research within the denim sector, Pull In contacted ISKO™ for the  ISKO Future Face™ concept. After frequent discussions, ISKO™& Pull In have launched 'Dening' to support the growing global trend towards 'urban leisure'. Pull In has chosen to collaborate with ISKO™ for the creation of their new collection that puts denim into action. ISKO Future Face™ was indeed the ultimate selection for this collaboration.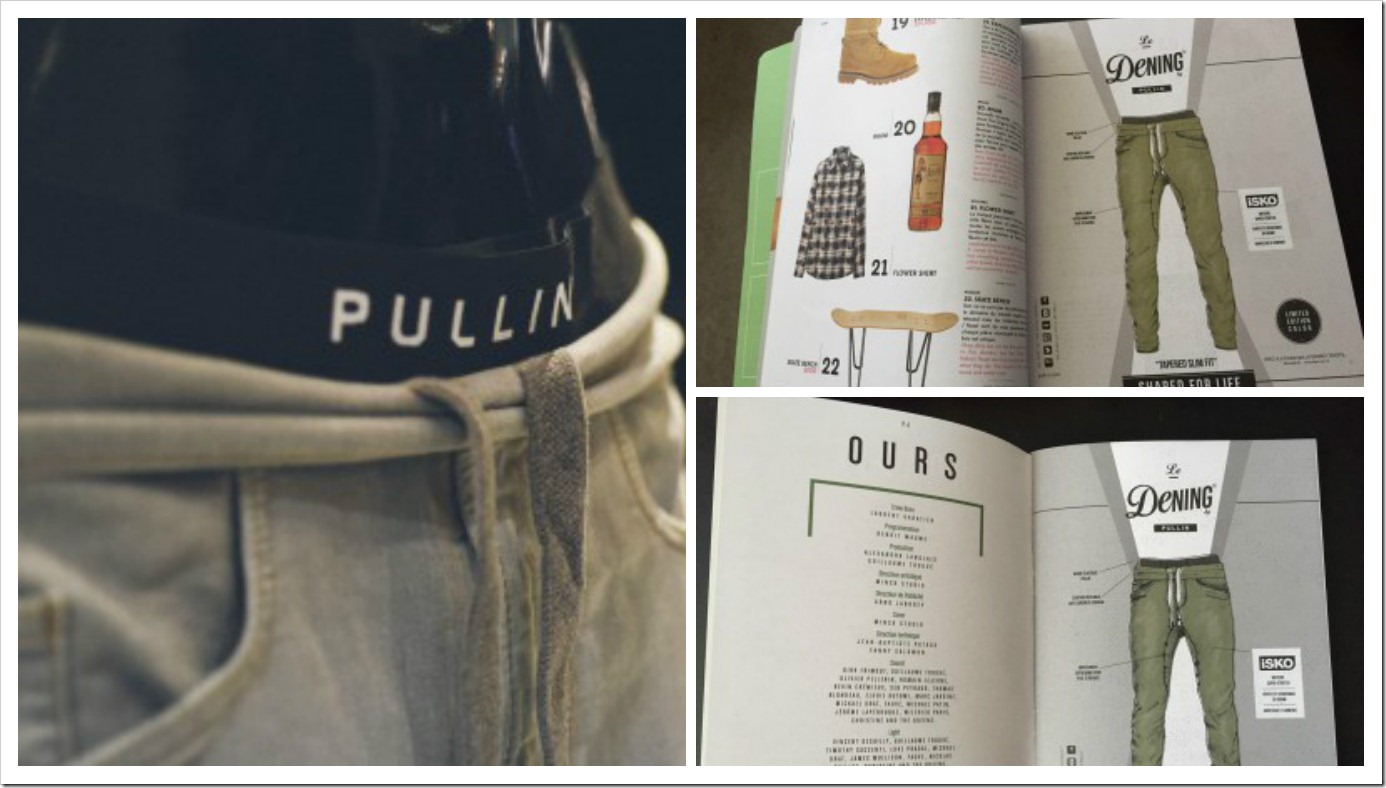 TOPMAN chose ISKO™'s innovative modern denim to develop its TOPMAN PREMIUM DENIM collection using patented ISKO XMEN'S™ and ISKO RECALL™ fabrics.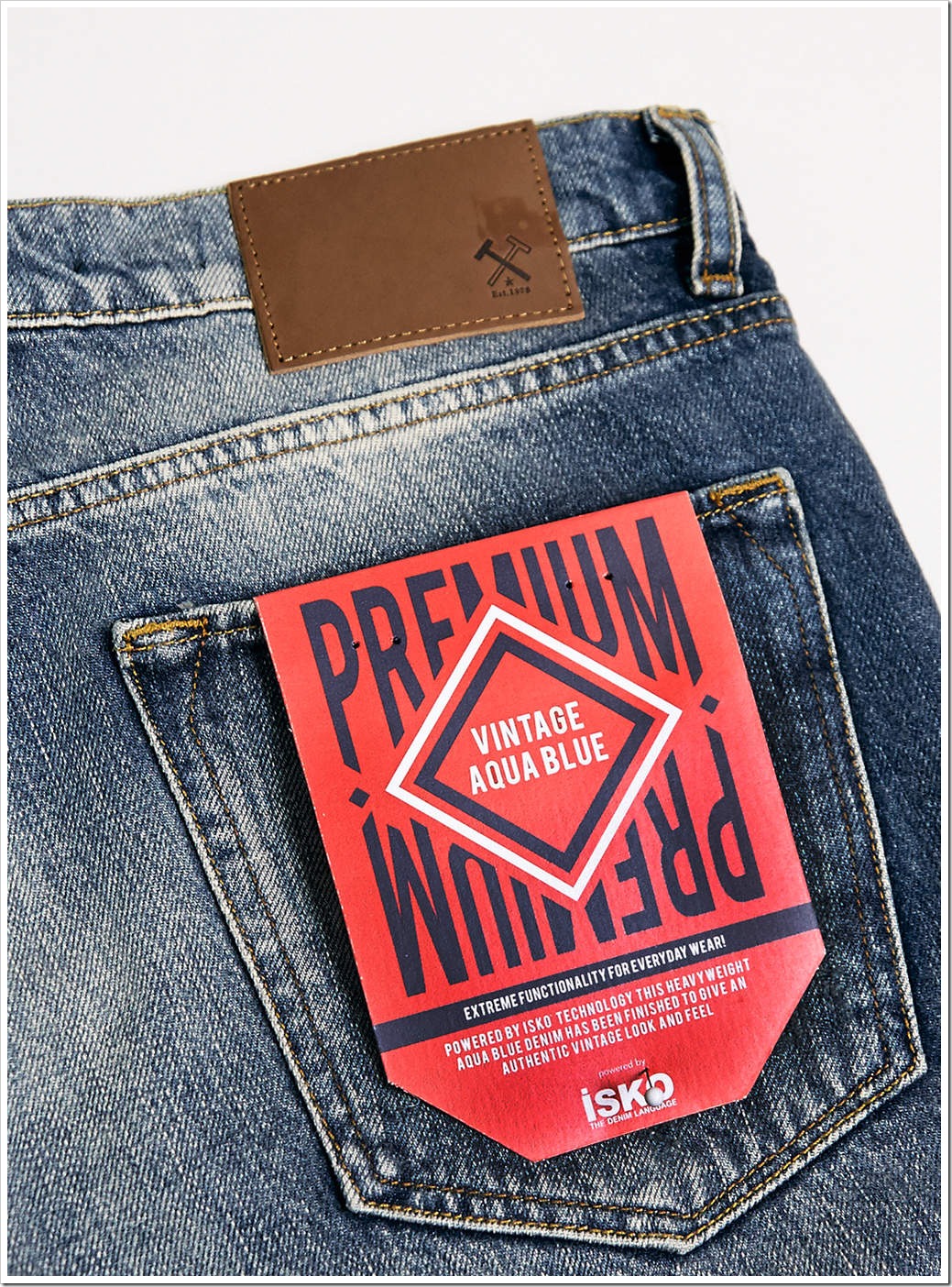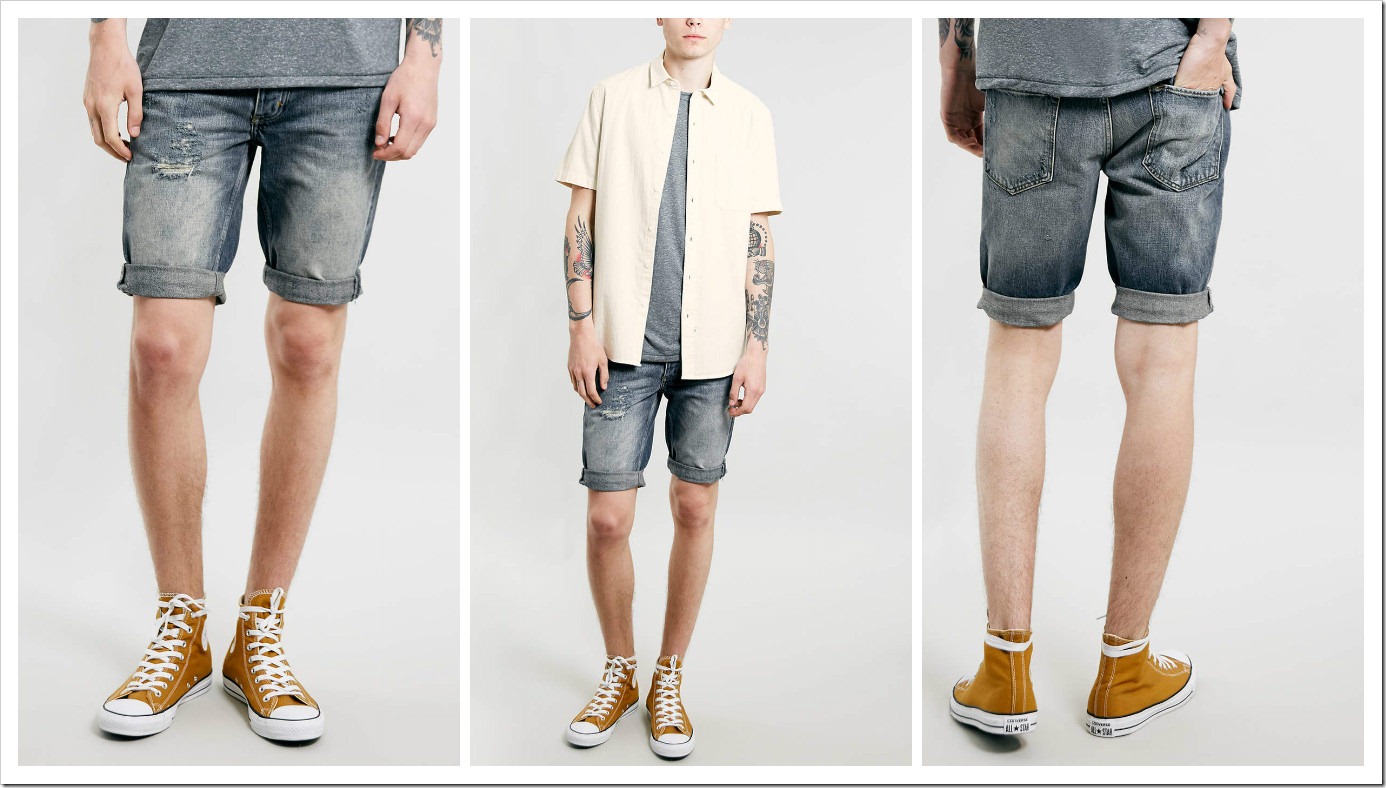 Both denim and sparkling jewelry are must-haves, and key icons of style. This common trait is the inspiration of why ISKO™ has partnered up with Stroilli, to launch their  new 'Bling Bling Denim' collection, which brings together denim and jewels. This collection perfectly expresses the innovative genius of both brands through twelve completely new models, including rings, bracelets and earrings, which combine denim and precious materials. As the global leader in denim innovation, ISKO™ is the perfect partner for Stroilli, bringing its style, 'blue' creativity and experience to the table along with Stroilli's designs to generate a highly original collection.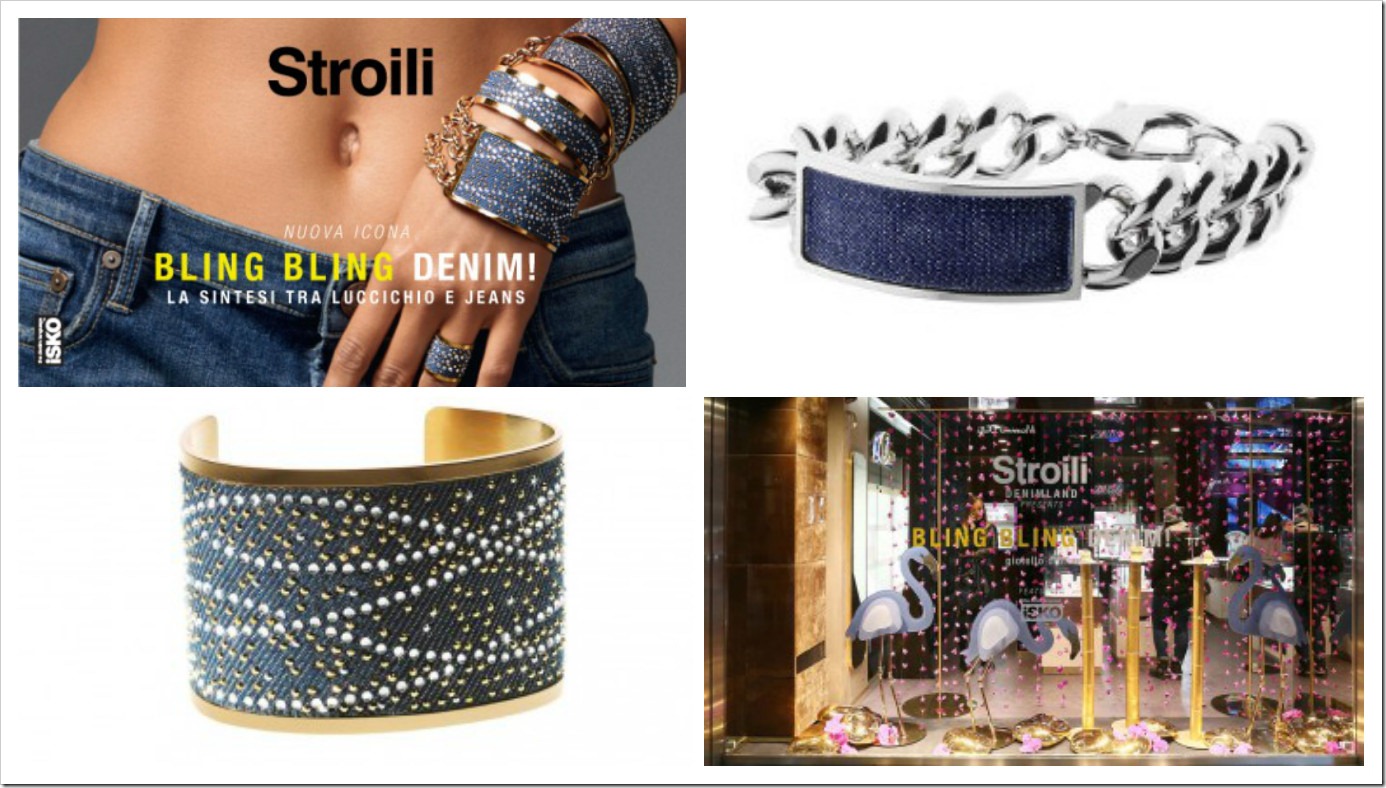 ISKO™ announced the co-branding with GERRY WEBER EDITION
Working together, ISKO™ and GERRY WEBER EDITION have developed a co-branded collection using patented ISKO BLUEJYM™ fabric to create a true fashion breakthrough. The result is an innovative collection, powered by ISKO BLUEJYM™, a fabric technology that exudes a sporty attitude. Combining a knit look and feel with denim performance, the collection represents a fabulous fashion fusion of jeans styling and sweatpants' comfort, to produce one distinctive personality.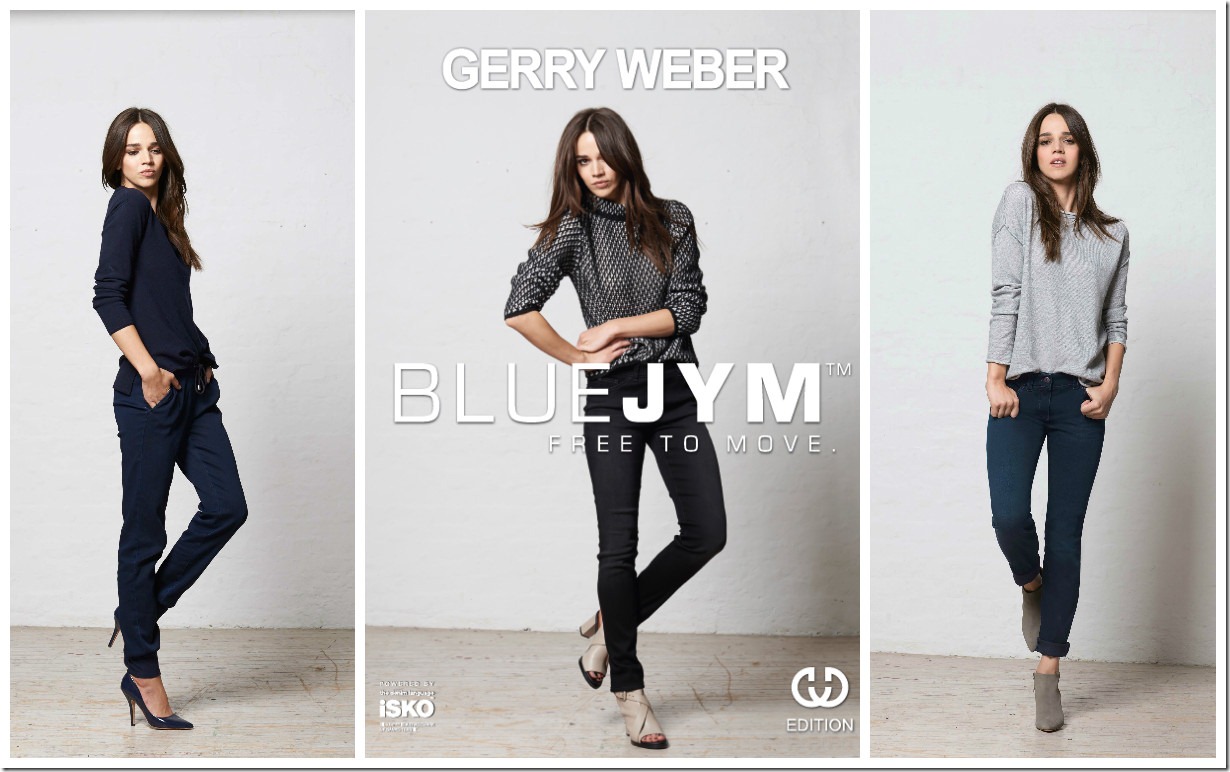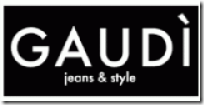 Gaudì Jeans puts its trust in ISKO™'s excellence for an exclusive denim collection
Powered by ISKO™, the Gaudì collection is truly unique, created with a focus on the minutest details. Garments are made with top quality raw materials, including ISKO FUTURE FACE™, fabric with the tough look of denim plus exceptional softness that elegantly embraces the body's curves, without constricting movement. For its FITTING BLUE collection, Gaudì Jeans chose ISKO REFORM™ advanced stretch technology for the assurance of perfect fit, superior shape retention and the magic power to make you look a size slimmer.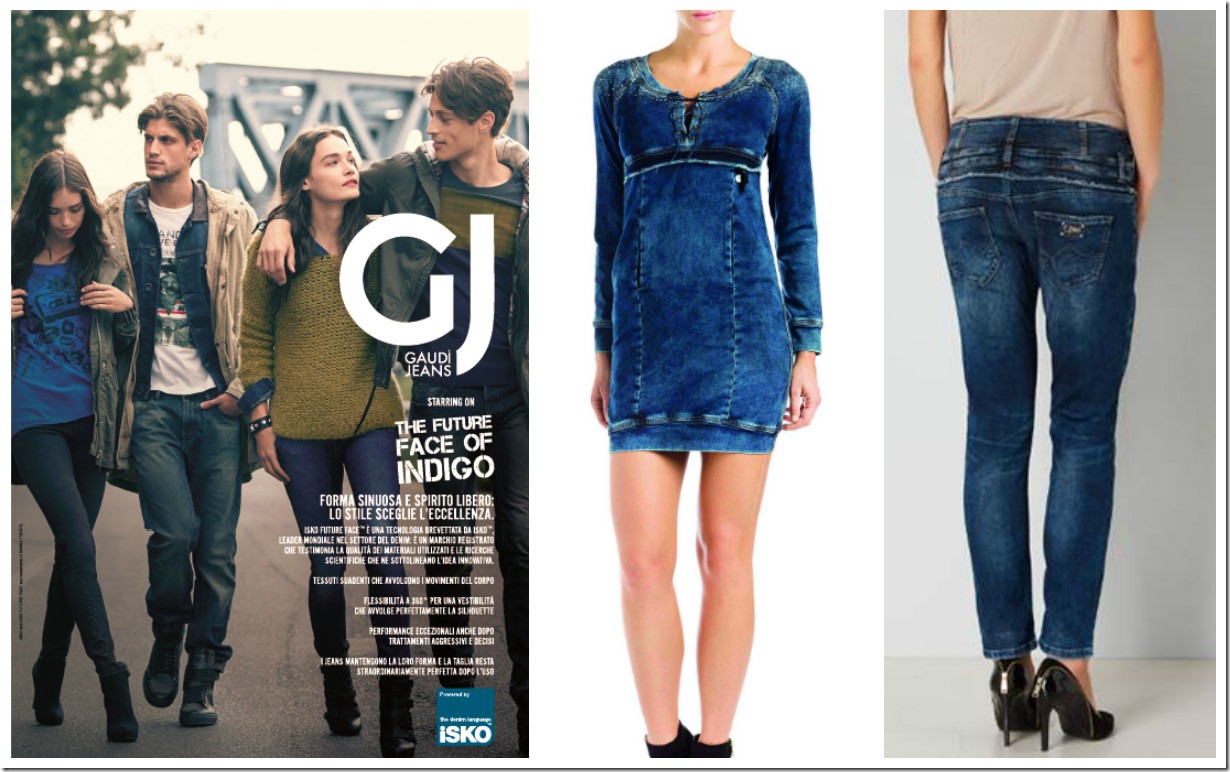 Get ready to experience the comfort of being fashionable
ISKO™ and GANG joined forces to put denim into action for two collections rich in sporty attitude: 'Sweatie Denim' for women and 'Fitness Denim Culture' for men. For its second consecutive season, GANG chose ISKO FUTURE FACE™ to create jeans with perfect fit and outstanding freedom of movement, both for men and women. This one-of-a-kind patented ISKO™ denim technology uses an advanced shuttle-woven fabric, which looks like circular knitting and lends jeans an incredibly soft feeling with maximum flexibility for a superior fit.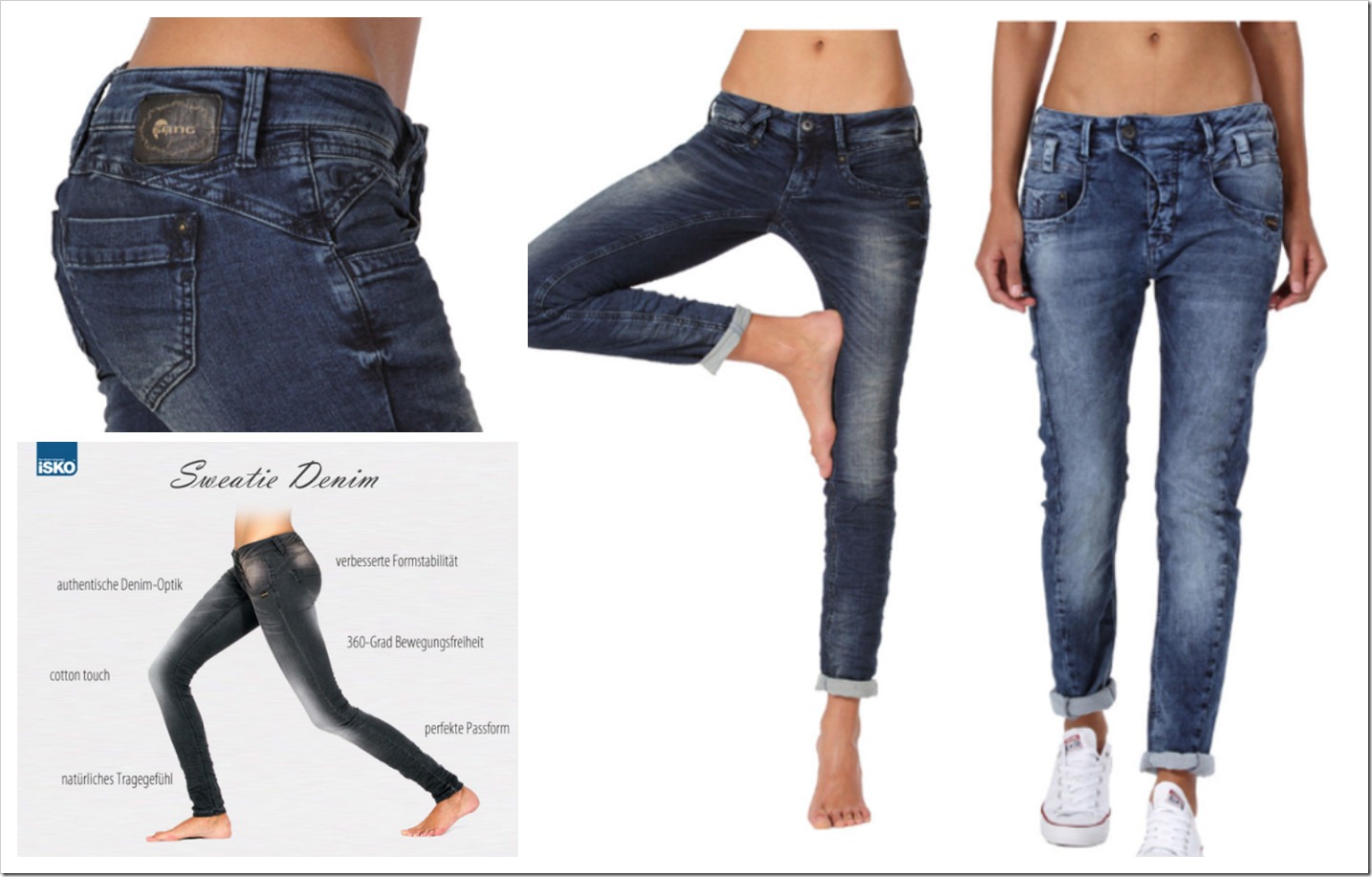 Guess introduced Powerdenim and Powershape using the technology of ISKO™
Guess features ISKO™ patented technologies in a new selection of high performance denim.  The jeans maintain a truly rigid, purist look with distinct twill lines and yarn character, while ensuring ease and versatility for every lifestyle. The authentic spirit of this resistant fabric is combined with one-of-a-kind performance for flexibility and freedom of movement. For women, the ultra-feminine Power Shape range is based on ISKO™'s 100% JEGGINGS™ technology, an incredibly light fabric that adapts perfectly to the body's curves, embracing the silhouette and creating the wonderful sensation of a second skin. Guess has also developed their new Power Skinny Denim with ISKO Reform XP™, to provide the brand's most flattering and effective jeans yet. These jeans are designed to make you look one size smaller, but yet keep it's comfort.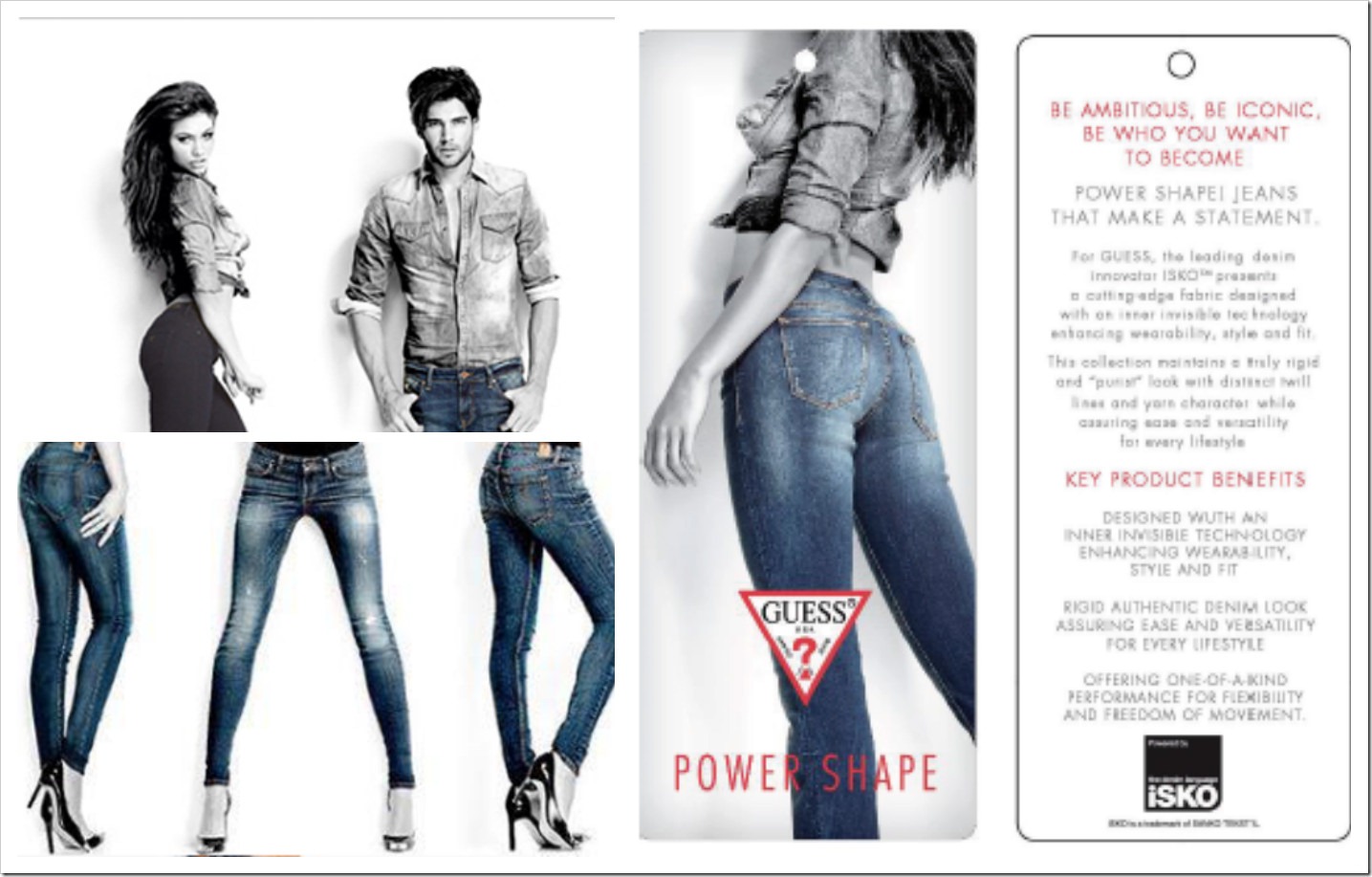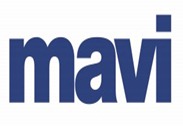 ISKO™ teams up with MAVI for the New POPSTAR Collection
Mavi, innovator in denim design and manufacturing, teams up with Turkey's leading denim fabric producer ISKO™ to launch Mavi POPSTAR, which is an exclusive addition to the Mavi Gold collection for Fall 2015.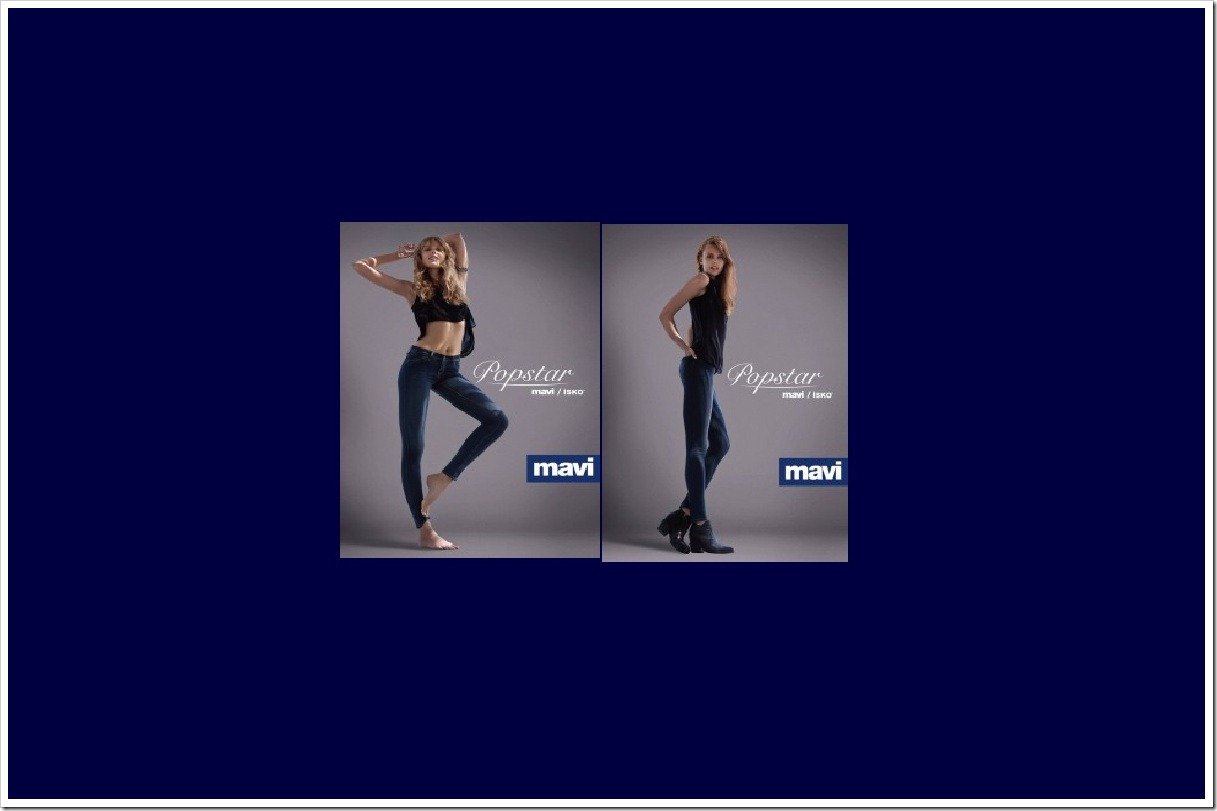 Blue FF Denim next and "Emotion"
Following successful collaborations in previous seasons with its Blue Future Face Denim collection, in 2013 leading-edge Japanese brand Moussy developed an outstanding collaboration with ISKO™ based on the ISKO FUTURE FACE™ fabric. . For 2014, Moussy again chose ISKO™, using ISKO REFORM XP™ to create its engaging Emotion collection.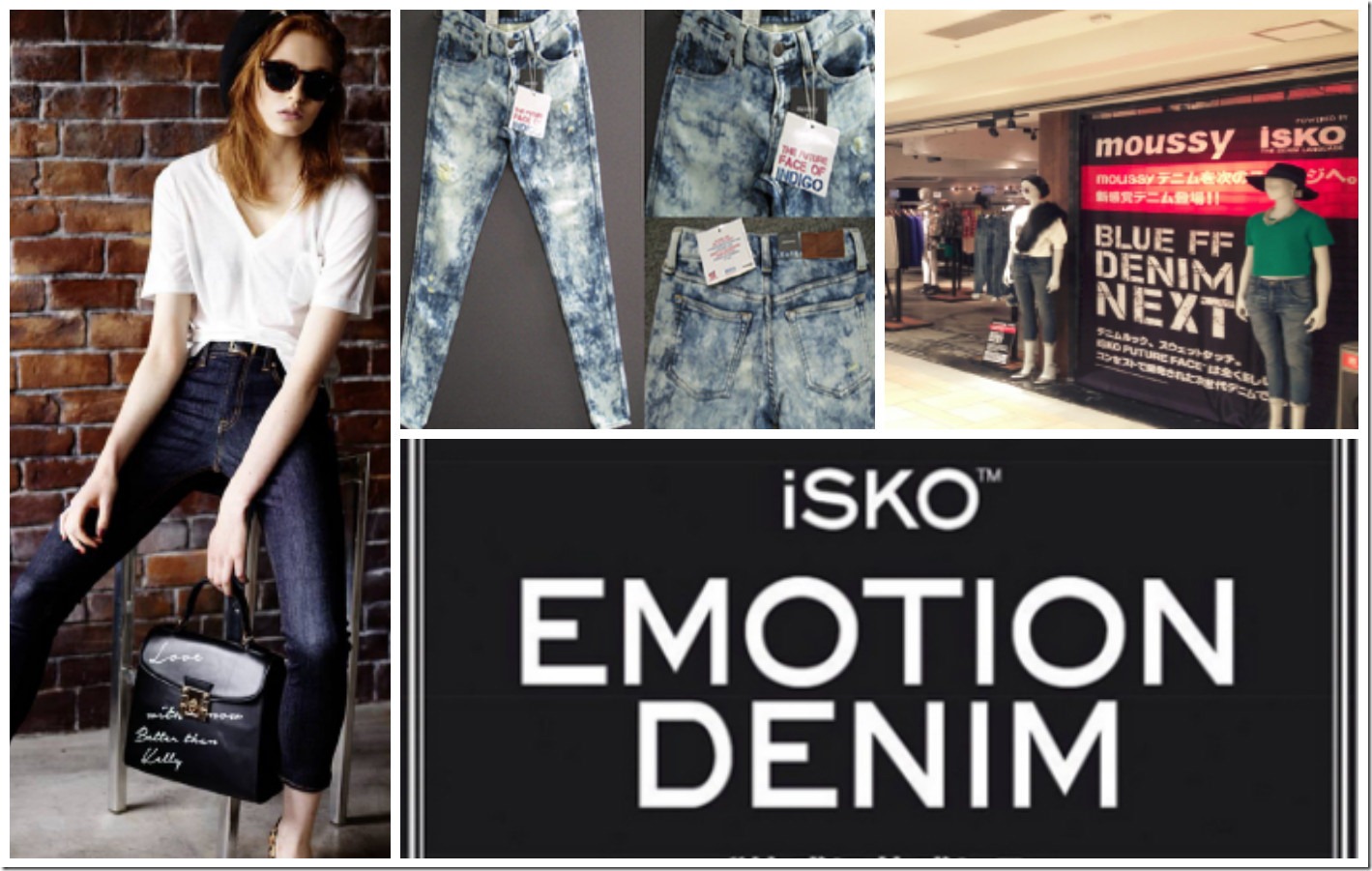 James Jeans and ISKO™ launch the James Twiggy Dancer Jeans collection
ISKO™ joined James Jeans to create James Twiggy Dancer Jeans, a whole new expression of denim style. With a perfect fit 24 hours a day, they ensure that women wearing them feel comfortable and special all the time. James Twiggy Dancer Jeans use a mix of two cutting-edge technologies: ISKO PJ SOFT™, powered by 50% Modal fibers for 24/7 comfort and ISKO REFORM™ for  elasticity.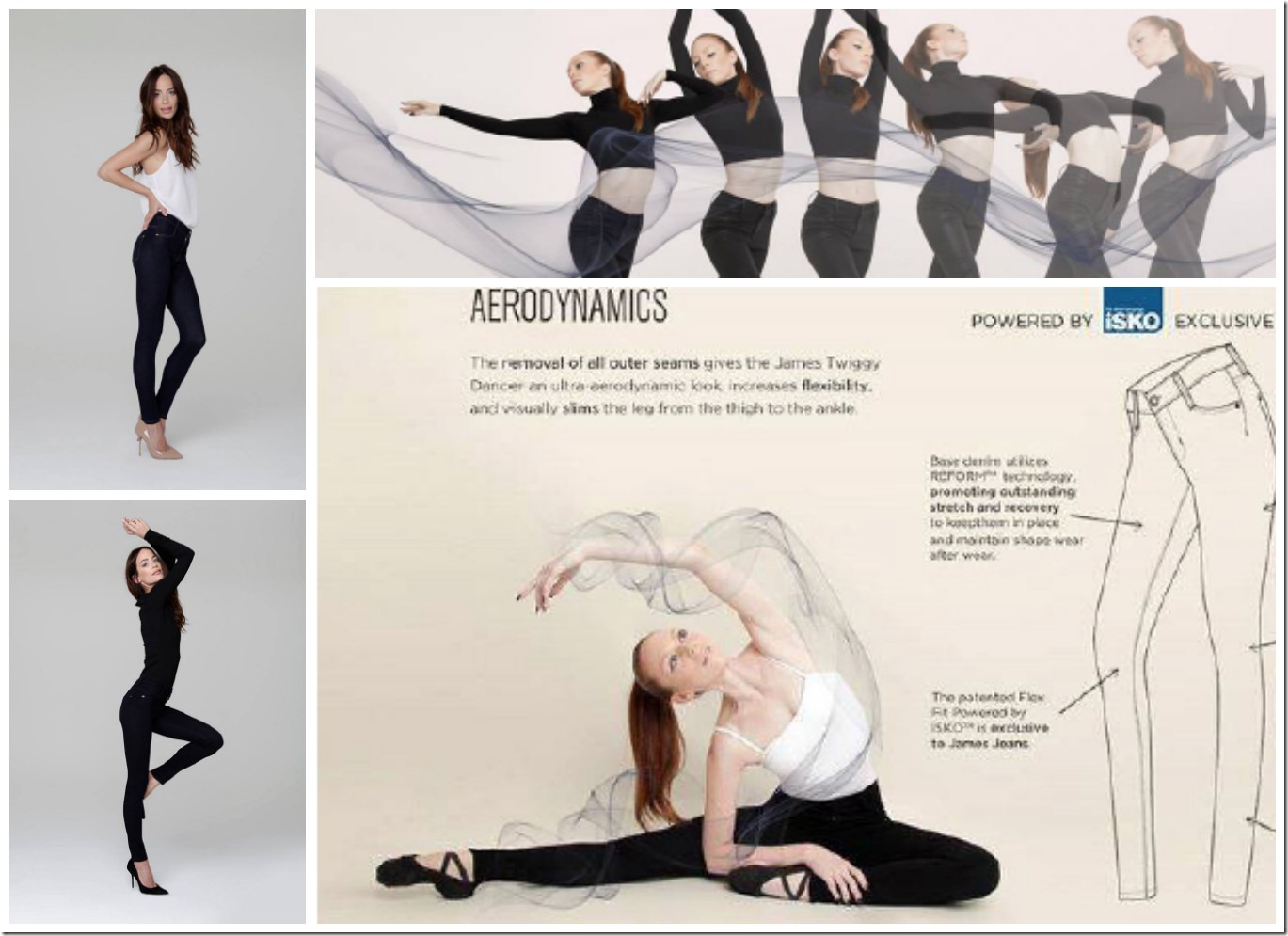 "Naturally" jeans: Tom Tailor and ISKO™ present "We Care"
German high-end casual clothing brand Tom Tailor and ISKO™ have worked closely together to launch the 'We Care' denim collection. Using recycled cotton and the most advanced eco-friendly techniques and treatments, including lasers, the range is produced in ways that ensure significant savings in terms of water and CO2 while creating a stylish, fashionable look.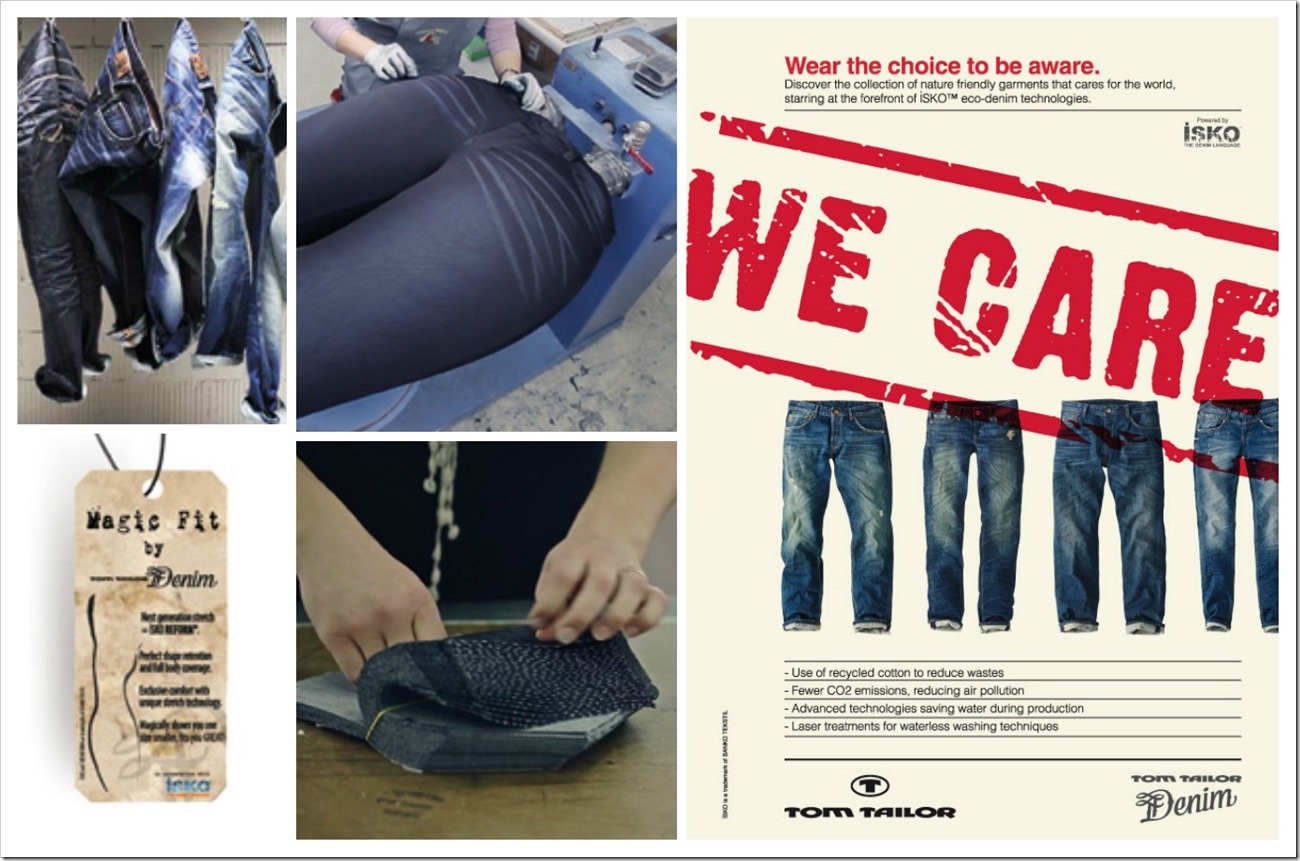 Performance, innovation, personalization: the brand-new partnership between ISKO™ and 3×1
American brand 3X1 chose ISKO™ for its women's collection to maximize personalized performance. The collections feature ISKO REFORM™, plus İSKO™'s trademarked coatings such as Soft Jeather to incorporate the most innovative finishing techniques. The collaboration between 3X1 and ISKO™ ensures that every garment embodies the craftsmanship, glamour and optimum fit to best flatter each individual and suit their lifestyle, character and personality.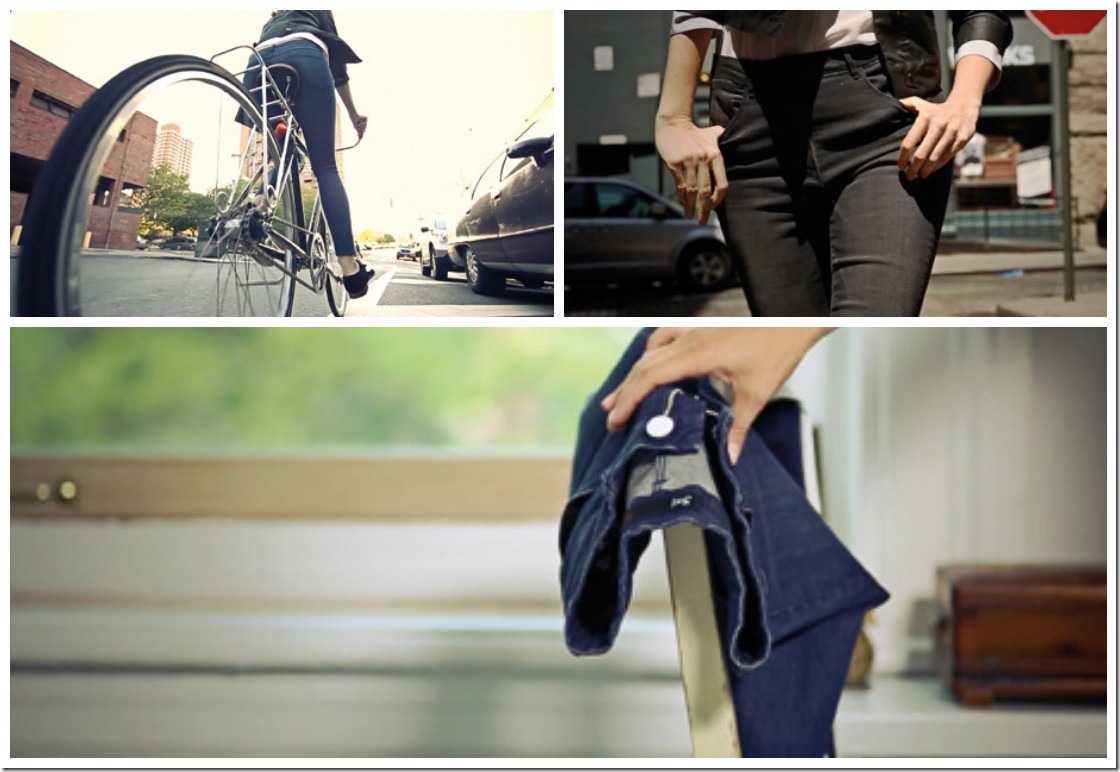 HUDSON and ISKO™, innovation in our DNA
Premium denim leader HUDSON is collaborating with ISKO™ to deliver novel new products with uncompromising quality and value in their DNA. HUDSON's REFORM collection is powered by patented ISKO REFORM™ technology to create superior 360-degree stretch coupled with maximum retention and recovery. It follows an earlier collaboration when ISKO FUTURE FACE™ fabric brought innovative knitted denim technology to market offering HUDSON Jeans outstanding freedom of movement.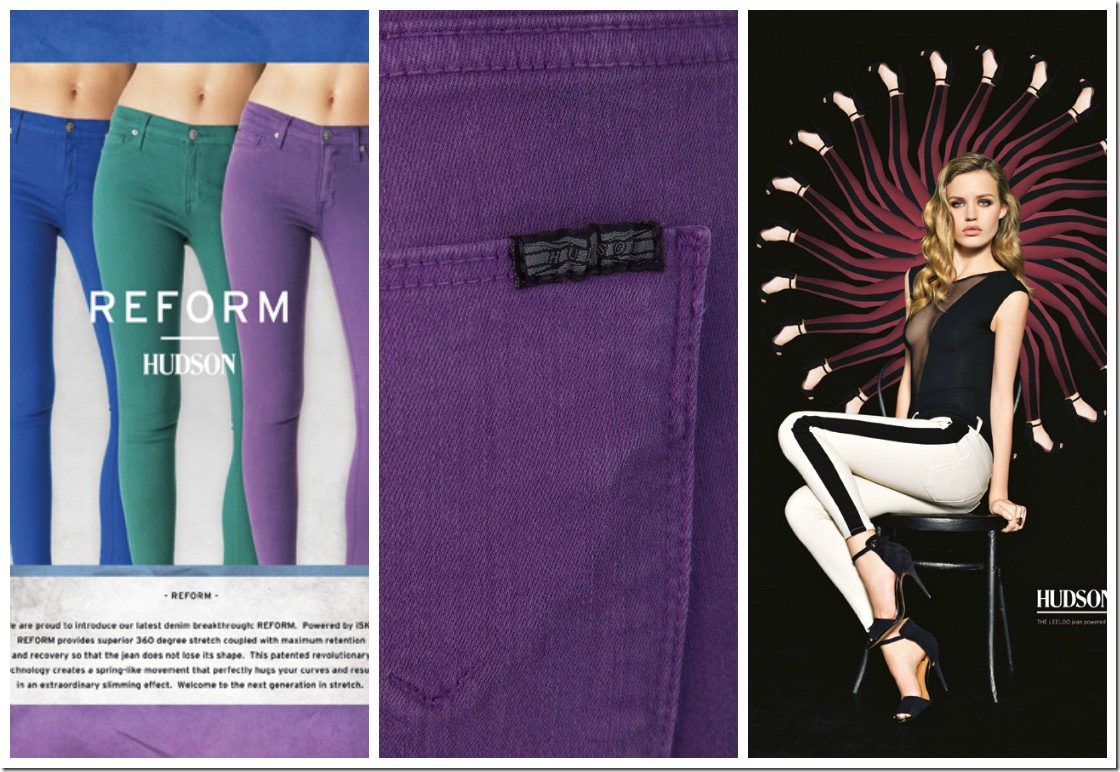 Sustainable fashion process that underlines Nudie Jeans Post Recycled Dry collection.
With ISKO™ RECYCLED, old worn-out Nudie Jeans are cut into pieces, then milled down to a cotton-like pulp, which in turn becomes a new yarn and used for new fabrics.  The advanced method for recovering and re-using denim fabrics enables the creation of a product that enjoys a "new life" .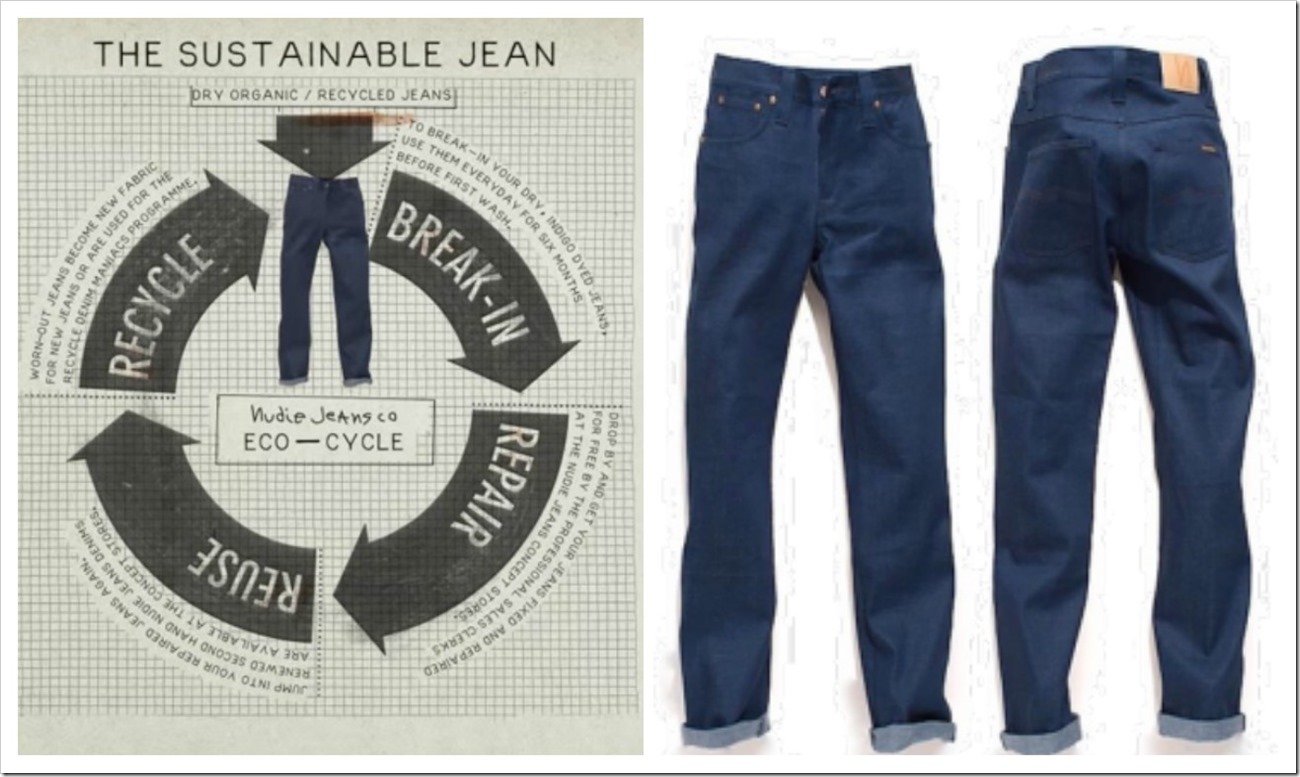 Let exceptionality become a habit… HABITUAL and ISKO™, together for a brand new collaboration in style
Los Angeles-based brand HABITUAL used advanced ISKO™ patented technology to introduce a new collection reflecting a modern classic mood. As it says on the garment hangtag: "We use ISKO POP™ to deliver unparalleled silk-like softness that you will experience wear after wear…" .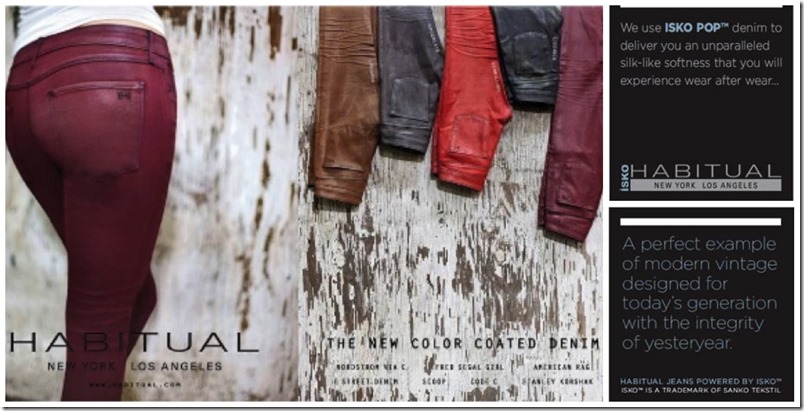 Looking cool, feeling smooth, a style of ISKO™ and Jeckerson!
Looking cool, feeling smooth, Jeckerson collaborated with ISKO™ to create an exclusive collection for the modern metropolitan man. Jeckerson chose ISKO FUTURE FACE™, a woven fabric with the softness of a knit to create extraordinary garments that are strong and supple, smart and casual. It also used ISKO technologies for its original Cult collection to express a cosmopolitan yet comfortable style.
ISKO™'s recent collaboration with Jecerkson was made with ISKO™'s Creative Room™, who developed the new collection of jJEANS by Jeckerson. jJEANS is a sub-brand of Jeckerson dedicated to a younger target market, and the whole collection was made by a mixture of  ISKO™'s fabrics; including ISKO X-Men's™, ISKO Comfort™, ISKO Bluejym™ and ISKO Reform XP™.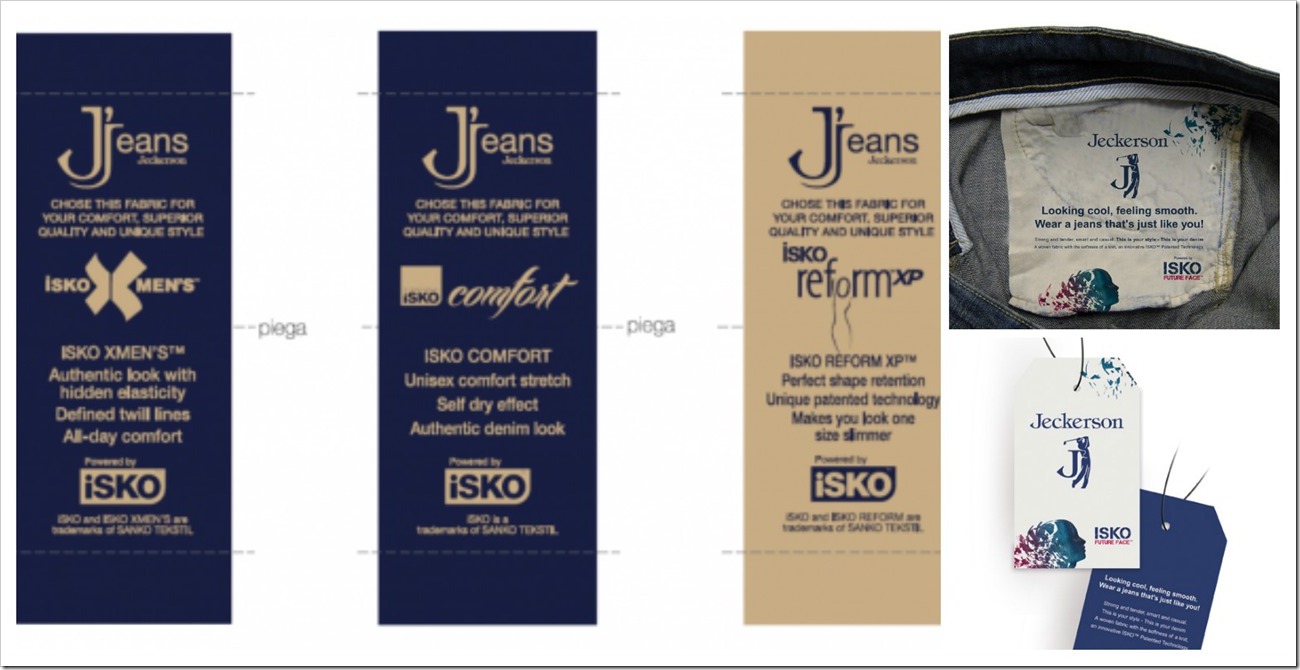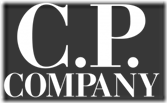 Elegant functionality and sophisticated comfort
C.P. Company chose ISKO FUTURE FACE™ fabric to create elegant functionality and sophisticated comfort for a new collection of jackets with a natural feel and cotton touch. ISKO™ innovation allowed C.P. Company to capture all of the comfort, lightness and softness of a knit but with superior shape retention for a perfect fit and complete 360-degree freedom of movement.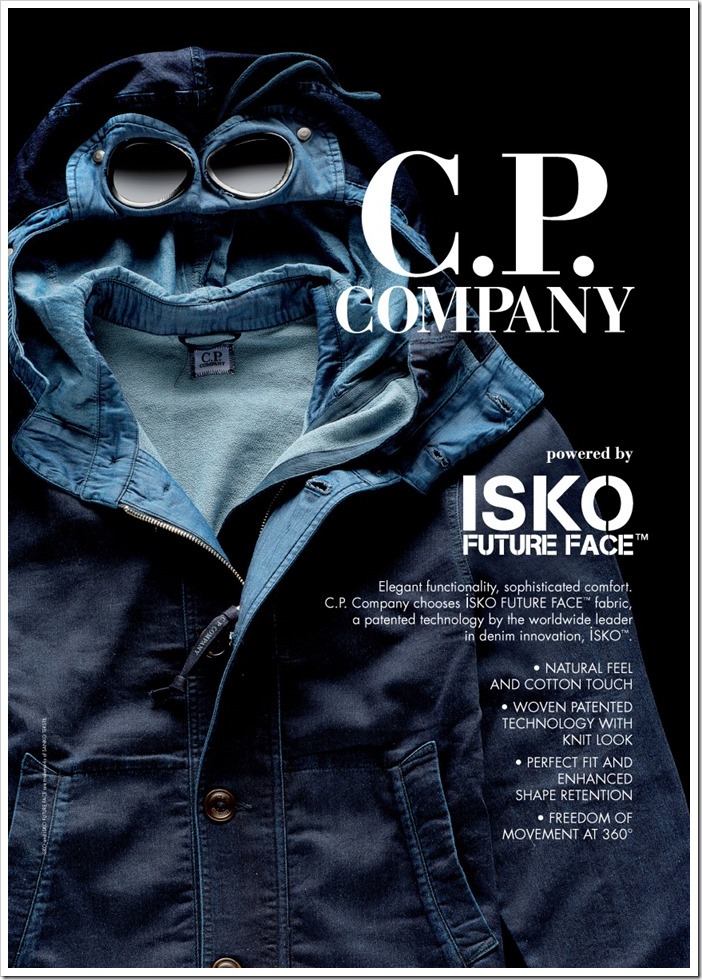 Welcome to a super flex era
With collections designed in Oslo, Bik Bok aims to be the first choice among fashion-conscious girls who follow all the twists and turns of the fashion world. Collections are continually updated with new and inspiring clothes every week. Powered by ISKO™ fabric technologies, Bik Bok's super flex jeans couple super high elasticity with a very comfortable fit that perfectly adapts to the body's form.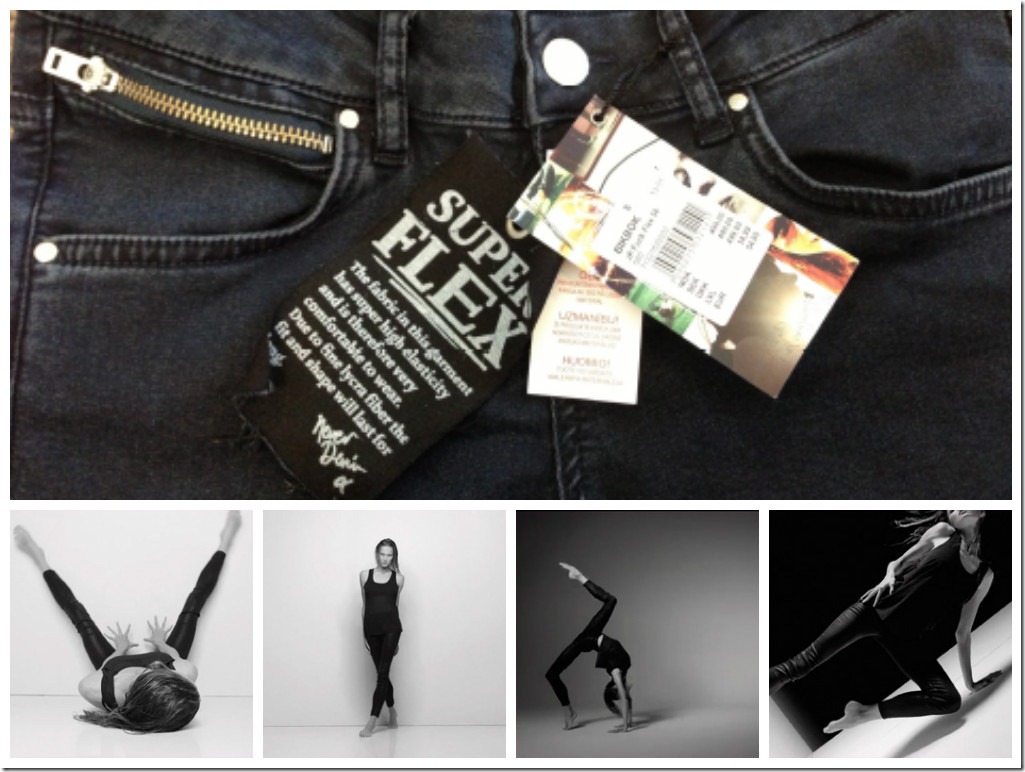 Spotlights on ISKO™ and Esprit, to drive fashion forward with the collection 24 Hours 2.0
Esprit partnered with ISKO™ to produce a collection of denim garments for any occasion. This further comfort evolution is perfect for any event and activity, allowing for 360-degree movement with ISKO FUTURE FACE™ technology. The exceptional patented shuttle-woven fabric has a look like circular knitting, yet is denim with surprisingly soft features and fit.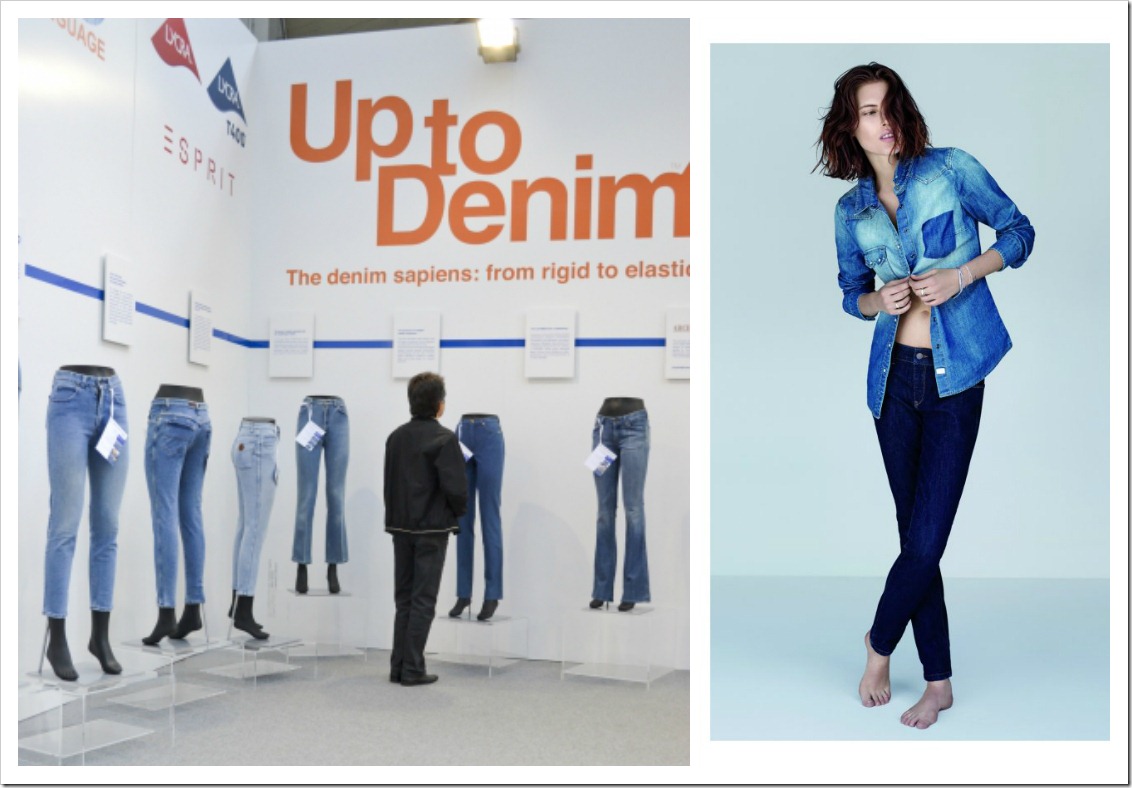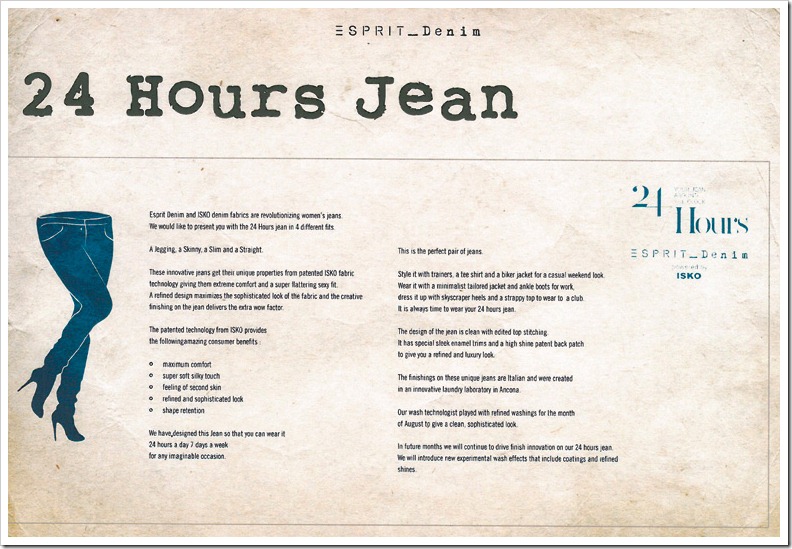 Once upon a future™, tomorrow is now
Denim brand Haikure combines contemporary Italian design with high-performance eco-friendly materials and processes. With high stretch and shape recovery, ISKO RECALL™ fabric ensures that Haikure jeans maintain a flattering fit. The ISKO™ fabric is made using organic fibers and is part of the Once Upon a Future partnership between Haikure and ISKO™ that aims to promote sustainability within the denim supply chain.