This is the second part of guest article by Harry Mercer. The first one can be seen here..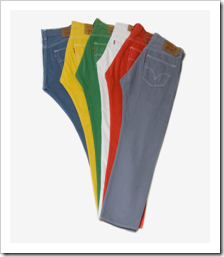 As mentioned in the first part, producing colors on denim machinery, especially Indigo dyeing equipment has usually resulted in failure to achieve denim colors that are without variation. Sulfur dyeing on Indigo machinery typically results in 10 or more different shades per dye lot, which is true of sulfur bottoming, sulfur topping and sulfur blacks. Other colors are even more sensitive to chemical and machine conditions.
The options for overcoming these problems and experiencing success in the market are:
1) To invest in yarn dyeing machinery with an additional set of drying cylinders and a steamer which permits precise dyeing control for all cotton dyes or
2) Establish a research effort internally in which the actual conditions of the Indigo machine are duplicated in the laboratory so that dyeing formulations and methods can accurately predict results on the yarn during production.
The options for producing denim colors as far as dyes are concerned are:
Sulfur dyes: These are low–cost and can be applied on Indigo machinery, fabric dyeing machinery, jiggers, pad-batch and garment dyeing machinery with properly designed methods. Sulfurs are highly versatile in application methods including space dyeing, printing, spray dyeing etc. Sulfurs have an appearance that is more natural than reactives or directs, having a softer appearance and allowing versatile wash down effects in laundering.
Vat dyes: These are are more costly, but they result in bright, highly colorfast shades. There are a few vat dyes that can be mixed with Indigo for casting, however pure vat colors are best applied on denim with specially-designed rope ranges, like the Spectrum, with an additional set of drying cylinders, steamer and small pad boxes for dye-pad, dry, chem-pad, steam methods.
Direct dyes: These are currently being applied in garment dyeing of jeans in light colors for the higher fashion market. Direct dyes can also be used for tinting denim fabrics by adding to finishing formulas.
Reactives: These are very expensive to use. They are often used in garment dyeing, because they do not require an understanding of dye chemistry. There have been attempts to apply on indigo machinery, but control of dyeing is nearly impossible because of the large dye boxes on most indigo equipment, much of the dye being hydrolyzed before it can penetrate the cotton. Again, as with vat dyes, reactives should be applied in a small box, then dried, chem-padded and steamed. The only practical alternative for most denim companies is to apply reactives in sizing with special procedures.
Affinity Factors: Key to controlling sulfur dyeing
Sulfurs are a type of vat dye like Indigo, both of which present control problems on Indigo machinery. Vat dyes like sulfurs are known as "substantive dyes" which means that they are absorbed by cotton at a faster rate than water. How much faster a substantive dye is absorbed by water is known as the "Affinity Factor".
The affinity factor changes depending on the chemical nature of the sulfur dye, the concentration of each dye and the temperature of dyeing. For example, a sulfur black applied in continuous dyeing at a temperature of 90C and a concentration of 180 g/L will have an affinity factor of 2, which is very low. This means that the dye is absorbed twice as fast as water, so in order to maintain a concentration of 180 g/L in the box for a gravity feed, the concentration in the feeding tank should be about 360 g/L. If you were to use 30 g/L for a sulfur bottom at 90 C, the affinity factor would be perhaps 20. This means that at 90C, the dye is absorbed about 20 times faster than water, which makes dyeing control impossible and is why sulfur bottoms are usually inconsistent and light. Sulfur bottoms are a form of sulfur color and in order to establish dyeing control of any color, the affinity factor must be reduced by using lower temperatures. It is well-known that a 10C increase in temperature results in a doubling of reaction rates, so the solution is to dye at the lowest temperature possible. Commonly-used reducing agents like sodium sulphide and dextrose require temperatures around 90 C, therefore these should be replaced by reducers that allow dyeing at no more than 60C for any sulfur color other than black.
There is also a widespread problem with the quality of sulfur dyes in the market. Liquid sulfur dyes often have a pH of 14, which results in variation even with blacks as well as poor washfastness, poor rubbing- fastness and large amounts of dye waste during wash cycles. Sulfur dyeing is best at pH 11. Also for continuous dyeing, the reduction potential is critical for consistency and color-fastness. The higher the reduction potential of the dye and of the dye application, the better the results. Sulfur liquids with the highest reduction potential, around -750 mV offer the best continuous dyeing control, while dyeing at very low millivolts (-585) as with sodium sulphide result in very poor quality dyeings.
A note by Harry Mercer:
I have been involved in producing successful denim colors for the fashion markets for over 20 years. Until recently, activity in this area has been limited because of technical difficulties in applying colors on denim equipment, however interest in denim colors has become explosive recently. I have collected many of the denim colors available internationally and can refer garment producers to the leading fabric suppliers. I also have evaluated the dye and chemical suppliers with the best products and technical service for yarn, fabric and garment dyeing that I will be happy to refer interested parties to.
This is a guest post by Harry Mercer. Mr. Mercer has 30 years experience in the denim business including 3 prominent U.S. denim companies.He is an expert colorist for measurement and color matching as well as textile testing and is considered to be a leading authority  for denim dyeing, finishing and fashion denim development.
Sponsored Link:
Color Denim Collection Spring/ Summer 2013