Cone Denim recently celebrated 110th year of operation. Still true to its heritage, the White Oak Plant operates today creating Cone Denim's authentic premium and vintage denim  on Vintage 1940s Fly Shuttle Looms as well as state of the art modern looms. Innovation and heritage combine to create the celebrated denims, White Oak originals.
In 1905 brothers Moses and Ceasar Cone embarked on what would become an icon in the denim industry, a mill called White Oak. The turn of the century brought a new energy and excitement to America, and denim fabrics gained popularity as a favored "workwear". The first bobbin of White Oak yarn was produced on April 20, 1905.
Cone denim celebrates 110 years of manufacturing  with the release of a special T-shirt  and 100% profits from the sale of this T-shirt would go to support
the Salvation Army Boys & Girls Club of Greensboro .
"We are returning to our roots with the unveiling of Natural Indigo Selvage Denim, produced exclusively at its historic White Oak® mill in Greensboro, NC. The Natural Indigo Collection is "Crafted with Care in the USA" and created in celebration of White Oak's 110 year anniversary –Cone denim says'".

"This is one of our most exciting developments," says Kara Nicholas, Vice President Product Development + Marketing. "The celebration of White Oak's 110 year anniversary made this the perfect time to bring together White Oak's heritage and authentic selvage denims with new innovation in bio based natural dyes from plant based – US farmed indigo. As far as we know, this is the first time that natural indigo has been used in scalable production in the United States in over 100 years."
Some Cool Cone Products
Coming out with their Top Secret line of Selvedges to commemorate their 110 years Cone denim White Oak brings out some cool natural indigo colors and fabric structures to give a very different look and feel to the selvedges (see pics below).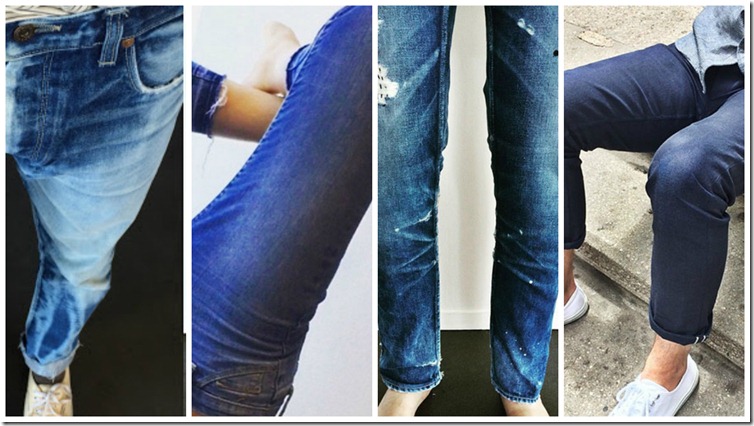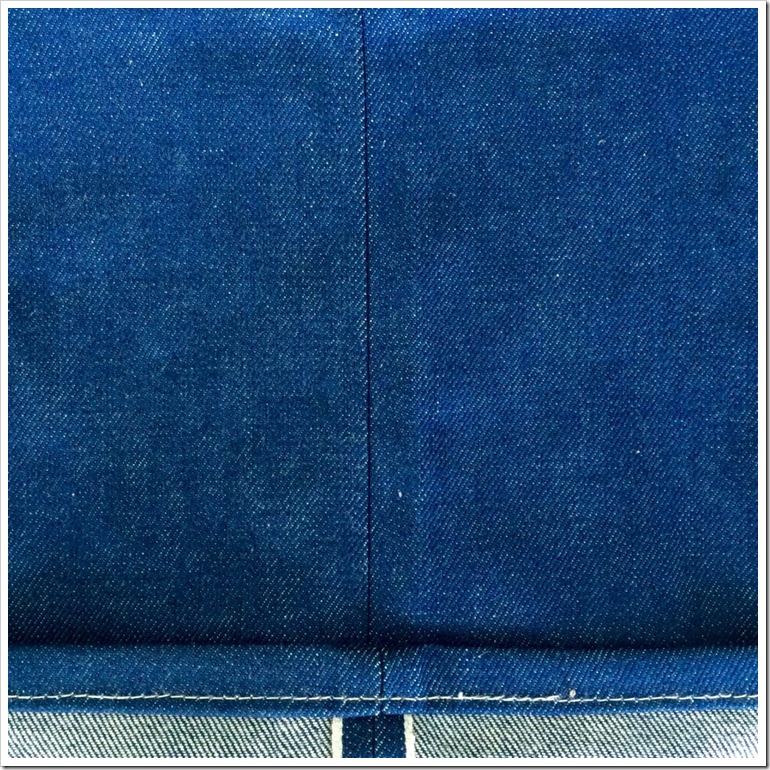 Cone denim Detail shots of knees and whiskers for month 4 of the W660 WhiteOak110 selvage denim wear test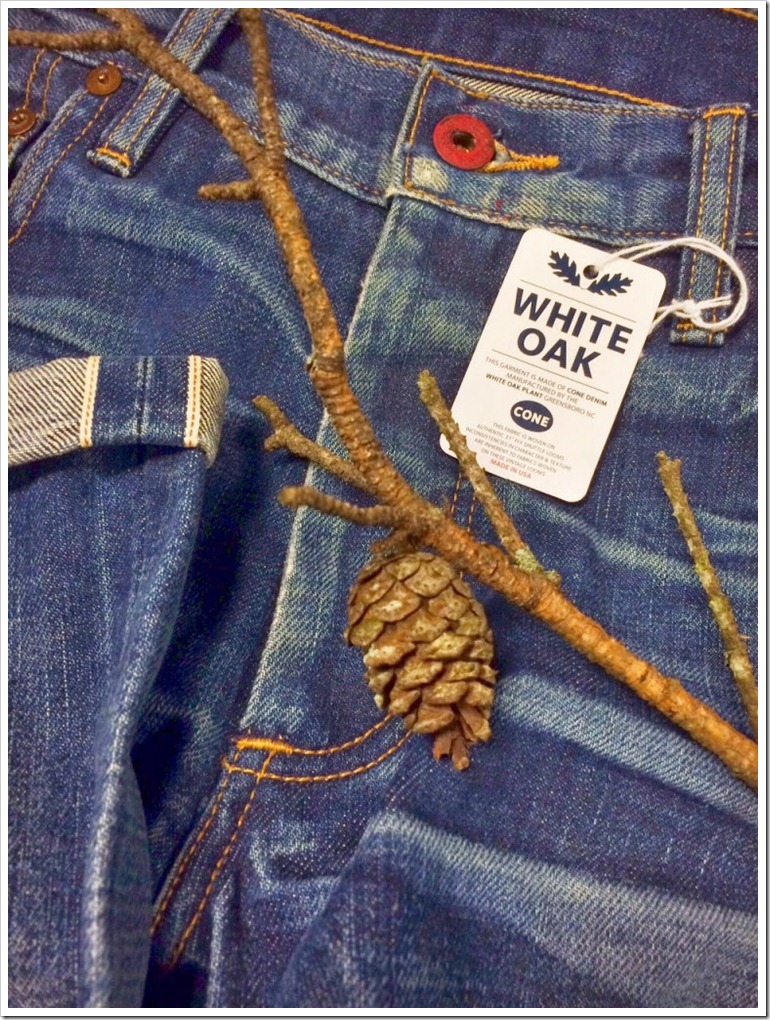 WhiteOak110 collection style 7237 "Floral" shirting fabric is finally here in a 6.25 oz 100% cotton Dobby weave woven at the one n only White Oak mill.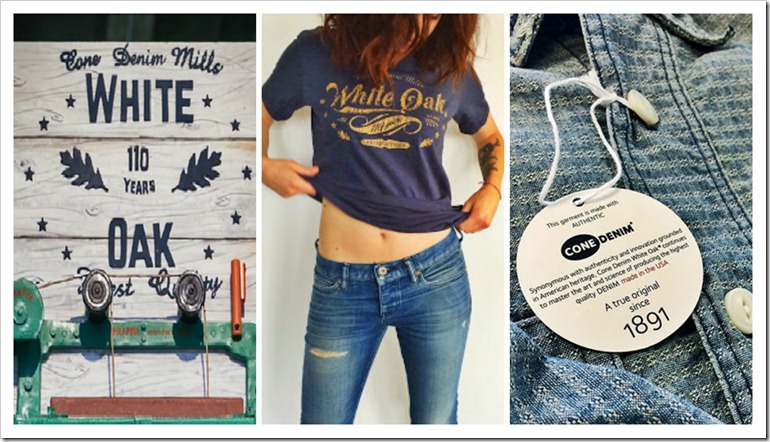 Some Vintage Garments From Cone Collection
We also bring below some of iconic heritage garments from Cone collection – some of which are over 100 years old and listed by Cone.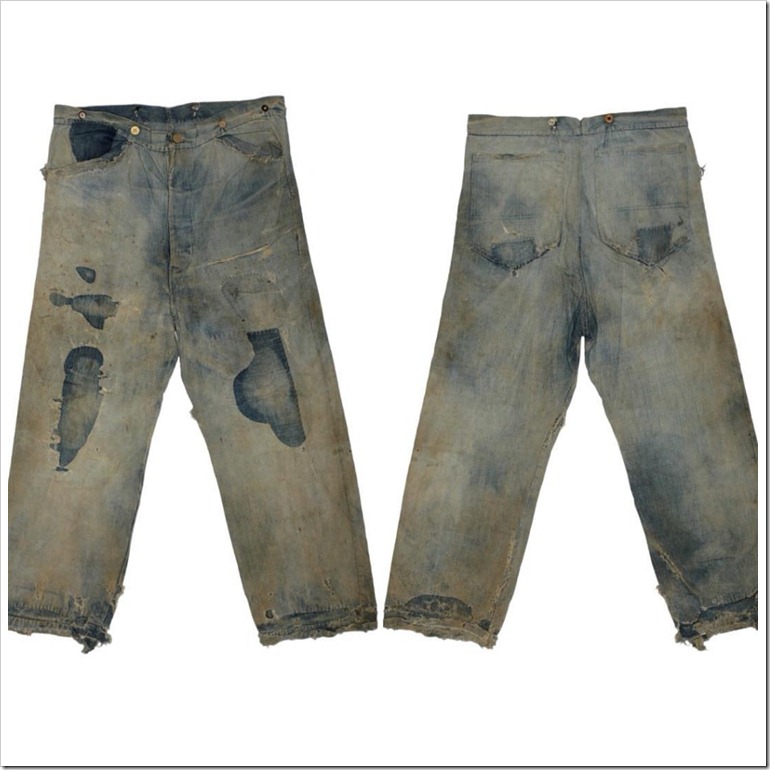 The mid-1900's waist overall is from an unknown brand and the owner practically wore them to pieces, as evident by the extensive hand-mending and patchwork seen throughout, not to mention the lack of indigo left in yarns. These appear to be heavily customized by the wearer as well- the single needle stitching, unfinished seams and miscellaneous suspender buttons sewn onto the waist band all suggest that at one point these could've been started life as bib overalls and turned into a version more closely resembling the 5-pocket denim jeans.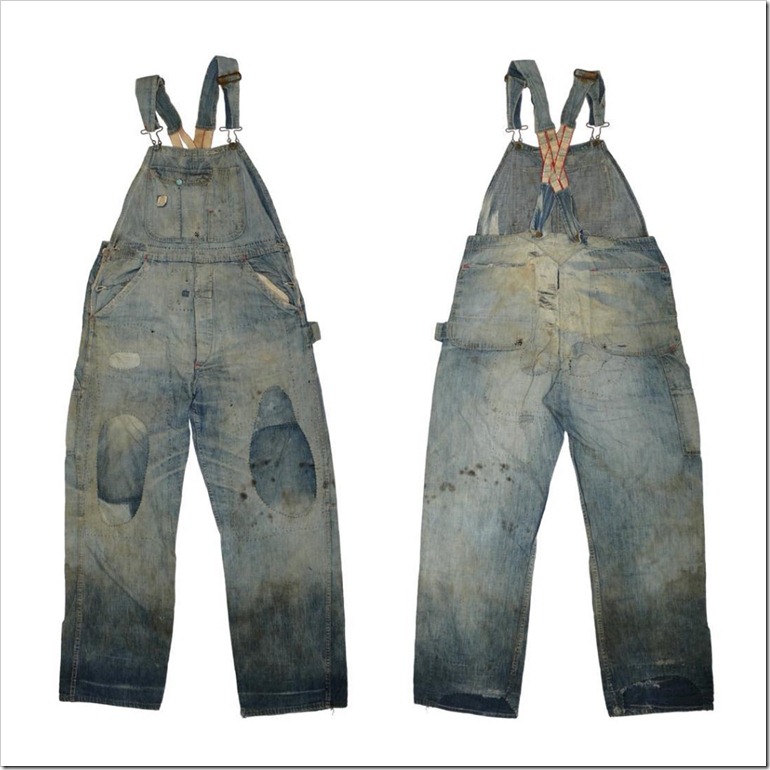 A pair of heavily worn bib overalls from Blue Bell brand back in the '40's. This low back model has heavy hand-stitched patchwork repairs throughout, triangular suspender reinforcement, and printed "Blue Bell" label. There were several versions of Blue Bell's label and the layout of this particular one indicates it is an earlier design. On later model garments the bell on the label is slightly tilted at an angle. Branded buttons read either "SANFORIZED" or "BLUE BELL." The suspender straps were taken from an Anvil brand garment.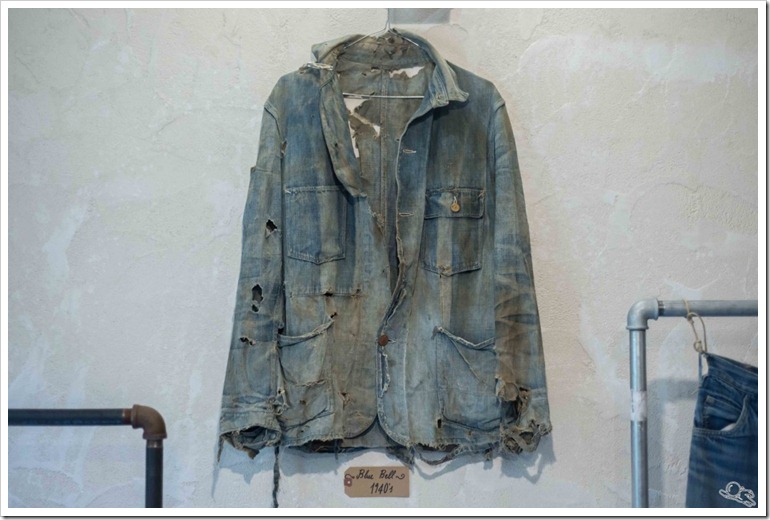 A hickorystripe popover style work wear shirt with chambray trim along the bottom circa 1940. The patchwork, hand-stitched repairs and lack of industrial fasteners, together with the "one operation" style of seeing indicates that this shirt was either homemade, or fashioned by a local seamstress. The front and back of the garment shows the sun-bleached outline of the bib and straps of the overalls the wearer paired it with.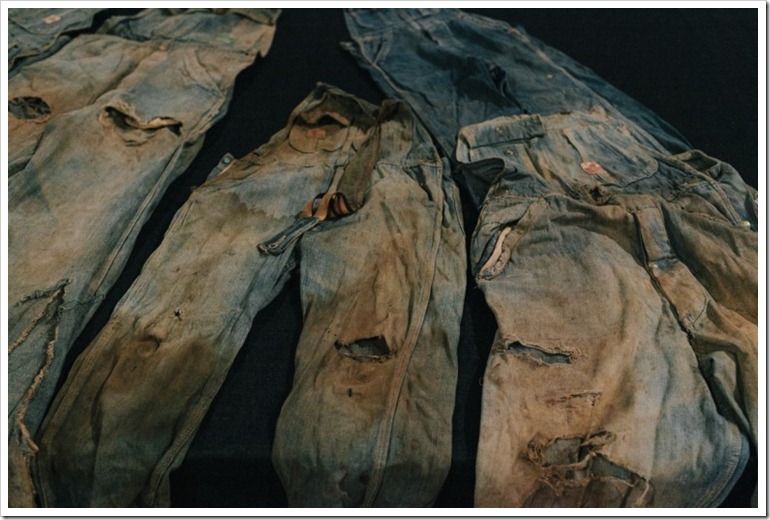 Heavy hand repairs with a missing back left leg exposing cross sections of patchwork mending give way to a two back pocket bib design low back model with triangular suspender reinforcements.
And given below is a video from CONE proudly declaring that their fabrics are 'STILL MADE IN AMERICA' !
Still Made In America from Cone Denim on Vimeo.