Levi's and H & M have announced that they will no longer place orders for sandblasted garments (included jeans) due to the health hazard they pose.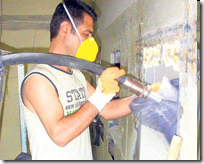 Sandblasting has been used by the clothing industry to give some products (specially denim jeans ) a worn look but the process, if done incorrectly, it can expose workers to crystalline silica, a compound found in sand. Crystalline silica has been classified as a human lung carcinogen, according to the Occupational Safety and Health Administration. Dust can enter the lungs and form scar tissue, reducing the ability of the lungs to take in oxygen.
"We've implemented rigorous standards for sandblasting in our own supply chain but we decided that the best way to help ensure no worker — in any garment factory — faces the risks associated with exposure to crystalline silica is to move to end sandblasting industrywide," said David Love, senior vice president and chief supply chain officer at Levi Strauss & Co.
Scientists, unionists and some nongovernmental associations, particularly in major manufacturer countries such as Turkey, India and China, say the widespread technique causes the lung disease silicosis.
Though both companies had procedures in place to control the sandblasting procedure, they decided not to depend on their suppliers to follow them and rather decided to abandom the technique altogether .
"H&M has had health and safety requirements for sandblasting for several years. Like all other Code of Conduct requirements, the monitoring of sandblasting practices has been part of our extensive Full Audit Program," said Karl Gunnar Fagerlin, production manager at H&M, according to a report on the firm's official website. "At the same time, [ensuring] that these standards are being observed by all of our suppliers and their subcontractors has proven too difficult. In order to make certain that no worker producing denim garments for H&M risks his or her health, we have decided to quit purchasing and retailing sandblasted products," he said.
"There are other ways to achieve a worn finish," the release by Levi's said. "We're confident our customers – no matter how they like the finish of their jeans – feel the same way."
I think it is a very welcome move by Levi's and H & M. We have seen incidences of problems caused to health of workers in countries like Turkey , India and China . It is only hoped that the denim industry as a whole would abandon Sandblasting as there are way many other options available today to get similar effects.