We are happy to announce the launch of our New Denim Videos section.  Though we had a video section before , we have revamped it and , hopefully, made it more useful for our readers . The aim of this new section is that it should be able to cover most of the useful videos on the entire supply chain of denim manufacturing  plus retailing and marketing activities so that people connected with any link of the denim chain from  producers to consumers may find informative videos related to their area of interest.  We are starting with a few hundred videos but will keep on adding  new videos under  various categories.  On the landing page of the video section, we will try to change and include more recent videos eg those relating to Latest Collections , processes etc .
Let me explain a little  more: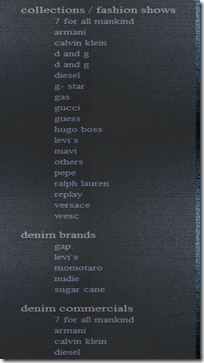 We have categorized the videos into various categories which you can see on the left panel as shown here. These categories are just for starters and we shall keep on adding new ones depending on reader feedbacks and reviews. You can click on these categories and then refine further if needed.
You can also search from the search box given above


You can also comment on these videos if you use facebook . If you are logged in in another tab of your browser, you will see the facebook comment box under the video with your photo on it . See below. You can just leave your comments here if you wish to give feedback or even if you want to share with your facebook friends.

We shall also invite readers to leave contributions of  denim videos (on youtube) related to their companies – denim mills, garment companies, brands, educative videos and any other videos related to denim. We shall review these videos and if found to be informative, we shall incorporate them in our collection.
Do try to leave your suggestions/comments and feedbacks.. It will help us to serve the industry better…. If you wish to suggest any videos for inclusion, send us a mail here or leave a message under the videos..