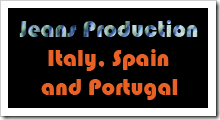 Countries like Italy, Spain , Portugal etc have been important centers of denim jeans production in EU for a long time. However, with changing times, increasing costs and other factors, the production significantly fell down and shifted to Asian countries .
However, still some production is being  done in these countries. In this report , we will analyse
How much production is being done in Italy, Spain and Portugal and how this production has been affected over a period of 3 years.
Also, we will see the production values for these jeans which will give an idea of the cost of production in these countries .
We will see a break up of Men's and Women's jeans being produced  and it will indicate which of these countries is more adept in making which kind of product . Of course , it will also show that which category is more in demand.
Lets have a look at the figures for these countries in the tables below. It is interesting to note the average declared value of productions per piece in these countries and surprisingly Italy is not the most expensive for women's Jeans
Spain
Production of Men's and Women's Jeans and their Value