You might have been following our site for various news and reports which we publish on a regular basis. Though we try to cover a lot of  things, we cannot cover every cool thing about denim . Hence , we decided to create a page where we aggregate the cool articles on denim  from the sites that we respect and update them on a daily basis. The articles are mainly focused on denim brands and trends..
This page called the "Around The Web" will have names of articles with links and some description from around the web that we find interesting. These will be updated on a daily basis. The articles will have links and will take the reader to the complete article . 
So you just need to remember the link of this page – which we have kept very simple. If you know our site name ie Denimsandjeans.com , then you just need to add a forward slash and add 'latest' to it . Thus the link becomes http://denimsandjeans.com/latest   or you could simply bookmark it to see on a regular basis.
Here is a snapshot of the articles that you can see on this page today (ie 9th june 2012

) . Let me have suggestions , if you have any and do not forget to bookmark this page or to just add "latest" to our website address Denimsandjeans.com/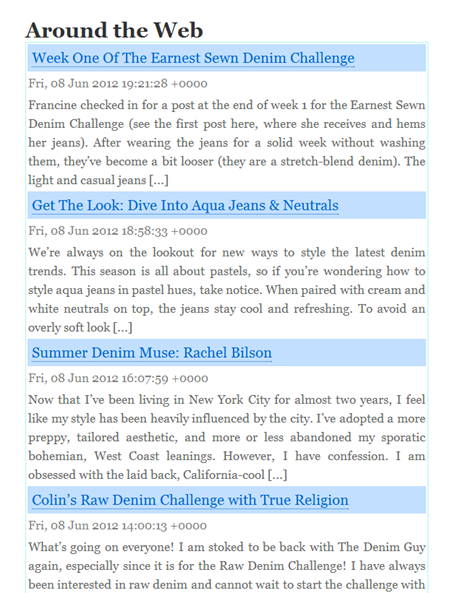 Sponsored Link: