G-Star  is always at the helm of technology development and creative applications in the denim industry. Some of the most innovative looks have emanated from the brand. This time its the STAQ(CKI)NG EFFECT IN JEANS !. It continues  to modernize its denim range with the creative consultancy of innovative designer and visual artist, Aitor Throup. The inventive technicalities behind the stacking effect that gives the jeans their name are characteristic of both G-Star and Throup.
The way to achieve  this stacking effect is by having a  continuous tape runs down the inner and outer seams of the jean legs, tacked in specific places, creating the iconic three-dimensional aesthetic.

Staq :
The Staq jean is a hybrid of traditional jeans and chinos. The latest evolution in 3D Denim, the Staq uses a new method of 3D construction with an internal taping system that creates its 3D structure and 'stacked' leg – an effect labelled by young denim heads when jeans naturally gather at the lower leg.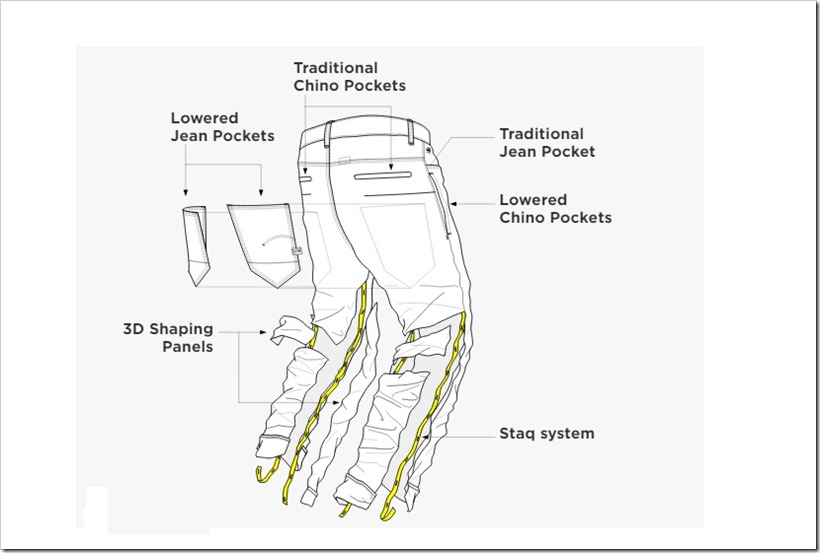 Features :
Engineered with deeply rippled stacks that rise up the legs, the Staq is the next generation of 3D denim. Thanks to specially engineered seams, the Staq keeps its crumpled texture regardless of wear and laundering.
1.3D Tapered fit
Regular waistband
Long rise
Narrows from thigh to hem
Button fly

2.Fabric :
SPINEL DENIM
The Staq 3D Tapered is cut from authentic 3X1 right hand denim with a deep indigo base-shade and dry hand-feel.
Medium weight 12.7 oz denim
Classic, longwearing construction
Singed, pre-skewed and pre-shrunk
100% cotton
3. 3D Raw
Expertly finished with baked-in 3D wrinkles for a crumpled, broken-in look.
  3D looks in the jeans have been in for many years now. However, G-Star was also at the forefront of creating the original 3D looks in Jeans. Now it takes them a step forward . Don't EVER LOOSE your 3D Looks !