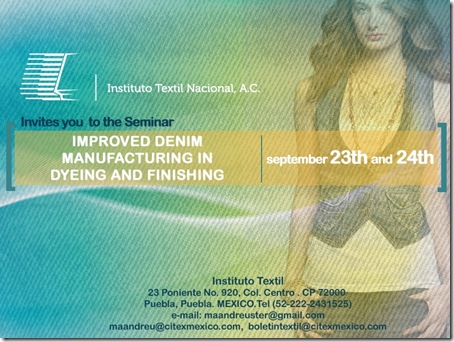 An important seminar on denim manufacturing is scheduled to take place in Puebla –Mexico on September 23rd and 24th 2010. The Mexican Textile Institute will be sponsoring the  seminar titled "Improved Denim Manufacturing in Dyeing and Finishing" .
Topics include:
Denim Finishing Techniques for Highest Quality and Profits;
Chemistry and Application of Sulfur Dyes in Denim;
Denim Product Development Techniques;
Chemistry of Indigo Dyeing,
Special Dyeing Techniques,
Design of Indigo Dyeing Machinery;
Garment Finishing Techniques for High Fashion, Advances in Warping and Re-beaming.
Given below are some  details of the presentations at the seminar .
YARNS AND FABRIC CONSTUCTIONS FOR DENIM PRODUCT DEVELOPMENT
Fiber selection, fiber blending, spinning, warping and weaving considerations for special effects and higher quality and efficiency.
(30 minutes)
DENIM YARN PREPARATION
Covers the technical aspects of ball-warping and re-beaming with a review of the latest advances in these processes.
Power point presentation courtesy of Morrison Machinery.
(30 minutes)
CHEMICAL ASSISTANTS FOR DYEING AND FINISHING DENIM
How to select chemicals for superior results.
Includes laboratory evaluation and production applications.
Advises on chemical types of products that provide the best quality at lowest costs and commonly-used textile chemicals that should be avoided.
Surfactants including wetting agents, dispersants, soaping agents and how to evaluate and apply them.
Sequestrants for improved pretreatment, dyeing and washing.
Oxidizers for sulfur dyeing
Reducing agents usable in Indigo and sulfur dyeing
Softeners used in dyeing and finishing, with emphasis on cationic versus non-ionic types.
(30 minutes)
INDIGO DYEING
The chemical mysteries of Indigo Dyeing are explained in detail with the best methods for controlling reactions between Indigo, sodium hydroxide and sodium hydrosulphite including improved mixing procedures, the effects of time and temperature, methods for measuring and correcting the concentrated feed mix and calculations useful for Indigo dyeing.
How Indigo dyeing is affected by temperature, humidity, yarn tension and barometric pressure is discussed.
Correction of common dyeing problems of color variation from start-to-finish and from side-to-side.
Product development techniques In Indigo dyeing including specific chemical pre-treatments, controlling dye penetration into fibers and yarns, use of alkaline and reductive buffers, producing dark denims with 1.0 to 4.0% Indigo and light denims with from 0.1 to 0.8% Indigo.
Practices for higher weaving efficiencies and lower pollution.
(90 minutes, should divide into 2 parts)
SULFUR DYEING FOR DENIM
Discussion of the chemistry of sulfur dyes, the advantages and disadvantages of using sulfur dyes.
Methods are discussed for dyeing the darkest and most colorfast sulfur blacks with less dye and very low pollution as well as dyeing light shades with single sulfur dyes (grey, blue,brown, green, red) and sulfur dye combinations (khaki, violet,orange,turquoise etc.)
Problems and solutions for dyeing bottoms and tops. Explains why commonly-used bad practices in sulfur dyeing regarding temperature, pH, reduction and oxidation result in excessive costs, unnecessary pollution, low colorfastness, consistency and low weaving efficiency
(60 minutes)
DENIM FINISHING
Explains why denim is the most difficult cotton fabric to finish, especially in regard to control of shrinkage.
Provides strategies for controlling shrinkage to within +/-0.5%, improving fabric yield in order to increase profits and reduce color variation in Sanforizing.
Discusses causes and corrective actions for all common denim finishing defects and how to develop optimal finishing recipes for highest fabric quality and lowest finishing costs.
Included are advances in denim product development with regard to flat-finishing, resin finishing, stretch denims and special appearance effects.
(60 minutes)
A. Frescura, Jaeggli Mecanno Tessile, Italy.
Manufacturer of Indigo dyeing machinery who will discuss design features of Looptex, slasher dyeing and rope ranges including nitrogen systems, circulation systems, dye preparation and sizing machinery.
(45 minutes).
Giacomo Mussetti, Bozzetto Fine Chemicals Italy
will explain the types of chemicals recommended for Indigo dyeing. Discussion includes the technical aspects of wetting agents, sequestrants, oxidizers, fixatives, and dispersants.
Maurizio Morosini, Garmon
Will explain advances in specialty chemicals for denim laundries that market to the highest denim fashion sectors. Demonstrates examples of unusual effects of denim garments including 3-dimensional effects and other exciting appearance effects.
Besides, the organizers mention that  there are a number of  valuable methods for increasing denim profits that they will  reserve for a separate meeting for any denim executives that are present.
Presentation materials available in Spanish and English. There  will also be  simultaneous translation from English to Spanish in site for those who could needed .
Those who cannot attend the seminar can also view the same through the web . The organizers shall provide the facility for the same to companies.
For details contact
Miguel Andreu at  maandreuster@gmail.com
Instituto Textil Nacional, A.C.
23 Poniente No. 920, Col. Centro . CP 72,000Puebla, Puebla. MEXICO. T el (52-222-243 1525)