Continuing the tradition of focus on Sustainability,  the second edition of Denimsandjeans Vietnam witnessed a very important Panel Discussion :" Mission Blue- Create denim for the future with care for people and the planet "  on June 7 at the Gem Center , Ho Chi Minh City . The objective of the panel discussion  was to bring out the new initiatives G-Star is taking alongwith their partners to make their products much more sustainable. G-Star has already set a target to go use sustainable materials in all their products by 2020 and it was in this context that the presentations and talks by Sara Fressler ( G-Star) , Dreszig Christian ( Bluesign) and Myra Opena (Saitex) became very interesting for the denim community to attend or view. The panel discussion was moderated by Mr Bill Watson – the MD of Coats Vietnam.
BLUESIGN

|G STAR RAW |SAITEX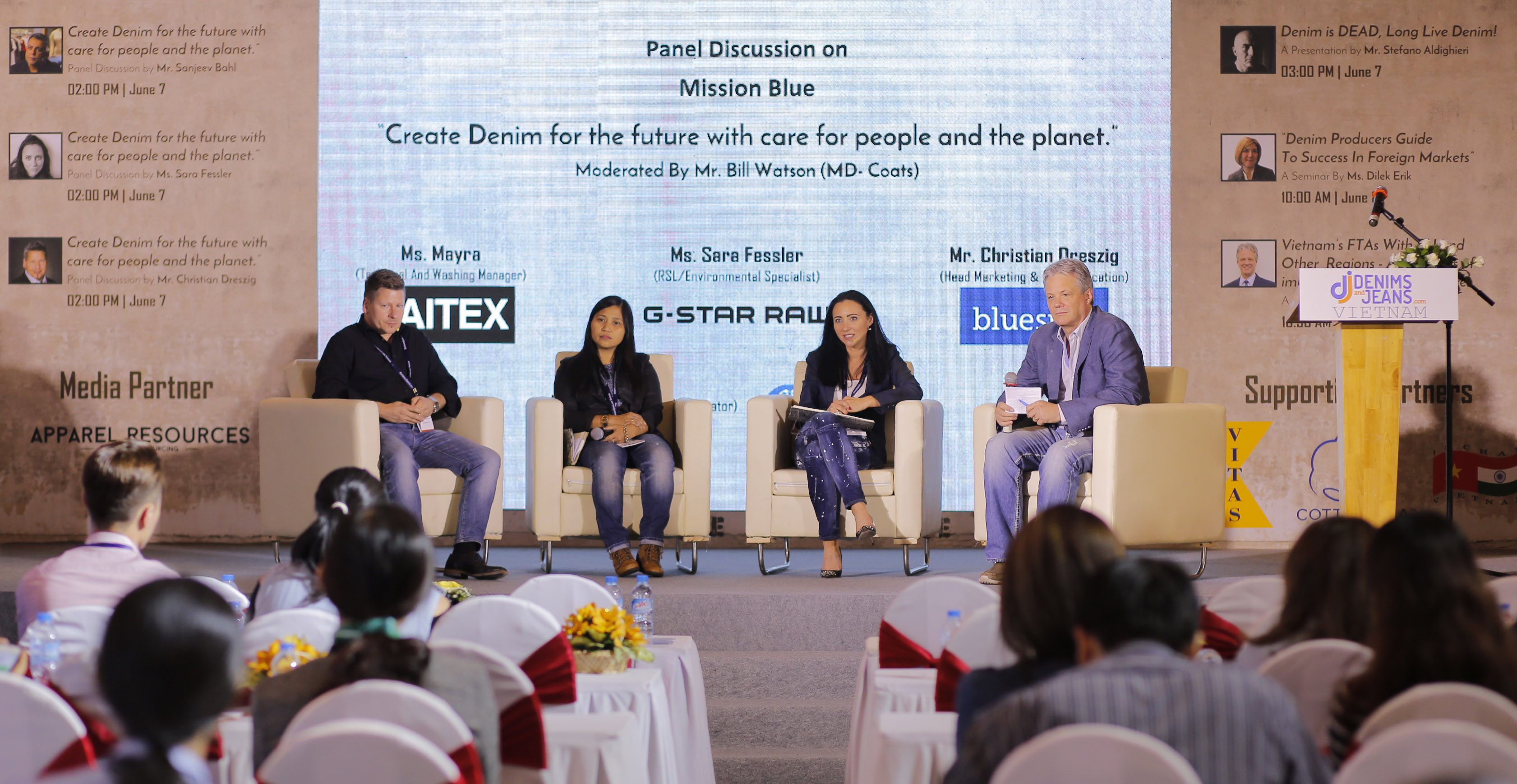 G Star Raw | Ms Sara Fessler 
Ms Sara , the RSL/Environmental Specialist from G-Star, brought out a detailed presentation explaining why we are not sustainable today in denim production and how G-Star aims to achieve sustainability in their processes by 2020. She stressed on the fact that G-Star works very closely with their supply chain partners to achieve this goal . She also mentioned that G-Star has partnered with BLUESIGN , a solution provider service company which is working with an objective reduce the environmental impact of the entire textile and related supply chain and shift towards a resource conserving production , to achieve this goal. Here are some excerpts from her presentation.
SUSTAINABILITY – THE FUTURE IS RAW
Let's check some facts which will make you feel strongly as to why SUSTAINABILITY is so important now .
It takes over

3000 Liters

of waters to make a single pair of jeans.

6%

of the world's pesticides is used for cotton cultivation.

By wearing jeans

10 times

before washing, consumers can reduce the environmental impact by

75%.

50% of China's rivers are polluted by industrial effluent.

Around 5% of all waste on landfills is textile.

Garment factories in Bangladesh employ around

4 million

people.
G-STAR RAW RESPONSIBILITY
According to G Star , Responsible Supply Chain,Sustainable Product ,Sustainable Operations and Community Involvement are four pillars to the corporate responsibility and G Star has been strengthening all these pillars equally to achieve its objective . In the past , the company has taken some initiatives in order to achieve the sustainability and they are :
DETOX   
On July  2011, Greenpeace published their 1st Dirty Laundry Report in which they pointed out the problem of toxic water pollution resulting from the release of hazardous chemicals by the textile industry in China. As part of the investigations, Greenpeace also uncovered links between these polluting facilities and a number of major clothing, fashion and sportswear brands. The company is committed to achieve such production facility which could minimize the level of pollution . The company is  actively working together with their suppliers on various innovative dyeing and finishing processes, including ozone bleaching, laser treatments and natural tanning of leather, that have a reduced environmental impact. In 2013 , they achieved free of APEO containing formulation and free of Phthalates for all garments and accessories. In 2015 , further they managed successfully a free of PFC (perfluorinated chemistry) for water repellent finishes and in August  2015 , G-Star Raw successfully partnered with a denim mill to become a Bluesign® system partner and the first bluesign® approved Denim fabrics from CALIK denim  were made available in the market.Target on first bluesign® product Jeans. In coming years , By the end of 2017, the company is targeting to make all their garments by sustainable wet processing .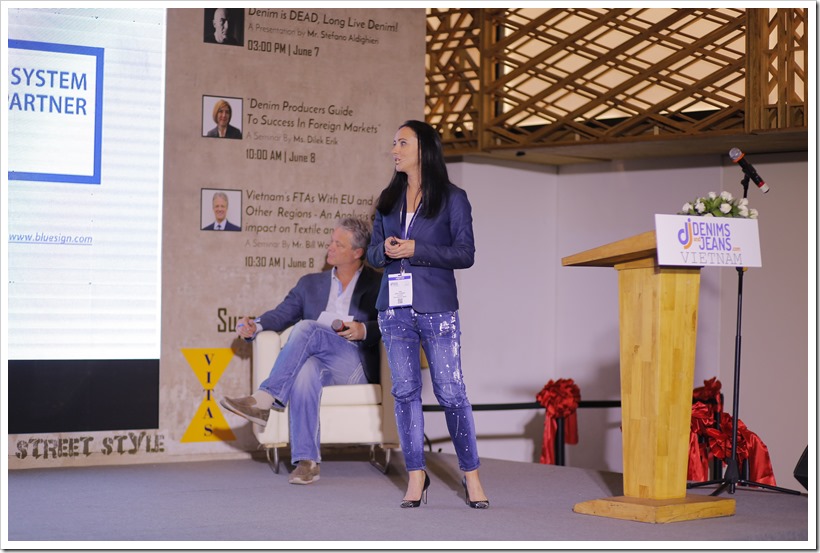 100% SUSTAINABLE MATERIALS BY 2020
G-Star works towards a fully sustainable collection. As a Made-by member since 2012 they have found an independent organization for verification. In January 2012,G-Star joined the Zero Discharge of Hazardous Chemicals Group. In March 2013 G-Star became  the 1st denim brand to join Bluesign® and are convinced that with respect to a chemical management, bluesign® is providing the solution for a fundamental and solid system that achieves input stream management.
RESTRICTED SUBSTANCE LIST
G-Star's RSL is running a strict monitoring program on Restricted Substances on finished products and also implementing the Manufacturing Restricted Substance List to eliminate at the beginning of our supply chain.The company is strictly abiding Environmental rules, regulations and standards applicable to the workplace.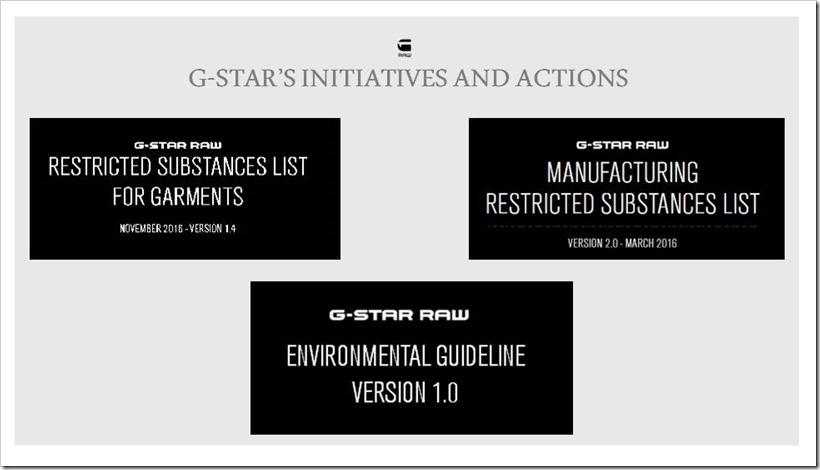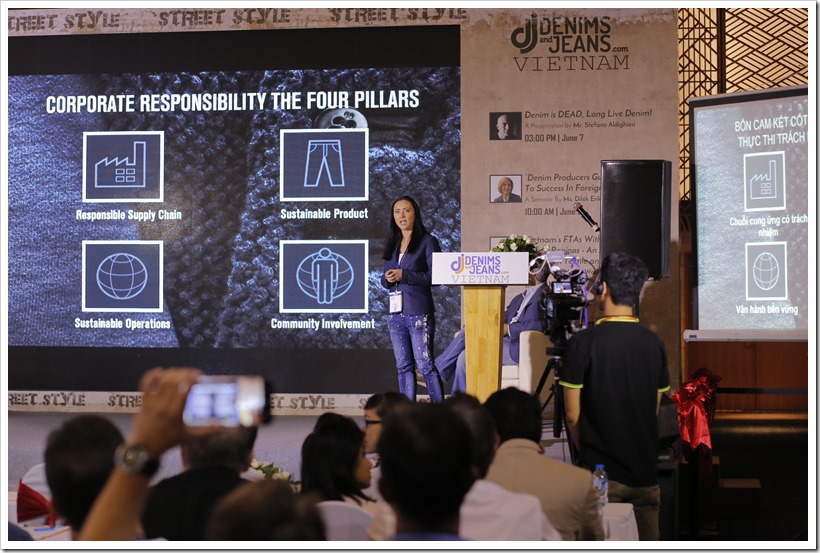 BLUESIGN | Mr Christian Dreszig
Founded in 2000,Bluesign is a solution provider service company which is working with an objective reduce the environmental impact of the entire textile and related supply chain and shift towards a resource conserving production. The company has 500 system partners worldwide and its HQ located in St.Gallen / Switzerland and Offices in Germany, USA, India, Japan, South Korea, Vietnam, Taiwan, China and Hong Kong.
At the second edition of Denimsandjeans Vietnam , Mr Christian from Bluesign shared his views through a presentation as to how  his company is contributing towards making the manufacturing process more sustainable . Some excerpts from his presentation.
What does denim for the future with care for people and the planet mean?
Explaining the above , he mentioned three core ingredient of Sustainability which are as follows :
Ecology : Environment, Water, air, soil, climate, CO2, chemicals management

Social Responsibility : People, stake holder relations, wages, working time and conditions, labor age, employee motivation, customer satisfaction

Economy : How to finance social responsibility and environment protection profit, investments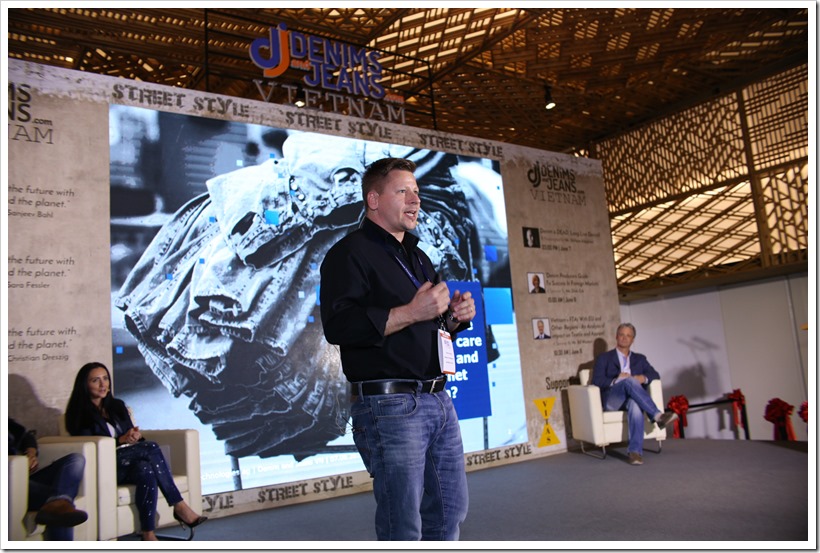 What are the challenges to produce sustainable Denim?
Christian believes that there are many challenges to produce a sustainable denim in the 21st century where the consumer behavior is very dynamic and tends to change every now and then. Consumers want to adopt the latest fashion and so the producers need to manufacture accordingly . Either its Autumn Winter , Spring Summer or Fall or whatever , the fact is that its all about fashion which is being changed and it has been changing very fast . Consumer want new effects , wash , distressed and new designs to look class apart . But grim fact is that all these effects need chemicals which is not so good for the environment and this is what which defeats the purpose of Sustainability. Lack of information and limitations of sample testing and physical control are some of the other major challenges .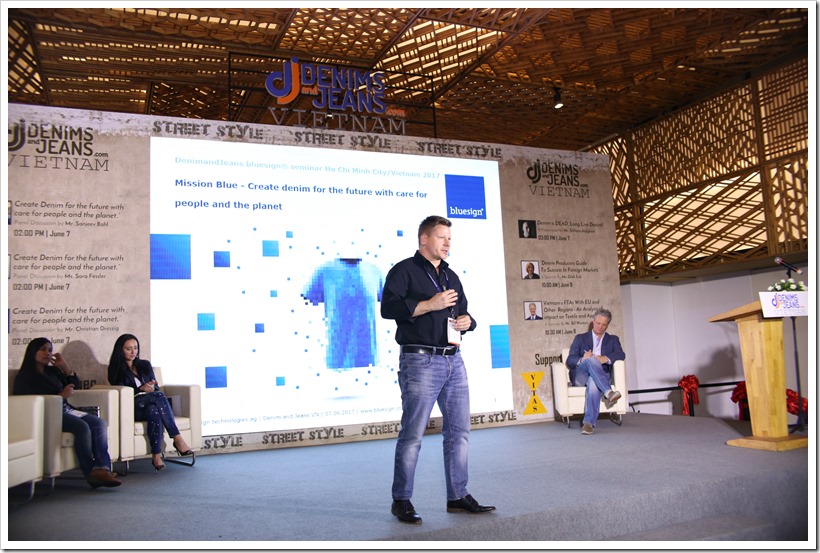 How we manage impact on denim manufacturing?
Bluesign does it in four ways :
Input Stream Management

Chemical Assessment

Company Assessment

Resource Productivity
The bluesign system is like nothing else from the above mainly for the reason that it is, a system and not a methodology based upon a snapshot in time or reliant on the often ineffective randomness of self reporting Bills of Substances, MSDS, and/or testing at the end of a process. Further, since it operates as a closed system all the way back to where the actual molecules are created, it prevents significant "loopholes" that might arise when simple tests or audits are cobbled together to produce a piecemeal approach to chemical integrity.
The bottom line is that the only real way to ensure the output you desire is to manage the input that you need.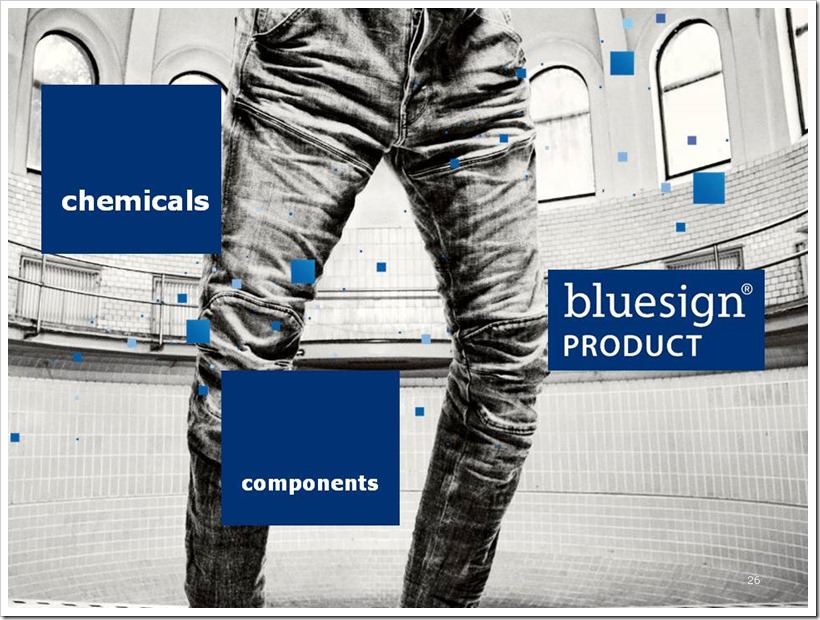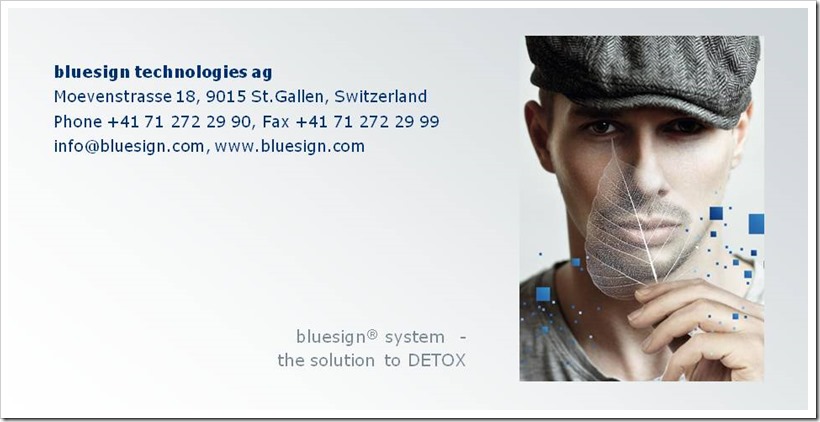 SAITEX | Ms Myra Jena Opena
Ms Myra Jena Opena from Saitex presented a very insightful video which primarily talked about as to why Sustainability is the need of hour and as to how Saitex is contributing to the Sustainability and Social Responsibility through its own way . Saitex is one of the best denim factory in the world and Myra explained the initatives Saitex has taken towards sustainability and corporate social responsibility. The video by Saitex explains all but some of the interesting ones to note were :
Air drying jeans  and using solar power to save energy .
Recycling the water , heat and steam in the factory
Using denim scrap to create a new denim shoes brand.
Aiming to farm organic cotton.
Using 1% of revenue to alleviate hunger and poverty besides building homes for homeless and planting trees to reduce carbon footprint
Most  of the initiatives Saitex has taken have been made on their own accord without any external requirements and the company aims to add further initiatives down the line. Besides Saitex has also partnered with Bluesign and is geared to achieve the requirements of G-Star sustainability goals.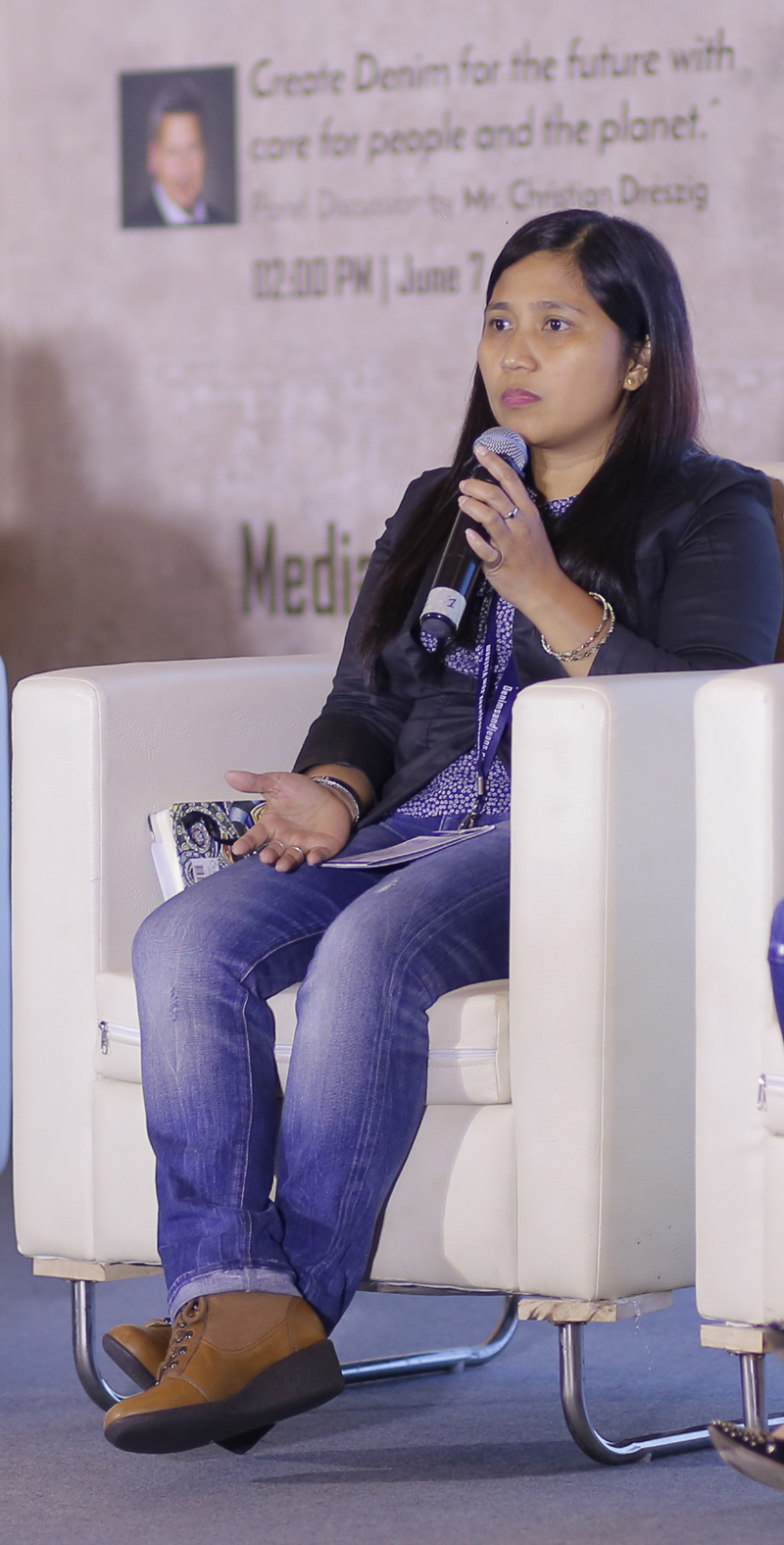 You can download the presentation here :
G Star & Bluesign Presentation : https://www.vmshow.denimsandjeans.com/presentations.php
To Watch the entire Panel Discussion , please click here.
---
Mr Bill Watson in his concluding remarks stated that the consumers have been always smart but they always didn't had the voice that they have it now and with the  social media and other digital platform they have started speaking on every substantial issue which is disturbing or heartwarming .
According to him what Bluesign has been doing is proactive not reactive and they are using a new approach from back end testing to front end testing and is actually giving an option to the consumer to decide in which side they would like to be, with the technology which is taking care of planet or with the rest