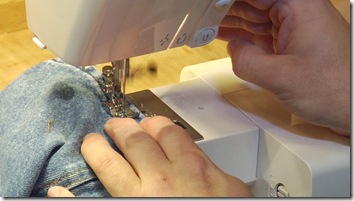 Sewing is an important part of the entire process of the creation of correct jeans. In this article, we shall find the main types of sewing , sewing yarns normally used and some do's and don'ts on sewing.
Types of Stitch For Denim Fabrics
A)Double Backstitch
This type of stitch is important not only with regard to the finish of the jeans but is also used for the
Preparation of the fly.
Placing patch pockets
Decorative backstitching on pockets
Extra Strong seams
Preparation of the waist
B)Double Chainstitch
Though many of its end uses are similar to double backstitch, some other applications are :
Double extra-strong seams
Preparation of the waist
Closing seams as safety seams
C)Overedging
This type of stitching is applied to polishing or overedging jobs, such as folds over flies, visible pocket seams and hems and jointly with the double chainstitch, as safety stitch for closing seams , such as side seams or seasm as used on crotches a, as well as for closing pocket sacks.
Sewing yarns for Denim Fabrics
The ideal yarns for manufacturing jeans ar e the contiuous polyester yarns lined in cotton. Thye offer advantages as regards the high resistance of the Polyester core, with the cotton improving the  safety of the seam , even on automation and perfectly harmonising with the denim fabrics.
There are various degrees of yarn thickness available for the manufacture of jeans..
1.Polyester-Cotton Yarn H25 (Nm25/3) and H35(Nm25/2)
Both the degrees of thickness are used for trimming seams , both in double backstitch and dboule chainstitch. H25 yarns is mainly used for getting a marked effect  and H35 for a subdued effect.
Thickness of needle suggested : Nm.120 to 140 for H35 and Nm 130 to 160 for H25
2. Polyester-Cotton Yarn H50 (Nm35/2)
This sewing yarn is ideal as lower yarn for spools or anchors , combining with thicker yarns for trimming stitches as well as for trimming stitches for lower relief seams.
Thickness of needle suggested :Nm 100-120
3. Polyester Cotton Yarn H75 (Nm 50/2)
Mainly used for non-visible closing seams , both in double backstitch and in double chainstitch,. Due to concentration , this i s also used for overedging.
Thickness of needle suggested – Nm 100-120
4.Polyester Cotton Yarn H120(Nm 80/2)
To Overedge the pocket sacks , preference is give, sometimes due to cost, to specially fine seewing yarn since the consumption of thread for overedging is much higher as against dobule backstitch or double chainstitch on the same length of seam.
Thickness of needle suggested – Nm 80 -100
Suggested Stitches per cm – for denim fabrics using the above yarns.
H25 – 1.5  to 2.5 stitches/cm
H35 – 2 to 3 stitches/cm
H50 – 2.5 to 3.5 stitches/cm
H75(Nm 50/2) – 3.5 to 4 stitches/cm
H120 (Nm80/2) – 3.5 to 5 stitches/cm
Some recommendations for sewing stretch denim fabrics
Stretch denim is different from other normal fabrics and sewing has to take into account that the lycra thread should not get damaged during the stitching. Some recommendations:
a)Pattern making : Front and back trouser trouser legsmust be sewn with the weave.
b)Sewing guide notch : It is important that the front/back components of the jeans have sewing guide nothces in order to avoid possible shifts when sewing, since the notches erve as reference for the sewing process along the seam.
c)Spreading out : Maximum 6 –7m lenght and 30-35 layers , and spreading out must be done with machine to avoid different tensions.
d)Cutting : not before 2 or 3 hours have lapsed in order to allow the fabric to relax.
e)Sewing :Use chain type sewing machine, with minimum 5-6 stitches per cm and sewing RPM at 3000-5000
A difference of 0.5 cm between components could cause twists.
f)It is important that the inside legs and sides of garments should be made in the opposite directions.
g)If there is surplus fabric in one component on making up the garment, do not cut this off , as this would lead to different shrinkage on washing in the cut component and therefore deformation.
h)Washes: Since stretch fabrics have  elastane in the weft or even sometimes in warp also, they must never be subjected to the same washing procedures as applied on Denim Fabrics made of 100% cotton. Stone washing must be effected with enzyme products (but they should not be acidic as they reduce the weight and resistance) , together with used stones at 50%. Hypochlorite must never be used as this damages the elastane.
i)Ironing : A temperature over 180 degrees celcius begins to damage the elastane. Hence care should be taken accordingly.