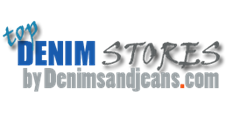 We are happy to announce our new feature which provides an easy way to find some of the best denim stores in different cities around the world. 
Denim jeans , jackets and other denim apparel are sold at thousands of stores around the world of different kinds – whether they are Speciality stores, Departmental stores,  Discount Stores, Pop Up stores , Mom and Pop Stores, Concept stores and many more.
Often  consumers, designers , fashionistas  and even those working in brands / garment factories / mills etc are looking for that unique denim store in the city which can give them the "Denim kicks" !.  Many times while travelling they  want to go out some real cool denim . And there are so many stores in each of these cities that one is very likely to  lose one's cool and way in  the malls .
We have to tried to solve this problem to some extent by providing an easy search facility on our site for some of the best denim stores on earth. Welcome to the DENIM STORES section at our site !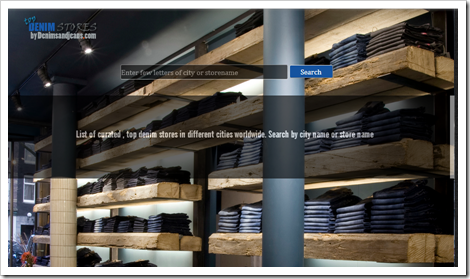 We are launching this new section for the benefit of our esteemed readers. To search for denim stores in any city , just enter the first few letters of that city name and you will find the options and just need to select the same .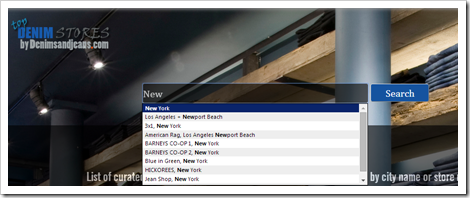 Or if you know about a store name , enter few letters and lo! you will find a list of matching stores in that name. Just select one and go to its page where you will find all details about that store – contact , website, email , denim brands stored , Google Map etc.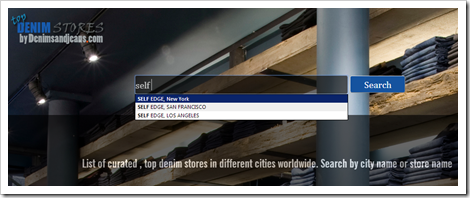 We are currently covering a very selected list of  stores around the world in some of the fashion forward cities including New York, London, Tokyo, Los Angeles and more. The stores have been selected on the basis of our own experience , recommendations from peers and experts , brands stored , conceptuality  and other factors. We have tried to bring out the stores which stand out from  hundreds of other stores in the same cities on various criteria mentioned above.
Do  advise us if the new feature adds value to your "Denim Experience " or not.  And we welcome suggestions for adding more stores and cities.  Hope you find this feature useful..