VF Corporation , one of the biggest premium apparel brand, recently announced to sell its contemporary brands business to Israeli textile company Delta Galil Industries Ltd. for a consideration of US$120 million under its reconstruction scheme. Struggling with sales volumes and constant downfall in the profit , VF had to go for this decision. Over the past twelve months , VF Corp's stock has fallen by 13% and the shares were traded down 7 cents to US$ 60.56. The contemporary brands segment includes denim brands such as 7 For All Mankind, and lifestyle apparel brands like Ella Moss and Splendid. The segment had sales of $344 million last year, or about 2.8% of VF Corp.'s total revenue.
The 7 For All Mankind brands is in the denim category, while Splendid and Ella Moss is in sportswear. VF bought Seven For All Mankind LLC for $775 million in August 2007.It acquired the rights to Ella Moss and Splendid in two separate asset transactions of its owner, Mo Industries Holdings Inc., which was completed in March 2009. Overall, it spent $238 million on the Mo Industries assets, as well as paying $47 million in Mo Industries net debt. The Contemporary Brands division was a clear underperformer in VF's portfolio in recent years. Divisional sales dropped 14 percent in fiscal 2015 to $344 million – representing just 2.8 percent of total company revenue. Sales were off 15 percent in the first quarter of fiscal 2016 to $74 million.Impairment charges taken on the brands just in fiscal 2015 exceeded what VF is getting in the deal.
The company reported the downfall of 17.6 % in the sales of its Contemporary Brand in the first quarter of 2016 as compared to the same quarter of last year.In Q1 2015, the total sales revenue from the Contemporary Brand was US$ 87.5 Million however it reduced to US$ 74.4 Million in the Q1 2016. The Profit for the same segment seems to be more distressing as it registered a massive downfall of 51.4% comparing the figures of the same quarter of last year. During the fourth quarter of fiscal 2015, VF's reduction of the goodwill values of the three brands resulted in a $97 million after-tax charge. That followed a $396.4 million write-down of goodwill with the same brands in the fourth quarter of fiscal 2104, resulting in a $307 million after-tax charge.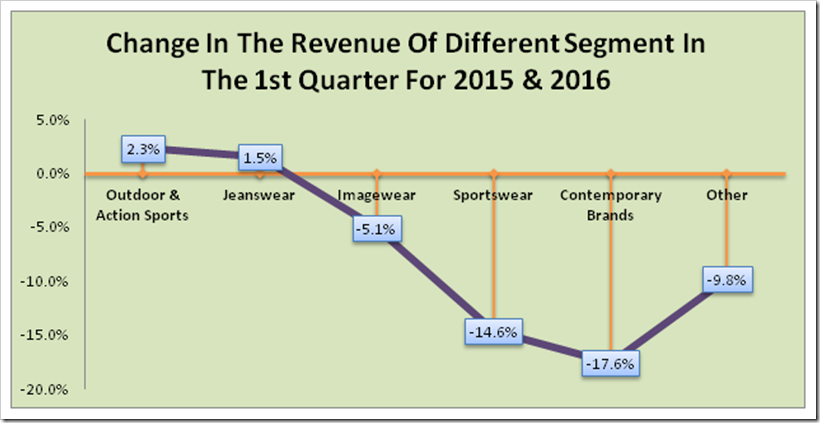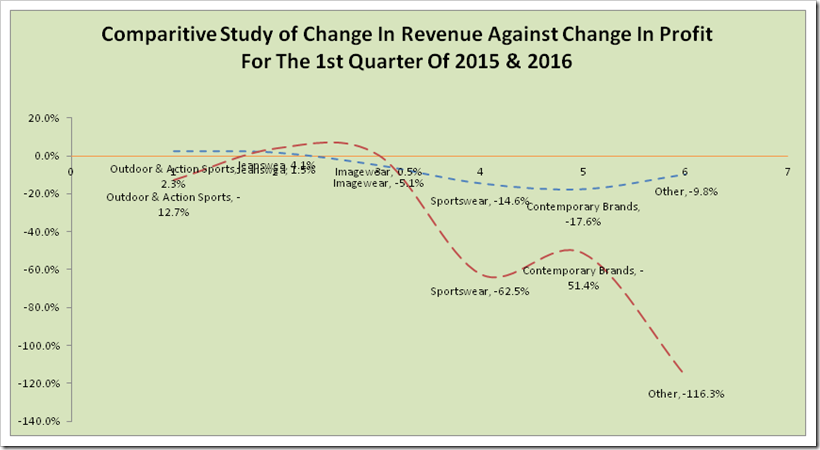 Delta Galil projects the brands will add $300 million in annual sales.Delta Galil stock, down 16% over the past 12 months, gained 13% Thursday in Tel Aviv. Delta Galil is a global maker and marketer of private-label apparel. The companies said the Delta Galil deal is expected to close during VF Corp.'s third quarter.
About Delta Galil Industries
Delta Galil Industries is a global manufacturer and marketer of branded and private label apparel products for men, women and children. Since its inception in 1975, the Company has continually strived to create products that follow a body-before-fabric philosophy, placing equal emphasis on comfort, aesthetics and quality. Delta Galil develops innovative seamless apparel including bras, shapewear and socks; intimate apparel for women; extensive lines of underwear for men; activewear, sleepwear and leisurewear. For more information, visit www.deltagalil.com.
In our previous report , we have done a detailed analysis of financial result of Q1 2016 of VF which also shows that the contemporary brands have not been doing well for VF !