On April 24th took place in Copenhagen one of the most important events for the fashion industry and sustainability: the Copenhagen Fashion Summit, a biennial event organized by the Danish Fashion Institute on behalf of the Nordic Fashion Association, where more than 1,100 companies from 34 countries confronted themselves with sustainability among the fashion industry.
The event was inaugurated by the presence of the Princess Mary of Denmark and 23 speakers participated in the summit, for example Livia Firth of Eco-Age Ldt., Alan Roberts of Bangladesh Accord on Fire and Building Safety, Vanessa Friedman – fashion editor of the Financial Times – and Helena Helmersson of H&M.
Industry leaders were gathered with the mission of discussing solutions that can come to terms with the fact that the fashion industry is one of the world's most polluting industries.
Among the outcomes was the launch of Clevercare.info, a care label aiming to educate consumers to care for their clothes in a more sustainable way. Another solution presented was the project Restart Fashion: Five Easy Steps to Sustainability; an online platform helping designers make more sustainable choices in the design and production process.
Some of the quotes from the summit were quite incisive and thought provoking .
"Sixty million people work in the fashion industry globally and it is an industry worth 2.5 trillion dollars, yet somehow we have divorced the clothes we buy from the fact that living, breathing people make them". "It's a case of out of sight, out of mind. We cannot keep eating from this big, cheap fashion pile without thinking about who made our clothes." –Livia Firth, Eco-Age Ltd.
H&M feels that there is an increased push from the consumers to bring out ethical clothing.
H&M has carried out a research that suggests their shoppers are 21% more interested in ethical clothing than they were a year ago. "Ethical clothes only work when they look good and are affordable." –Helena Helmersson, head of sustainability at H&M
"Designers are expected to do six to eight collections a year; high-street retailers bring new collections in every week. The system is based on planned obsolescence, and guess what? It is unsustainable. – Vanessa Friedman, journalist, Financial times
quote source:huginbiz.com
ISKO™, that always focuses its activity on innovation, was one of the sponsors of this event and participating in the panel discussion about innovative materials, together with Chantal Malingrey-Perrin – Marketing Director Première Vision, Giusy Bettoni – CEO and Founder C.L.A.S.S., Catarina Midby – Head of Sustainable Fashion H&M.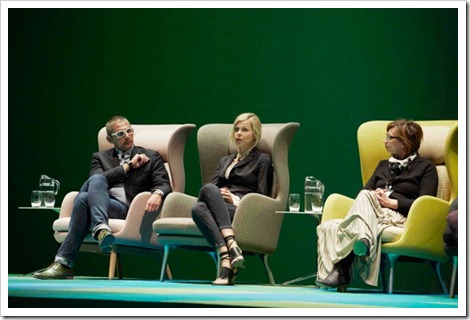 In addition, ISKO™ (Turkey) also promoted the Denim Challenge dedicated to 5 emerging designers that had the opportunity to realize their designs in collaboration with Creative Room ™ , ISKO™ division  for style and research. Each of them presented their designs and the designers  Barbara i Gongini and Paola SuhÖnen from  Ivana Helsinki got the accolades and were declared winners. We are giving below a design from each of the five designers with their brand names on the images.
The panelists felicitated the two designers saying
"Barbara i Gongini put an edge to sustainability with fantastic and sexy styles. She re-thought denim and understood how to transform it into her DNA. Very inspirational"
"Ivana Helsinki's collection is like an artist's canvas. It's a new way to look at denim, especially as she works with volume in a very unique way. And in addition, the styles are easy to transform from day use to night use only by accessorising differently.