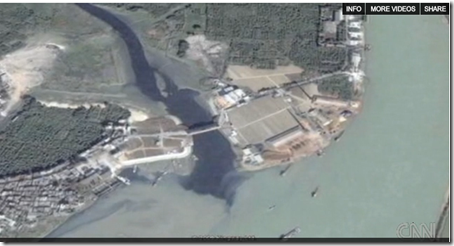 CNN reports that the  Pearl river on the banks of Chinese town of Xintang  in Guangzhou– also known as the Blue Jean capital of the world – looks like this when seen from a satellite.. The river  has actually turned blue black with a large portion of denim production wastes being discarded into the river. The town is an amalgamation of thousands of textile, denim and dyeing facilities. The denim is also being made here by traditional dyeing methods where cotton yarns are being dyed by dipping them into small(hot) indigo baths as against the factory dyeing of denim by Rope Dyed or Slasher dyed methods. This kind of cottage dyeing produces more indigo waste and the small dyeing units are not equipped with the requisite water treatment facilities.
According to Chinese government estimates, the town produces a whopping 200 million +  pieces of denim garments a year. Though these estimates could be off the mark, but still the town has a huge denim garment production base. The size of this figure  could be properly comprehended properly when one knows that the total imports of denim garments into US stands at around 585 million pieces.
The factories seem to be discharging their wastewater into the river through pipes extending into the river. These wastes contain all kind of harmful metals and substances.
According to Dr. Tony Lu, Chief Medical Officer at Guangzhou's International SOS Clinic, these kind of toxins can be seriously hazardous to human health.
"If there are a lot of heavy metals, they are neurotoxic, carcinogenic, they disrupt the endocrine system," Lu said. "They cause cancer of different organs."

"The number one problem (China) faces is water pollution," said Deborah Seligsohn of the World Resources Institute. "The textile industry is one of China's larger industries and one that uses a lot of water so it's traditionally had a lot of wastewater problems."
Such a huge denim production base is a great asset for the Chinese denim and the whole textile industry. But China will have to monitor its water pollution to ensure its continued growth and dominance over the textile industry of the world.
See more details on the story from CNN here