KG Fabriks Limited , is a denim fabric manufacturers from India who have spent a lot of time and effort in making their production processes sustainable and the company has recently been certified by TUV NORD. The company excitedly mentions :
"Right from its inception in 2005, we have boldly taken the sustainability route for denim production. As the first organisation to use biomass to fuel our processes, KGFL also adopts energy efficient measures, water recycling and controls greenhouse emissions in its endeavor to pioneer planet-friendly denim fabrics. KGFL is far ahead of other denim mills in terms of True Sustainability. An Audit has been conducted by TUV NORD to classify our products as Green Products combined with trademarked "Green Dnm" swing tag."
The "Green Dnm" swing tag with QR code on each garment conveys a precise message to the customer according to KG Fabriks :
"Earth Friendly Fashion. Conscious Denim. Denim fabric made with so little water that it helps save precious drinking water. Green Dnm swing tag on your garment shows your support for the future of our children"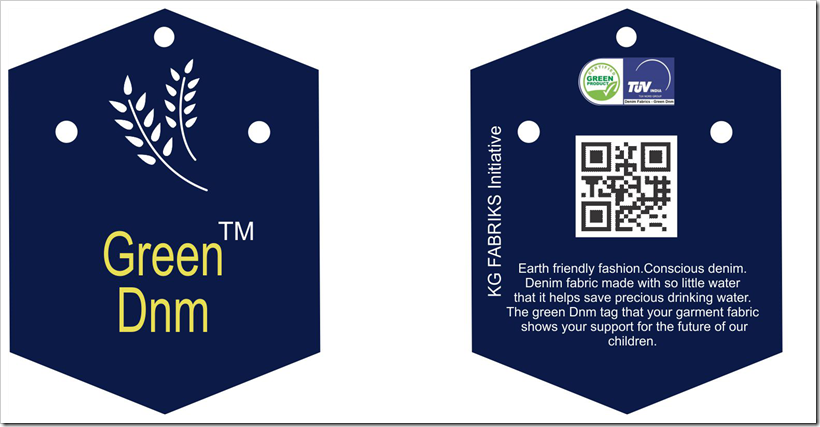 The company further claims
"100% Raw Material Utilisation, Optimum Dye Penetration, 96% ETP Water Recovery and Green Energy concepts combined with Social Sustainability in terms of employment to backward and underprivileged communities led to KG Fabriks' products certified as Green Products by TUV. Sustainable measures at KG Fabriks result in potential savings in terms of water (equal to supplying drinking water to 800, 000 people everyday), massive usage of recycled polyester fibers (close to 5,500,000 pet bottle recycled polyester used every month) and maximizing green energy (solar & wind). "
We spoke to Mr Srihari Balakrishnan – Managing Director – at KG Fabriks to understand why he feels their efforts on sustainability are really special :
When did KG Fabriks start working on sustainability?
We started our journey on sustainability 5 years back. We became a Zero Liquid and Zero Solid Discharge company first and this helped us to reduce our Chemical footprint by over 30% compared to a conventional denim company.We took extensive trials on reducing water, chemical and carbon footprints and stabilised on all these fronts an year ago.
We approached sustainability in a holistic manner, starting from complete utlisation of cotton fiber and yarns, lowest usage of water per meter with highest recovery in the industry, optimum usage of dyes and chemicals combined with reuse / recycle technologies and moving more towards renewable energy sources. Today, close to 50% of the energy we use is from renewable sources and in next 3 years, close to 80% will be from renewable sources.
You recd. the TUV certificate . Has any other denim mill received the same. What is the importance of this certificate and how much time and efforts it took you to get it .
This certificate is first of its kind in the denim world. TUV NORD conducted the audit for 90 man-days in all our manufacturing locations which includes our spinning mills, value addition facilities and denim plant.
The audit comprised of evaluating our approach towards conscious usage of raw materials, reducing water consumption and maximising recovery, adaption of renewable energy, reusage of dyes and chemicals along with Zero Liquid and Zero Solid Discharge techniques. They also verified three years' data on each and every claim we made. Our "Green Denim" fabrics is a "Product and Process certified" wholesome development in the denim industry. In fact, after we have has this holistic approach, we are being approached by a number of certifying agencies to certify our denim either in the closed loop or in the cradle to cradle programs and we are evaluating our option on which program will be more useful for our company, in our onward journey towards super sustainability.
Congratulations on getting Green Dnm tag. Can the apparel retailers use this tag ? Will you be doing co branding with some retailers on this.
Yes, retailers can use this swing tag on their garments. We have already started shipping the tags to few of our customers against their orders. The QR code on the reverse side of the tag takes you to our website that talks about our earth friendly sustainable approach. We are also talking to some retailers on co-branding. In fact, our Green Denim could be tagged along with other certified products like Organic, BCI, tencel, etc. to make the fabric more eco-friendly. And if they use dry process in garment making, the final jeans becomes really sustainable.
What is the future efforts in direction of sustainability that you see.
We are working on certain in-house developed proprietary technologies to make our products and processes Super Sustainable. We are hopeful of further reducing the carbon footprints to considerable levels with our proprietary technologies viz., i-Wash, i-TopUp and p-Acid, which are in alpha stage at the moment and will move to beta stage in another three months' time. In another 12 months, we will set the future of Denim, leaving other denim mills 20 years behind in sustainability. Today there are two options for denim mills, to buy certificates or be truly sustainable. We have taken option 2, decided to become truly sustainable. This will not only help conserve water, but also reduce chemicals etc.
Our conservation efforts have helped save drinking water needs for 800,000 people every day. Recycled polyester usage amounts to 5,500,000 PET bottles being converted into fabrics every month. Successful implementation of proprietary technologies will lead to reduction in water discharge by our dyeing machine by 90% and ETP operations by 50%
"Let us leave the earth liveable for future generations".
---