After the successful launch of its 1st edition of Denimsandjeans Virtual Show which concluded on July 23, Denimsandjeans announced the dates for its 2nd edition under a theme name- Cloud Sourcing. The show is scheduled for October 14-15 and will cover US, South America, and European times zones this time.
The last virtual show had over 43 denim companies around the world including companies like Arvind, Artistic Milliners, Raymond, Kilim Denim, Garmon, Jeanologia, Tonello, Officina+39, LNJ , Artistic Garment, Wiser Globe/Wash, Deridesen , Artistic Fabric Mills, Blue Diamond, Prosperity and many other companies which showcased their latest developments and collections for AW 21 seasons.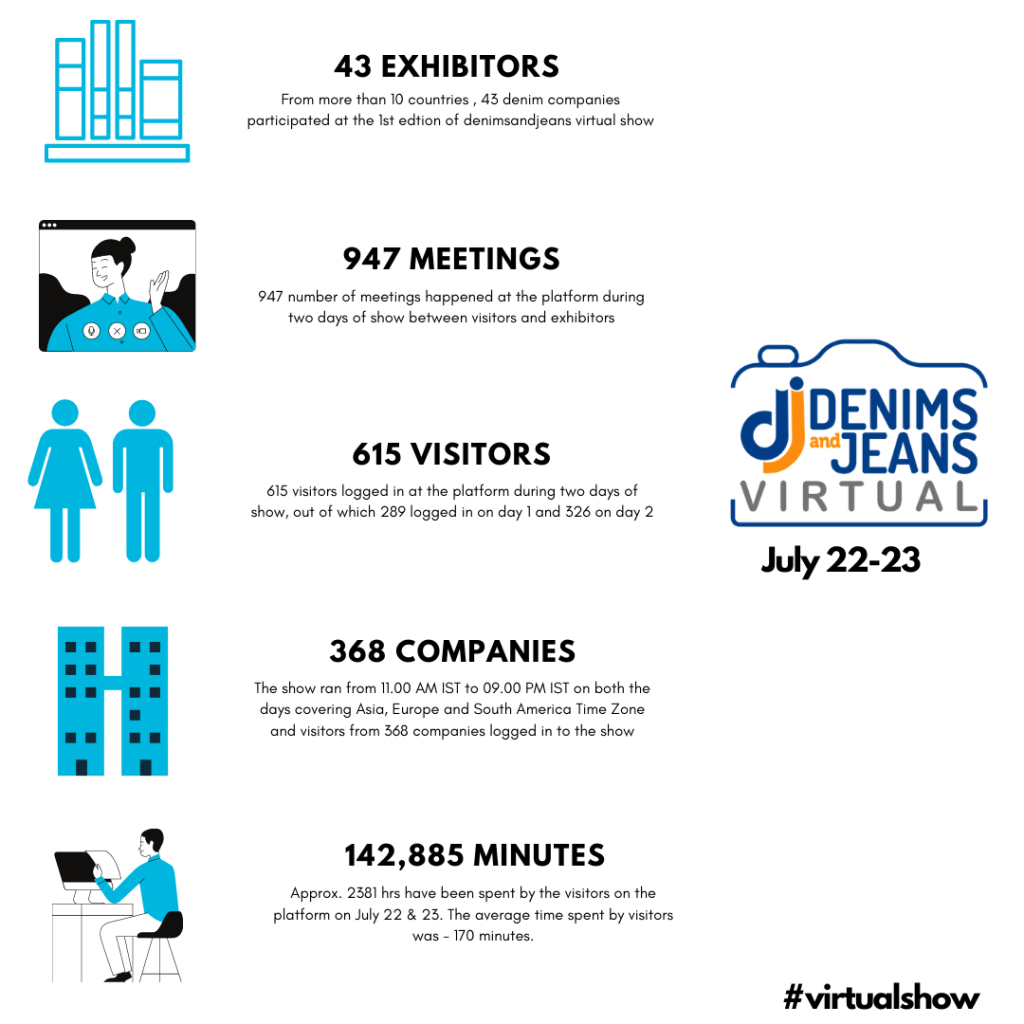 The show threw light on the recent developments and innovations through its talks and discussion. Over 12 sessions were held at the show and the reputed denim experts including Adriano Goldschmied, Stefano Aldighieri, Maurizio Donandi, Beau Lawrence, Jean Hegedus, Lucia Rosin, and Dr. Naresh Tyagi graced the show with their presence. You can watch all the sessions at Denimsandjeans Official Youtube channel, the link is here- https://www.youtube.com/user/denimsandjeans/videos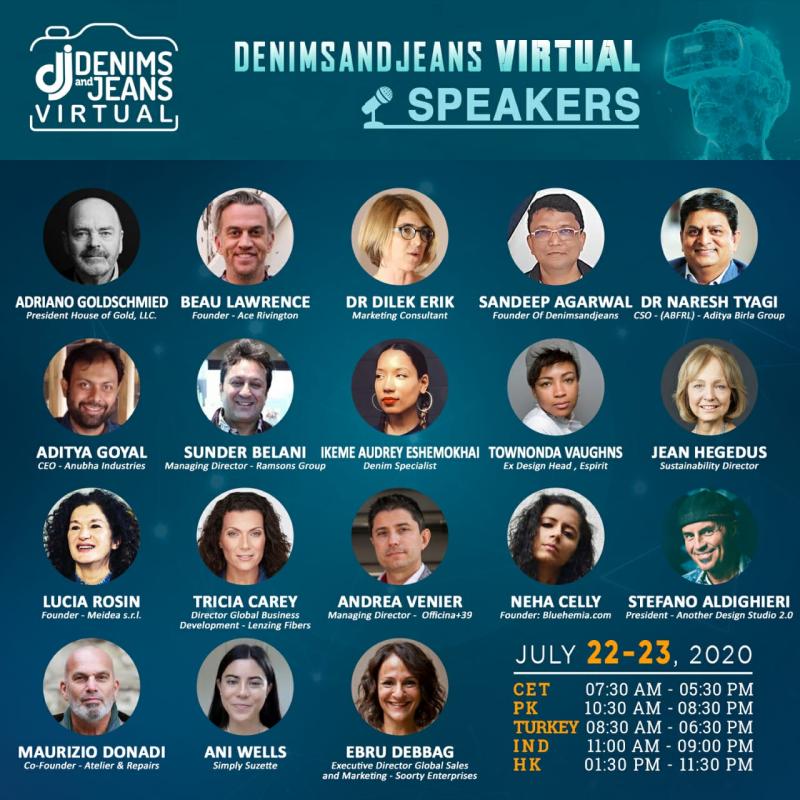 The 1st edition of Denimsandjeans Virtual Show was one of its own kind of shows and it has received very encouraging feedback from the denim community. This time the show comes with new features and would be more user friendly. The time zone selected this time means the focus would be more on USA , South American and EU customers this time. However, it does not mean that Asia would be ignored. The show will be much longer this time and give at least 4-5 hours to Asian customers as well . The exact timings will be shared shortly.
Denim Cloud Sourcing, a new term coined by Denimsandjeans through its theme is an extension to digital sourcing. The Apparel Industry per se has been following the conventional sourcing techniques for fabric and other auxiliaries selection . However limitation caused by COVID 19 pushed the industry to think over on the alternatives.

We ,as Denimsandjeans, have always believed that digital marketing and sourcing will play a very important role in our industry and therefore had started to work on digital platforms since 2017. Last year only we launched our DE-Brands platform – which is online B2B marketplace which is gaining strong traction with over 48 global supply chain companies already a part of it with a number of buyers joining regularly.
Virtual trade shows are again an important innovation and the industry has also started to adapt itself accordingly considering its relevance in the given situation. Buyers as well as the Suppliers would also like to have a real-time face to face discussions during the product selection process so that technicality and other ingredients of fabric/product could be easily understood and explained. Our increased strength in digital arena enables us to combine more technologies this time to enable a better user experience both for exhibitors and visitor.
The 2nd edition of Denimsandjeans Virtual show – Cloud Sourcing offers all such benefits to the users in the simplest way. Being a boutique and niche kind of b2b virtual trade show, a limited number of suppliers from around the globe will be invited to showcase their products. Buyers primarily from the USA and Europe will join the show besides from some other locations whereas we see increased participation from South American regions as well .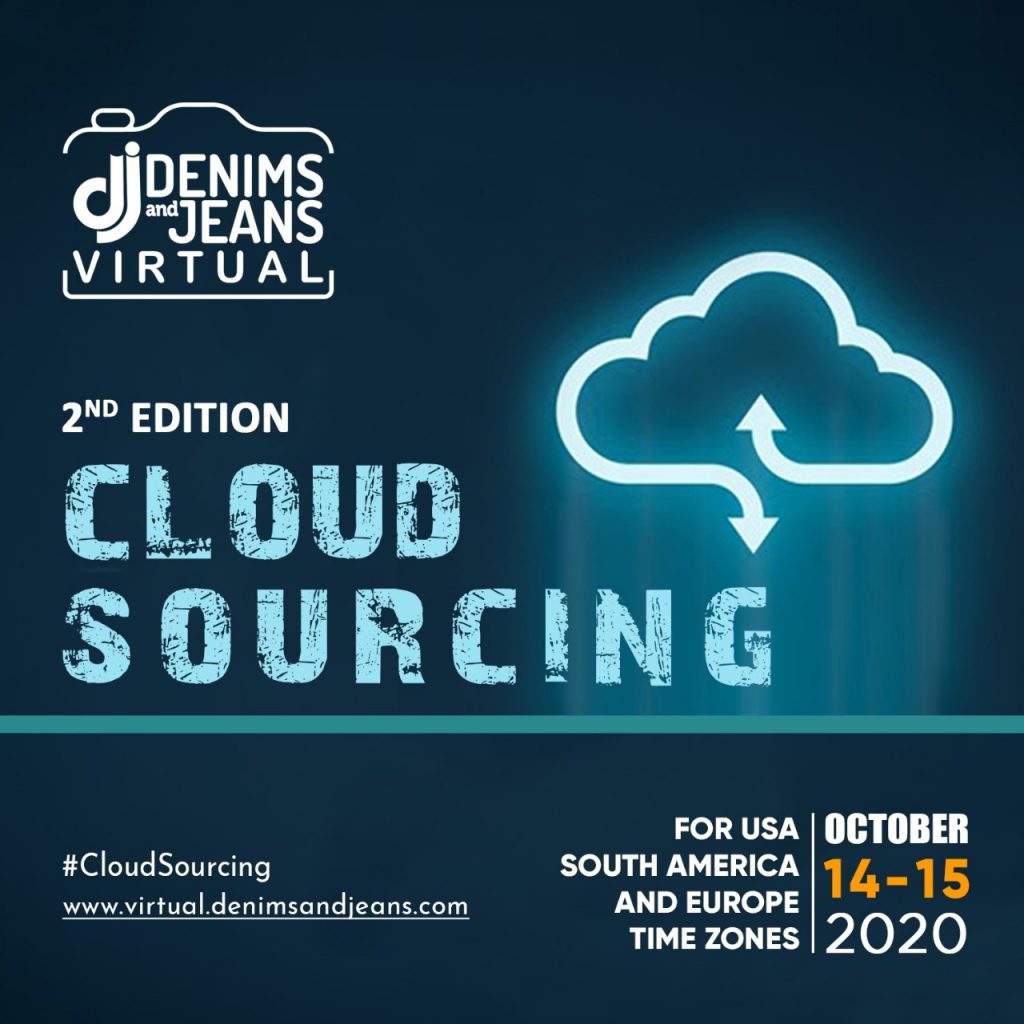 For more details, you can email at info@denimsandjeans.com or log on to www.virtual.denimsandjeans.com