The Denim Re-Union event announced by Denimsandjeans shapes up with a number of new developments which will encourage the industry to be a part of it and create a REAL RE-UNION. The event has been so designed that it becomes a Very Interactive way to connecting with friends, business contacts, and others in the industry – with the hope to do away with some of the boredom that we are all feeling these days!
Participating Companies
A number of companies confirmed their participation including the following:
| Participants | Country | Products |
| --- | --- | --- |
| Anubha Industries | India | Fabric |
| Coats | The UK | Threads, Yarns, Zips, Trims |
| Cotton Web | Pakistan | Garments |
| Deridesen Etiket | Turkey | Accessories |
| Iskur Denim | Turkey | Fabric |
| Jeanologia | Spain | Machinery |
| JDS | Japan | Fabric + Garments + OEM |
| Kilim Denim | Turkey | Fabric |
| Naveena Denim Limited | Pakistan | Fabric |
| Naveena Denim Mills | Pakistan | Fabric- (Presentation) |
| Nearchimica S.p.a | Italy | Chemical |
| Officina+39 | Italy | Chemical |
| Orta Anadolu | Turkey | Fabric- (Presentation) |
| Ramsons | India | Machinery |
| Ribbontex | Italy | Accessories |
| Sharabati Denim | Turkey | Fabric |
| Zaitex | Italy | Chemicals |
Designers & Consultants
A number of designers and consultants shall be present on the show from different countries – enabling interaction on various aspects of the industry from designing, washing, marketing, etc. This community plays such an important role in our industry connecting us with each other, filling knowledge gaps, and upgrading our offerings. We are privileged to have the following friends with us :
| | | |
| --- | --- | --- |
| Name | Brief Profile | Country |
| Dilek Erik | An expert in marketing in the denim industry for 32 years and worked with most leading denim producers of Turkey as a sales and marketing professional | Turkey |
| Michelle Branch | Founder of Mark & Twigs, Inc, a global creative firm since 2007, Michelle Branch tells indigo stories via responsible product + process + presentation for companies all along the supply chain, brands, and retailers looking to define (or refine) their DENIM message | USA |
| Stefano Aldighieri | An Italian born American design, branding, and marketing expert who spent most of his working life in the world of denim | USA |
| Gioielli Massimiliano | A native of Italy and grown up in the Denim world and passionate about denim innovations, Massimiliano has been in the denim industry for almost the last 25 years | Italy |
| Laura Dixon | Independent consultant to the fashion & denim industries, Laura Dixon works with brands, retailers, mills, suppliers, manufacturers & education establishments | Belgium |
| Levent Korkmazer | A denim consultant and the founder of Denimtek . Denimtek is a professional consultancy company for denim fabric manufacturers | Turkey |
| Makala Schouls | A fashion designer and product developer who has extensive, hands-on production knowledge after working for nearly a decade in Asian manufacturing hotspots | Netherland |
| Neha Celly | Founder of Denim design and research house called Bluehemia (https://bluehemia.com/) and has been working in the denim industry with some big denim mills and some small arty brands for many years | India |
| Neil Topiwala | A London-based Denim Designs Studio working closely with UK and European High Street retailers and some of the premium brands, one shop stop solution for Denim Supply Chain business | UK |
| Piero Turk | A well-known designer from Italy who has worked with some of the most reputed brands and manufacturers as a freelance designer during his long career since 1983. | Italy |
| Rui Lima | Founder of Nîmes Studio, an independent office with design and consultancy services based on 19 years of experience in the denim business | Portugal |
| Miguel Angel Andreau | Miguel has a long experience in the textile industry in Mexico and has been associated with many denim companies. Currently working independently conducting market research for domestic and foreign companies | Mexico |
| Prem Kumar | Based in Ho Chi Minh, Vietnam, Creative Resources is a denim manufacturing and denim supply chain management company, primarily into making High-end deny creative. Mr. Prem is Creative Head of Creative Resources(HK) Limited. | Vietnam |
| Masud Hassan | CEO of BD Tex, Textile Agency Bangladesh | Bangladesh |
Talks
Besides real-time interactivity, there will some interesting talks from different industry players which will enable us all to know what's happening at the latest!
Date
Time (CET)
Topic
Presenters/Speakers/Panelist
Company
March 30
04.00 PM
Redesigning Thread For A Green Future
Mr. Halil Demir
Coats
March 30
04.45 PM
The Growing Innovation: Eco-Wise Hemp By Orta
Ms. Zennure DANISMAN
Mr. Ozgur Can YAZKURT
Ms. Nezahat BONI
Ms. Céline RIVIERE
Orta
March 30
05.30 PM
Humanity -Centered Design: Holistic Denim & Wraptech 2.0 by Naveena Denim Mills
Mr. Berke Aydemir
Ms. Gulsun Ocak
Mr. Sandeep Agarwal
Naveena Denim Mills
March 30
06.00 PM
Growth: Why? – A Discussion By Stefano Aldighieri and Maurizio Donadi
Mr. Stefano Aldighieri
Mr. Maurizio Donadi
March 31
04.00 PM
Trend Synopsis For 22-23 Season By Dr. Dilek Erik
Dr. Dilek Erik
March 31
05.30 PM
AW22 Launch of Denim Products on DE Brands Platform – A synopsis of How U can use it?
Sandeep Agarwal
Denimsandjeans
March 31
06.30 PM
Retailing like it's the 1980s" (when service was a thing)
Beau Lawrence
Ace Rivington
We invite the community to be a part of this event with the following timings. The timings are specially targeted to enable European and US visitors to join conveniently.
CET – March 30 – 3.30pm to 6.30pm | EST 10:30 Am to 01:30 PM | PST 07:30 am to 10:30 AM
CET – March 31 – 3.30pm CET to 7.30pm | EST 10:30 Am to 02:30 PM | PST 07:30 am to 11:30 AM
How to join the event
For the best experience of the platform, use the GOOGLE CHROME browser on your laptop or PC. The joining link of the show is – https://virtual.de-brands.com/cast/ (Click this to enter the platform on March 30 &31 as per the timings given above)
Steps :
You should be logged in to your Linkedin account in Chrome browser.

An option for sign-in with Linkedin will come, click on that link and you will either be automatic logged-into our platform or you may have to log in to your LinkedIn again. NO LOGIN DETAILS WILL BE SAVED BY US.

Please allow camera and microphone access to the platform to have a one-to-one video call with the participants.

You'll see four options on the left: Floor, Stage, Attendees, Tables, and Booth.

Floor

– Click on Floor to get the brief layout of the show including talks, booths, sessions, and sponsors


Stage

– Click on Stage to join the different sessions and talk, one needs to click on the Join button to see the sessions, timings, and details are given against all the sessions.


Attendees

– Click on Attendees to see who all are on the platform, you can see the name, designation, and company name of the people online on the platform. You can chat with them by clicking on the chat icon on the right. You will receive a green notification on the Attendees tab if you receive any message from anyone.


Tables

– Click on Tables to check to meet the companies and designers who have taken the table at the show. One needs to click on the GRAB SEAT button at the bottom of the table to have one to one video chat with the people sitting at the table.


Booths

– Click on Booths to meet the exhibitors. Click on Enter button and wait for approval from the exhibitor, meanwhile, you can check the handout and other images uploaded by the exhibitor. Once the exhibitor approves, you will receive a pop-up message, you just need to approve the invite, and the very next moment you'll be one to one video call with the exhibiting team.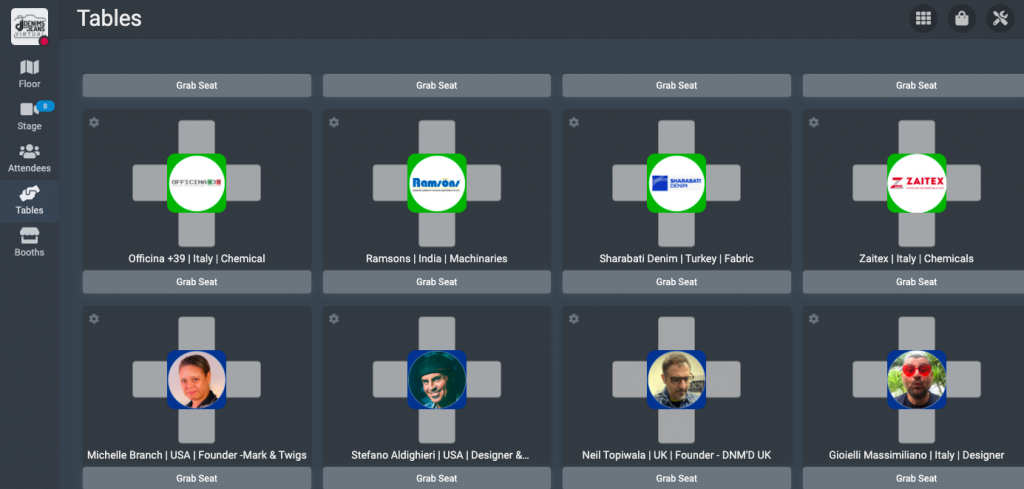 In case of any issue, please reach us at info@denimsandjeans.com mktg1@denimsandjeans.com
April 7th AW22 and Latest Collection Launches on DE-Brands
We will also have another event from April 7th onwards where the buyers would be able to look at the AW22 and other collections of over 35 companies from the global denim world. Please do join us for the same also on our unique WEB+APP-based platform – DE-Brands. Besides, the denim fabrics on the platform will be RANKED WITH A SUSTAINABILITY CALCULATOR to enable visitors to see fabrics ranked with sustainability criteria. To download the app, please click on the following links:
iOS: http://bit.ly/dbrandsios
Android: http://bit.ly/dbrandsandroid