The impact of pandemic on our industry and lives cannot be overstated. One of the most painful and distressful spinoffs has been our inability to meet in person. The Denim community is a very tight-knit family with most of us knowing each other and have seen each other grow over the years. When we all used to meet during the physical fairs, the energy was abounding and it was wonderful to meet our denim friends, buyers, suppliers, and all. Though we did not think much of it then, now we all sorely miss the personal interaction. Though we all still interact through virtual means individually, the feeling of being together as a community is missing.
To make up for this missing interaction, our virtual event Denim Re-Union will bring the community Face2Face once again in a large group . Come meet FACE2FACE with all your friends at one platform- have CHATS and INFORMAL DISCUSSIONS. You don't need to be forced to remain formal or have business discussions only. We invite and value INFORMAL DISCUSSIONS – and that is what really is done between friends, ain't it?
Besides we will have some cool live AW22 Collection talks by some innovative denim companies and you may want to check them out .
DESIGNERS FOR YOU
A number of our friends in the denim community have been affected by the pandemic and we want to extend all support to them. We know that most of these people – especially the designers – have great talent which is of great importance to the industry. However, they are not able to use this talent to their full in current circumstances.
We want to bring such designers to be a part of the show – where they can interact with all visitors and exhibitors and anyone can just reach out to their TABLES in the LOUNGE and meet them! We really hope that this initiative will help bridge the gap between the talent and the talent hunters!
Transparency : The DE-BRANDS AW22 Collection Launch from 7th April
We are very excited about the launch of AW22 collections in full detail from over 50 companies globally. This will happen on April 7th at DE Brands platform and you will get a precursor to that event on March 30-31st.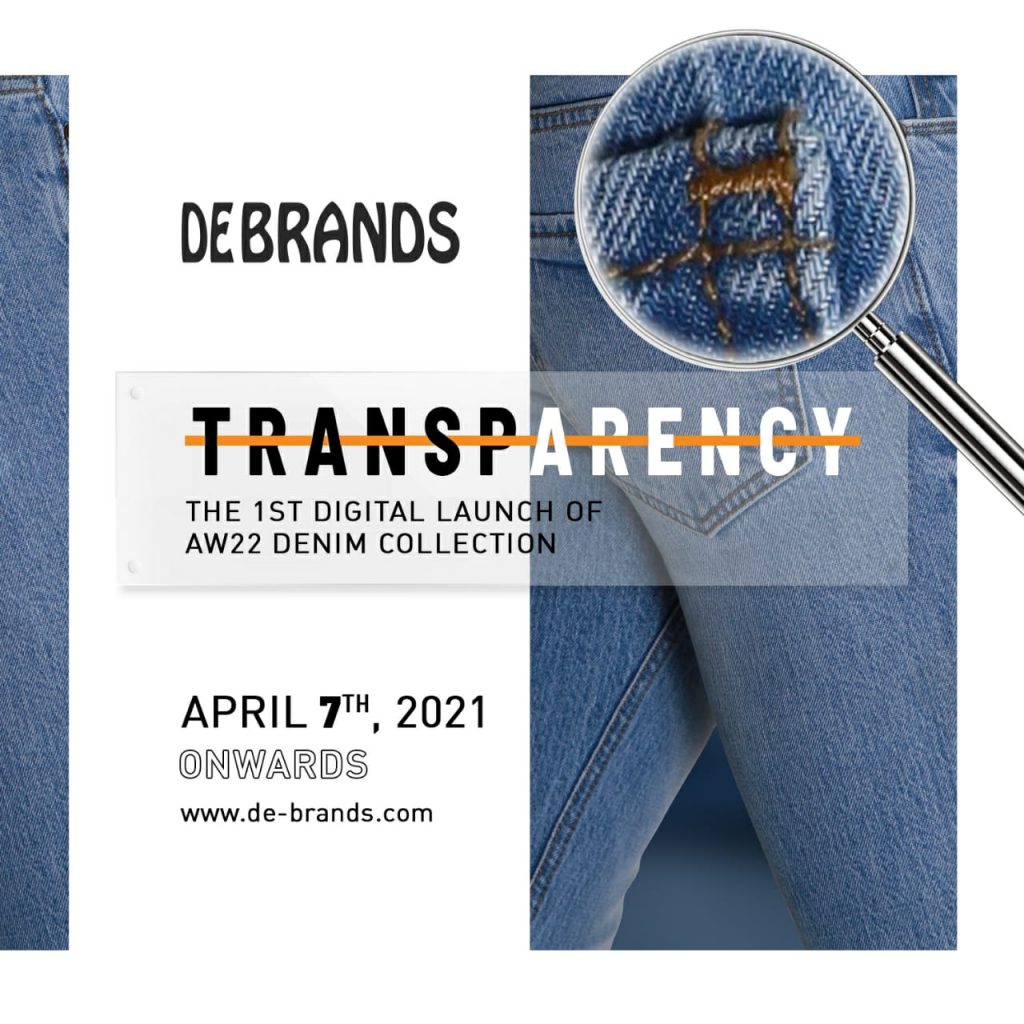 Want Clarifications ? Here are the FAQs on the event !
Who can be the participants in the event?
The denim / non-denim supply chain companies will be taking part as exhibitors and having virtual booths. Besides, Designers will be invited to join the event FREE

How can I enter the event?
You will be provided a single link that will help you to seamlessly enter the show .

What are TABLES in the LOUNGE?
We have an exclusive lounge where Table sets of 4 seats are there. Clicking on any table takes you inside and 4 of you can interact with each other.

And the booths?
Up to 8 people can meet inside a booth. Besides an exhibitor can have multiple rooms to cater to more visitors personally. And they can also decide whom they would like to meet and whom not .

Where can I find the Designers?
Designers will have 1 table allotted to them as a complimentary service and their logo will show on the table to identify them. This will enable you to visit any designer and have a chat with them.

If I am a designer and am impacted by Covid, how can I get a Free table allotted to me?
You just need to send us your details at mktg1@denimsandjeans.com . However, since the number of tables is limited, we will only be able to accommodate a few only on First Come First Served basis.

What are the timings of the event?
The show will be one day for European customers on 30th March from 3.30PM CET to 6.30PM CET and for US customers on 31st March from 4.30pm CET to 8.30PM CET .

How is this event different from the one on 7th April.
Actually, both are connected. On March 30-31, we are providing the facility for a face2face interaction between all the visitors and exhibitors in a casual and informal manner – hence the Denim Re-Union.

On 7th April, DE Brands (De-brands.com and on iOS and Android) will showcase all the latest AW22 Collections from a large number of global denim companies and you can individually check each product and make your selections. So, it's going to be very intuitive and personal. Besides, you will have some great opportunities to select the MOST SUSTAINABLE PRODUCTS using some great tools.

What do I need to do now ?
You just need to download the DE Brands app from this link and register for FREE.
iOS : http://bit.ly/dbrandsio
Android : http://bit.ly/dbrandsandroid
Those who want to participate in one or both the events may send their request to mktg1@denimsandjeans.com