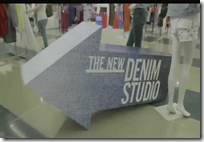 The Denim Studio, which officially  opened yesterday at   Selfridges on Oxford Street – London, is the first and the largest space of its kind in the world at over 26,000sqft. Bigger than two Olympic swimming pools, or over half the size of a football pitch, the space has been conceived to address the specific needs of women looking for the perfect denim fit. Its launch also proves that the denim market is set to bounce back for good. Even the appetite for niche designer denim, with pairs of jeans averaging £220each, is proving insatiable.
The healthy increase in sales in the denim category at Selfridges over the past four years, of more than 50%, prompted the store to launch an expansion plan two years ago, which led to the opening of the Denim Studio today – an investment well in excess of £6M. It is now five times bigger than the previous denim department, with double the number of brands. Selfridges forecasts that it will now be selling at nearly two pairs of jeans every minute during its daily trading hours.
With over 11,000 pairs of jeans available, the Denim Studio offers the largest selection of denim styles under one roof with services created specifically to make the search for the perfect jeans the easiest and most pleasurable experience ever. The Denim Studio will be the only place in the world to choose jeans from as little as £11 and as much as £11,000, as well as casual and sportswear collections to best compliment a denim look. Every brand housed in the Denim Studio has been asked by Selfridges to create world exclusive pieces to celebrate the opening of this pioneering new retail environment.
As well as the extraordinary product selection to include J Brand, Hudson Jeans, Stella McCartney and Victoria Beckham Denim, the denim stalwarts such as Lee and Levi's and emerging labels such as 3×1, Black Denim and Kill City, the Denim Studio will introduce the most dynamic specialist denim services ever. From a denim self-service checkout for customers in a hurry, to the Fit Studio, which consists of 18 'total vision' fitting rooms and the first denim dedicated Personal Shopping suite with stylists on hand for expert advice, the services extend also to a Denim Tailor, offering alterations done within a guaranteed two-hour period.
The Denim Studio also has an advanced digital service called the Jeanius Bar, where customers are able to consult relevant style information, expert advice and thousands of visuals available from a giant touch-screen electronic tablet. The Jeanius Bar doubles up as a social space where women are encouraged to share, interact and enjoy the shopping experience with other women, within and outside the store.
The Denim Studio is above all a testimony of the absolute resilience and timelessness of what is widely considered the most iconic and democratic style in the history of fashion.
.