Denimsandjeans, the host of the 2nd edition of Denimsandjeans virtual show- Cloud Sourcing which is scheduled for October 14/15, releases the exhibitors' name in its latest press release.
The list includes names of over 37 companies including Arvind Limited (India), Envoy Textile (Bangladesh), Archroma (Switzerland), Nearchimica (Italy), Iskur Denim (Turkey), Indigo Textile (Pakistan), Raymond UCO (India), Garmon/Kemin (SanMarino, USA), Soorty (Pakistan), LNJ (India), Officina+39 (Italy), Kaiser/Dystar (Turkey), JDS (Japan), Jeanologia (Spain), Ha-Meem Denim (Bangladesh), Sharabati Denim (Turkey), Artistic Fabric Mills (Pakistan), Denim Clothing Company (Pakistan), SEI Laser (Italy), and Tonello(Italy). The complete list is available at https://virtual.denimsandjeans.com/virtual/exhibitor-list.php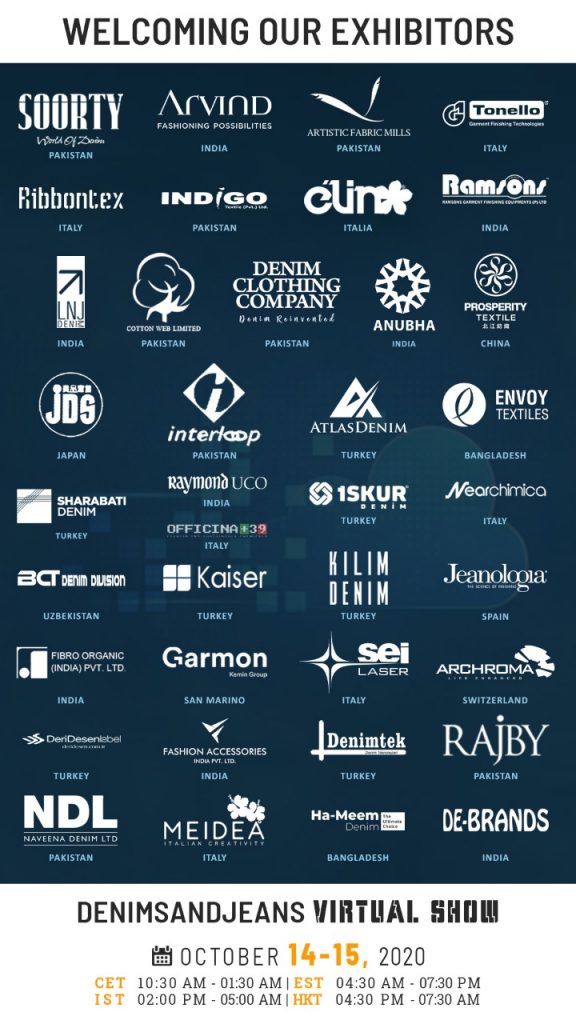 The list includes Fabric Suppliers, Garment Exporters, Accessories Makers, Chemical Manufacturers , Yarns Suppliers, Technological Companies and Design Houses/Consultants which offers a complete basket where a buyer can find all solutions for its sourcing queries.
This time the show caters to the time zones of the USA, South America, and Europe and will run for 15 hours in order to cover the maximum number of buyers. The show with a theme of Cloud Sourcing focuses on the need for virtual sourcing in the denim industry and how Cloud Sourcing helps the industry to achieve sustainability goals.
This time the show also offers an opportunity to all the visitors of the show to schedule their meetings with exhibitors participating at the show in advance, this may help to plan their visit in a better way. Every visitor has to register at https://virtual.denimsandjeans.com/virtual/ to enter the platform and to schedule the meeting in advance.
The host has also released the visitor guide to making them understand the platform in a better way, you can watch the visitor guide here
Talks and panel discussions to understand the changes in the production methodology, impacts on the consumer behaviour , new techniques and approaches by the sourcing companies and the sourcing strategies of different countries in light of recent political developments will be held at the show.
Apart from that, a virtual trend zone with all the latest collection showcased by the exhibitors in following categories will be displayed at the show, every visitor can see the same once they enter the platform.
The categories are as follows
Super Sustainable
Health Times
Chemicals For Mother Earth
Futuristic Technologies
Denim Hygge
WindowShop Us
Denimsandjeans has also started different campaigns to educate the visitors of the show about this platform so that they would be able to make the most of it. Please note that every visitor needs to have a UNIQUE INVITE CODE . For joining , pl register at https://virtual.denimsandjeans.com/virtual/ to receive the invite link. For any query, you can contact the hosts at info@denimsandjeans.com