Denim is a playground where the denim artists of the world play and let loose their imaginations on this ever changing canvas of the most beautiful fabric devised. Starting as workwear , the fabric is now facing the 'Athleisure Threat' as many would say. But it is only in challenge that denim has thrived. Challenge continuously raises the bar for this versatile fabric and pushes the 'Denim Players' to jump notches above it as athletes do in a playground. The more they stretch themselves, more the denim evolves !
The fourth edition of Denimsandjeans.com Bangladesh , scheduled to be held on 7th and 8th October (2015) at Radisson Dhaka, derives its inspiration from these 'Denim Players' and has aptly selected 'Denim Playground' as its theme. . The theme of the show shall be 'Denim Playground Dhaka' where coolest exhibitors from around the world shall bring out their sporty innovations to the visitors who travel long distances to visit the show. It shall be a 'PLAYGROUND FOR DENIM LOVERS'.
Denimsandjeans Bangladesh always adds some seminars and panel discussions by reputed industry veterans from around the world so that the visitors can get more value from the show. Given the importance of washing in the denim industry , some seminars technical aspects of the washing in our panel discussions and seminars. Some details for the different seminars to be held are given below .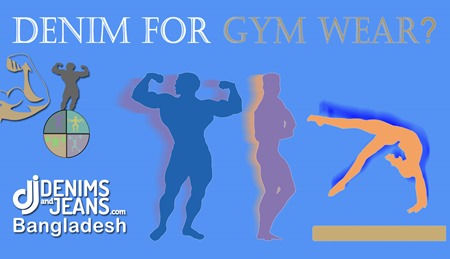 Denim Seminars

 
1. Re-Definition of Denim
Date & Time : 7th October – 4.30 pm
A presentation of the latest looks of denim apparel from some of the top denim brands that are redefining denim. Presented by reputed denim consultant from Turkey – Zafer Bozdag. Timing 4pm 7th Oct.
2. Profitable environmentally sustainable denim washing
Date & Time : 8th Oct'15 – 11am-12 noon
Facilitated by Technical partners – GIZ PSES
Details:
Seminar with Questions and Answers interacting with an expert panel . An opportunity to hear of recent developments in washing chemistry and technology and to discuss what is practical and possible with denim washing plant operators and managers based in Bangladesh.
Promotion of Social and Environmental Standards in the Industry (PSES) is a programme assisted by the German Government via the Deutsche Gesellschaft für Internationale Zusammenarbeit (GIZ) GmbH
3. Bridging research in cellulose chemistry for denim applications.
8th Oct'15 – 12.15pm
Presented by Christian Schimper of Acticell
Details:
Acticell (Ltd.) was founded as a spin-off of the University of Innsbruck in Austria. The company focuses on cellulose chemistry research and develops eco-friendly solutions for the denim industry .This talk will give an overview about new concepts for the denim industry — mainly in localized bleaching of jeans and creation of new dyeing effects besides a new concept in eco friendly bleaching of jeans.
Look forward to a surprise launch of a new product from Denimsandjeans stable dedicated to the denim industry worldwide !!!!!
FASHIO

NIM

–

The Fashion Show In Denim

The fashion show sponsored by three of our exhibitors Vicunha- Brazil ; Envoy Group – Bangladesh and Bhaskar Denim- India ; shall showcase some of the coolest denims with the Athleisure theme on 7th October evening (by special invitation only).
Exhibitor List
LIFE IS A PLAYGROUND – PLAY THERE WITH DENIM !!