An interesting panel discussion on the Turkish Denim Mills was held at the 2nd edition of Denimsandjeans Virtual Show. The participants included Dilek Erik(Marketing Consultant), Sinem Senbark(Sales and Marketing Manager-Iskur Denim), and Murat Aydoğdu(Sales and Marketing Director-Kilim Denim). Moderated by Ms Dilek, Sinem and Murat shared their views on the current status of Turkish denim companies and how they changed post covid.
How COVID changed the way of doing business
Sinem Senbark
In denim business we all used to work by traveling so every company's sales people or sales directors used to travel two times or three times in a month but with COVID 19, we are all stuck at home and we're working from home.
We couldn't travel and we couldn't go even to the companies in turkey so everything changed nothing remained as before. We used to go to our exhibitions two times a year, some companies attend more than one exhibition as we are and some companies attend at least one exhibition, so we come together there, we share our ideas. We show new collections and at least two times a year we come together and meet everyone physically. Now we are all doing everything from zoom and Denimsandjeans also organized virtual exhibition two times and this is the second edition where we all are discussing this. These exhibitions are virtual, and we are coming together, but this is a different experience for all of us, and I think it's really important for the denim business and for people to come together because we love each other even if we are competitors.
We like to share ideas, we like to share our collection and in new directions so these virtual exhibitions are important.
Murat Aydoğdu
We've started working from home with the whole world and we saw how important face-to-face communication is especially in our business during this period but we kept our reachability high and met more often with our colleagues and customers. The biggest parts of our work were the fairs and the customer visits and they were canceled immediately during the COVID, then we decided to move most of our business to digital and during this period we mostly focused on digital marketing strategy.
We moved our collections to digital platforms to virtual fairs. We updated our website and social media accounts but as you agree denim is not a kind of product that can be seen and decided to buy from the image on the screens, all the consumers need to touch and feel a garment. No matter how digital we are, we need to send physical samples to our buyers, to our customers then now we are mostly sending new samples, more sample packages considering many different factors and when we see that the feedback was very good then we realized that we evaluated the process quite well.
We continue our business and customer relations on digital platforms now, in order to improve better service to our buyers, in addition, I can say for the global sector now and when we look the production side in globally during the pandemic the fashion industry supply chain extremely depends on far eastern production and we realized this has allowed the many US and many European retailers forwarded to closer suppliers and manufacturers offering them fast delivery supply chain by removing them from the complex global production chain I can say in this point of view we are the Turkish Denim Mills have really a great potential to assume by means of a large part of global production so thanks to Turkey and its ability in the production.
Are we late for digitalisation?
Sinem Senbark
We started to do our digital presentation before COVID 19 and now we are preparing our own website to present our collection digitally. We didn't want to use this technology before because we are not used to, we used to come together physically, we love to come together physically as I told before and so it's more our attitude to come to look together physically.
Now we have to make it digital as we were not aware of how effective is this going to be. Sometimes something bad comes good so this is a good example.
Product/Processes Popular During Pandemic
Sinem Senbark
Covid 19 changed the way the final consumer shops, so we stuck at home for two months at least and now some people are still working from home so the way you buy the things has totally changed so as is denim before the pandemic, before Covid 19 we launched a new collection – Soft Breeze where we have a comfort and stretch fabrics with a soft touch and it was wearable at home, at the party, at the office so it's more worth style and the most important thing that we forecasted this before the pandemic.
The consumer habit now wants, of course, some trend-less articles but the articles should be timeless more than trend-less trendy, let's say we want timeless articles so this our soft breeze collection has a comfort power stretch rigid but very soft touch and wearable everywhere so if you want you can wear at home because in zoom meeting we only see half of the body, the other half is hidden.
So it's hidden but even if it is hidden we all want to be more natural and more basic and more comfortable.
The second concept that we launched contemporarily with COVID 19 was our free move concept where we have knitwear looking fabrics and they are also suitable for homeware and comfort super stretch and
We didn't develop in a rigid fabric but it will come in the SS22, so the main idea is to be comfortable, simple and natural.
Murat Aydoğdu
As we know during the pandemic, all our lifestyles changed and we are mostly working from home and what's important now, all consumers and we want to feel in confidence and also healthy we need confidence and healthy that's very important so for that reason, the pandemic will amplify consumer attitudes towards the considered consumption.
It's very important that the future denim product requirements will be focused on comfort versatility, durability, and healthy, so we need to think about these products when we develop new concepts, consumers will avoid excessive and unnecessary constructions and invest more in health and comfort so the denim developments all denim fabric developments should focus on negative climate impact in minimizing waste and maximizing the value and durability of garment lifecycles.
The main consideration in consumption will be less but better. All denim mills should be working with traceable ethical and responsibility made natural fibers such as linen, hemp, lyocell, and recycled fibers. Soft hand feel is important for as well as for a comfortable lifestyle.
As kilim denim, we developed our new developments / new concepts. This month now we will be launching two new concepts these are called one of them is nanox and the other is naturex.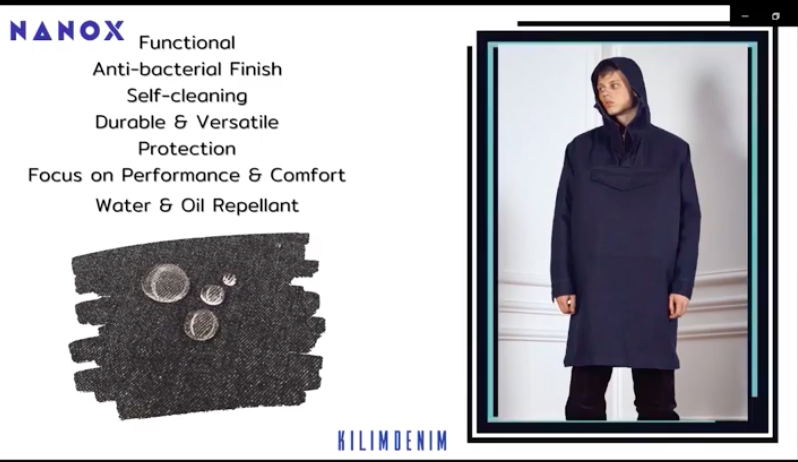 These collections for next seasons. Our Nanox collection includes antibacterial water and oil repellent antifungal fabrics which we develop by the nanotechnological process even though the collection has a different flexibility and different ounces weights, we never compromise on durability and flexibility. The second concept is called Naturex where we use alternative sustainable fibers from nature in this collection we use linen hemp blended fabrics, so all these fabrics will be extra soft extra durable, and mostly of course eco-friendly.
Future Products And Sustainability
Sinem Senbark
When we think about the future, we think of two different points – one of them we will be more simple as I told before but more focused on details. In denim it's really difficult to focus on details because you have to deal with the yarn, you have to deal with the different shades of indigo, different dyeing techniques and because denim when you do not wash it all seems the same so you have to make something innovative, and something technologically improved in your kitchen part in your product development.
So this is really we see it really important and we will prepare some normal looking but very high-quality fabrics. The second point I also believe that it's really very hard to make something simple and beautiful. I want to mention one thing here for Iskur denim – Sustainability is the mission and the vision of the Iskur group because Iskur groups started their business 40 years ago with the yarn business and since the company owners are coming from agriculture and they really try to invest in every sector. Firstly by taking sustainability in priority and so we have our solar panels on in every factory on the top of the shed.
We have our own cotton field and two years ago we invest as this core group in a new recycling yarn company so we have collected all our sustainable activities under our Earthsquad collection and we are presenting it for two years and now in the Covid period . We make new development in Earthquake collection we add natural fibers like hemp , linen and a different composition of linen hemp stretch and we believe strongly to make sustainable dying . For one year we also got our certification from carbon trust that we reduce the usage of water in all.
We have antibacterial, antifungal and now antivirus articles, we took all our certifications for the antivirus part .
Now we are making a special collaboration with a producer in turkey so in a short time we will have and we will announce a new project and I strongly believe we should go on to develop this kind of technological and healthy products together because they are default sustainable So when you develop something healthy it's already sustainable and we need to protect the nature because COVID 19 is not the first one we will face. Check out the full interview here .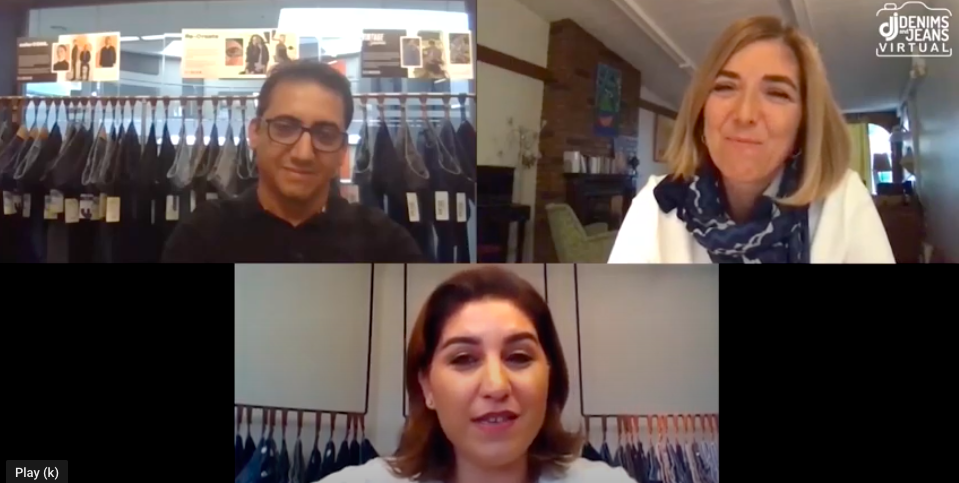 ---
Our next edition of Virtual show – Denimsandjeans Sustainable Interplay is scheduled for Nov 23, 2020. Do not miss to register here.
OUR SPONSORS FOR SUSTAINABLE INTERPLAY