Do you find it difficult to browse through a number of articles on Denimsandjeans.com and would like to see most of them but don't have the time to browse through them. Would you rather prefer to sit back and watch as the articles unfold ? Well, its not a fanciful thought and you can do the same . Let me explain this :
Denim Reports : Visit this link and you find it opening like one of our denim reports with a frame like this on the top of the page :

On the frame you will find a counter which is set to 20 seconds by default – which means that you can view the current page for 20 seconds and then it will change to a new article(see image below).


However , if you want to view the current article for more time, just press the  pause button  as below :



If you don't  , the frame will change to next article after 20 seconds (you can change it to any fixed period eg 100 seconds) and keep on moving like this . And you can just browse through a number of articles in a small period.
What if you want to change the category of articles ? Eg go from Denim Reports to Denim Trends or any other category ? Well, click on the current category that is showing on the frame – in this case "Denim Reports".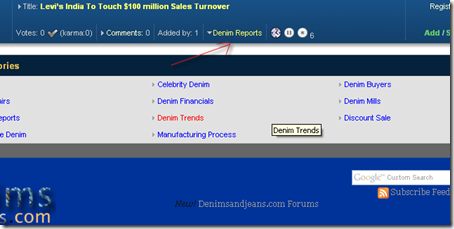 Now you can easily change the category of the articles and shift to a new category eg :Denim Mills . However, for the articles to play automatically, you will have to click on the CLOCK sign and set the time .
And finally, if you don't want to set any clock time but would still like to see the next article just click on NEXT at the top right of the frame .



You can also revert to previous article by clicking on PREVIOUS.
You can save almost 70% time by viewing our articles like this  or if I can put it this way – "You can view 3 times more number of articles than you view by visiting the site normally"
Here are some opening links so that you can start at one category and go to any category later on . Sit back have your coffee while our articles open up one by one in front of you !.