Happy to inform you in this new year that we are offering  a new section on our site- the Denim Presentations. This section has slideshow presentations on various denim related topics .  We are starting with over 80 presentations related to –season collections, marketing,  trend reports and
more. All you need to do is go this section and keep on checking out the trend reports, manufacturing reports and more .  The idea of this section is to bring more of visual information to our readers in a format which is user friendly and interesting (specially with music aligned with most of these presentations)..
But this is not all . Having created a lot of sections on our site and large amount of info being spread in these, many of our readers were finding it difficult their way through the site . So we have created an easy navigation on the top of our site which compiles most of these sections and you can easily browse through our whole site using them .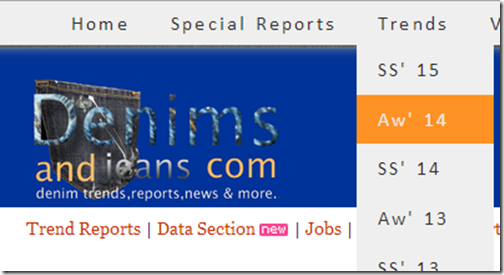 See the image above. The navigation looks like this and is given on the top of our site. There are main categories  – Special Reports, Trends, Videos, Presenations , Jobs, Brands, Calculators and others. The categories have dropdowns as you can see above. Eg in TRENDS category, the dropdown (when you mouse over it ) shows sub categories like SS'15, AW'14, SS'14 etc . Clicking on any of these would take you to articles related to that season. So , if you want to see what are the latest trends for SS'15, just select that category from the top of our site – on any page on our site , and you will immediately see the list of articles and info related to SS'15.  Of if you want to use calculators on our site, just reach the calculators category and you

see a drop down for the two calculators on our site.  Similarly the video, jobs , data, presentations  and other sections of our site are easily accessible.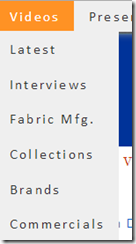 Do send us your feedback at this email to let us know if you find it useful and if you have any suggestions on how we can make the site more useful for you.