What is the GSM of a 10.5 oz fabric ?
What is the linear weight of a 14 oz fabric with a width of 165 cm ?
What is the oz/sq.yd of a  fabric if one mtr weighs 800 gms ?
What is the GSM of a fabric if  it weighs 200 grams and has 150 cm width?
How much time would you need to find the answers to these questions?
Well, we have designed some calculators which will help you to find the answers to them in  a 'second'..  These are the first in the series of our 'Textile Calculators' which we hope the readers can use to find answers to some of their conversion questions or just play around with them !
Textile Calculators for Denim Fabrics And All Other Fabrics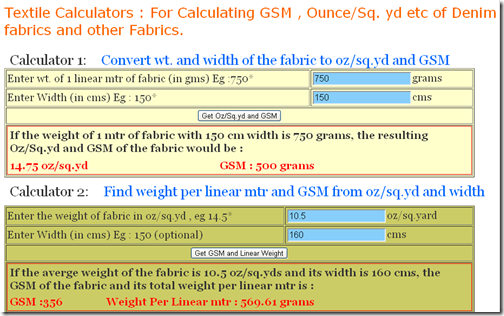 We are starting with two calculators . In the first textile  calculator , you can just enter the weight of one mtr of a fabric and also enter its width. Clicking on the submit button gets you the ounce / sq. yd and GSM.
In the second  calculator , just convert ounce to GSM in a jiffy. And if you have the width of the fabric also, then the linear weight of the fabric is also found immediately.
The calculators can be accessed online from this link http://denimsandjeans.com/calculators . So even if you forget the link, just remember to add /calculators after our site name Denimsandjeans.com 🙂
It would be good to know if these calculators are useful or not . Also, it would be good to know what are the other calculations most frequently required by our readers and we will try to develop the calculators accordingly . Do send us your feedback on this email