This is an article contributed by Mr. Mark D'Sa – a reputed Consultant and Advisor
Nearly four years after the earthquake with aid agencies having poured billions of dollars into relief projects, the stability of Haiti's garment industry seems to be hanging by a thread.Haiti's garment industry is focused on low-end apparel clothing and cranking out plain T-shirts for North American companies such as Gildan, Hanes and Walmart. According to the Inter-American Development Bank (IDB), the industry makes up 80-90% of the country's exports. And thanks to free-trade deals agreed by the US Congress, most Haitian garments are able to enter the US duty-free.
International Finance Corporation, (IFC), a member of the World Bank Group, is investing $4 million to help The Willbes Haitian S.A., a subsidiary of South Korea-based The Willbes & Co., Ltd, expand its apparel manufacturing capacity and create 1,000 new jobs in Port au Prince by the end of 2016. In addition, IFC is mobilizing a $4 million parallel loan from the Inter-American Development Bank.IFC's portfolio in Haiti amounts to US$122 million, including US$24 million mobilized from other partners.
 Earlier this year, quality-apparel brand BOXERCRAFT announced that IRII (Industrial Revolution-II) would join its list of suppliers. It's an indication that companies are willing to move away from the mass production of turning out T-shirts on the cheap and are starting to consider responsible sourcing practices. The hope is that other brands will also see the potential in the venture and that they'll place orders with IRII for high-end clothes that might usually get produced in places like LA. According to a report published by Better Work in April this year, 100% of Haitian manufacturers audited were still paying workers around 200 gourdes (about USD3.5) a day, some several months after the 300 gourdes minimum wage had been introduced.
In June 2015, The Trade Preferences Extension Act, which extended the duty free provisions of the HELP Act, signed by the President Obama . This opened a ten year line of sight which allows investors to establish operations in Haiti with greater confidence. Earlier, in March, a trade delegation organized by IDB visited several companies in South Korea with positive results. Following up on the visit, Hansae Corporation of Seoul visited multiple locations in Port Au Prince and eventually signed an MOU with SONAPI (The Government administrator of Industrial Parks), to invest in Parc Industriel Metropolitain. This investment of U$30 million is expected to yield anywhere between 5,000 to 7,000 jobs. Haitian apparel exports to the US for the year ending November, reached U$ 896 million and 334 million SMEs (Square Meter Equivalent). Out of the total apparel exports, bottom exports are approx. 25% under Cat 347/348. Levi's is the main denim buyer followed by Old Navy, Carter's etc.
During the year the number of apparel jobs reached a high of 41,200 – the highest since the HOPE and HELP Acts were signed in 2006. 60% of the growth in jobs in 2015 was in the northern region led by the Caracol Industrial Park and CODEVI.  With the establishment of the Caracol Industrial Park the industry has decentralized and by end November, 36% of the apparel jobs (15,212 of 41,536) are now in the northern corridor. It is also important to note that between the two Industrial parks under it's management, SONAPI is now home to 49% of the total jobs in the apparel industry and scheduled to go over 50% in 2016. During the year a total of 7,226 jobs were created and 3,542 workers were laid off due to shutdowns and temporary closures. The net job increase at the end of November was 3,684. The Caracol Industrial Park contributed 2,998 apparel jobs in 2015.
The country's growth in apparel exports has been steady over the period 2010 to 2014. The job growth is mainly driven by investments from DR, Korea and USA.
| | | | | | |
| --- | --- | --- | --- | --- | --- |
| Category | 2010 | 2011 | 2012 | 2013 | 2014 |
| Total Export ($) | 517.569 | 701.476 | 730.051 | 803.337 | 854.287 |
| Total SMEs Exported/Utilized) | 253.06 | 257.628 | 270.374 | 306.44 | 313.931 |
| Average USD/SME | $2.05 | $2.55 | $2.70 | $2.62 | $2.72 |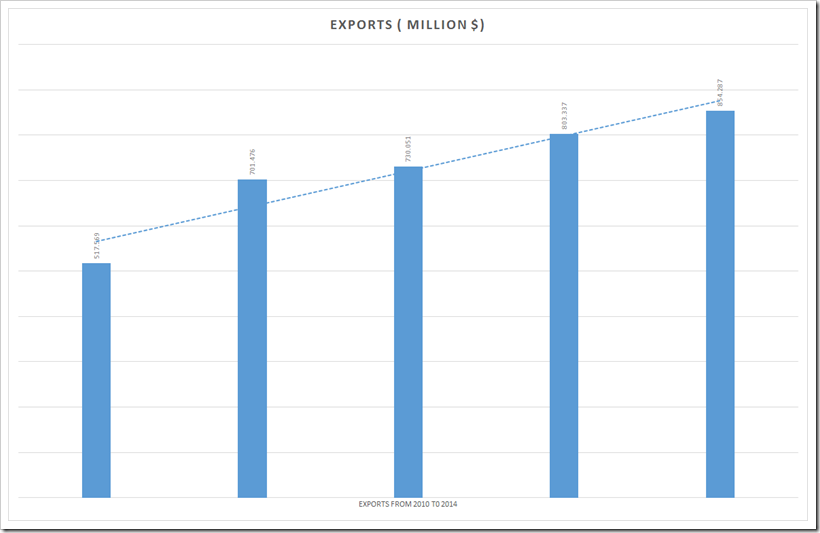 The first quarter of 2015 saw the industry get off to a good start with jobs and exports growing steadily. The renewal of the AGOA agreement and the TPP generated a lot of discussion, but did not impact the volume of exports from Haiti. Towards the end of the year there was some disruption leading to the loss of 3,500 jobs in the Port Au Prince area, however the year finished on a positive note with an increase of 3,684 jobs.  According to the numbers published by ADIH, the companies that contributed to the maximum number of job increases in 2015 were S&H Global (2,800),  Val d'OR (1,259), Premium Apparel (756), Island Apparel (521) and H&H Textiles (513).
Prospects for apparel exports from Haiti continue to look bright with the extension of the HELP Act and the availability of motivated labor at competitive costs. Despite minimum wage increases, the country continues to be competitive as the local currency depreciated 22.38% and according to all indications, is likely to weaken further against the US Dollar. The current minimum wage is 240 HTG (US$ 4.15) per eight hour day plus another 22% for health insurance, pension plan, two weeks vacation and one month nonus. At the time of publishing this post, the exchange rate is 58.09 Haitian Gourdes = US$1.00  As yet Haiti has not been affected by the AGOA and TPP agreements because of it's proximity to the US and the generous TPLs available under the HELP and CBTPA agreements. Leading retailers and brands continue to be bullish about the potential Haiti has to offer.
Several Haitian producers like S&H Global, Willbes Manufacturing, H&H Textiles and Val d'Or are in an expansion mode. A major Korean manufacturer Hansae, signed a lease agreement which could generate 5,000 jobs over the next three to four years. Logistics continue to improve with private sector port investments in the Lafito and Terminal Varreux projects on the outskirts of Port Au Prince. In the North, the World Bank's IFC and USAID are upgrading the Port of Cap Haitian. At the current time there are two weekly sailings from Cap Haitian and four from Port Au Prince with 3.5 days transit to Florida. The prospects look bright for Haiti's apparel industry in 2016. The workwear producers are increasing output, knitwear exporters are in strong expansion mode and based on the reactions of several investors, Haiti should continue see an influx of foreign companies that will add at least 6,000 jobs and a very good chance to cross the billion dollar export mark in 2016.
A T-shirt from Walmart is likely to cost at least $7. The minimum wage in Haiti is 300 Haitian gourdes a day (roughly $6-$7) and even though this is peanuts, there is the argument that paying workers even $5 a day could put factories out of business. Some workers are said to be paid as little as $3.50 a day.T-shirt production is cheap, easy and requires little skill. Because of this and the high demand, if wages get too expensive, production can just relocate to another poor country, where costs can be kept low.To put it simply, low-end apparel T-shirt production is one of the least attractive parts of the industry.