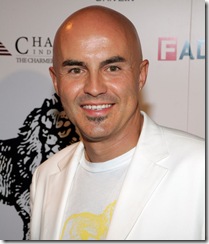 On my recent visit  at Hong Kong , I met Stefano Aldighieri . Stefano has worked as creative director at '7 For All Mankind' and 'Hudson Jeans ' and as design director at Levi's. He has been involved with the US denim industry for a very long time . He is currently running his own design studio – Another Design Studio – which provides design services on denim concept to pre-production and marketing.I had a long chat with him on the  situation of the denim industry in the US . Excerpts  from the  same are being reproduced below :
Tell me something about yourself  and your company ?
I have been in this industry for a long time and I have a design studio based in L.A  where we do design consultancy and marketing consultancy for different brands.
How many years you have been in denim business ?
Almost 25 years . "Eternity" – interjects  Michael from Kingpins  who had been listening to our conversation !.
How do you think the denim business has changed in the last 5 years?
It's a very interesting and a fascinating business and is never boring. It  changes all the time. Last 2-3 years have been very challenging for all companies. A few companies have had a significant drop in their business and unfortunately we are going to see more fall by the wayside in this year and the next year. But I think the companies that managed to survive and manage to hold their position would do ok.
Premium denim wave. Is it going to continue ?
It's changing. Lots of brands who were selling jeans at a very expensive price are now finding it very hard to justify their price points. We had a good run for a while. People were very excited about these new jeans and were ready to pay pretty much any money for the same. The reality is now sinking in, and even the end user is realizing that could be a little  too much. I think if the garment is very special and has something to offer and differentiates with whatever else is out there , then it's justifiable. Just slapping a 'premium' label on a pair of jeans and sell it a high price point  is probably not so realistic
Have the denim prices come down in the recent times?
I believe so , yes. There are still cases where people sell jeans for lot of money but most of the high end brands are either reducing their price points or introducing new brands at lower price points to keep their sales volume.
Has the introduction of Gap 1969 Premium denim jeans affected the market in any way?
It probably has. Between Gap and few other large companies which are aggressively promoting nicer denims at reasonable price point , they are kind of showing people that it is possible to wear a nice pair of jeans without breaking the bank.
Does it mean that regular denim brands like Levi's, Gap, VF etc could  take away a major share of the premium denim market?
You have to keep in mind that the whole high-end jeans segment is a very small percentage of the market . Even if it were to disappear completely  tomorrow, it would not have such a huge impact on the overall market. The US jeans market is about 600 million pairs of jeans per year, and out of that the so called 'premium jeans' is probably 5-6 million pairs. So we are looking at less than 1% of the market. It is not really significant .Where it is significant, is the shift that it has caused in the market. If you look back at the US 10 years ago, it was absolutely unthinkable that people would pay $100 for a pair of jeans –never mind $200 or $300. You could buy expensive jeans if you wanted to – but had to import them  from Italy or Japan. Pretty much until the day when Diesel opened their first store in New York and Adriano Goldshcmied moved to US, and Earl jeans started in L.A . These things kind of showed to major retailers and market in general that it was possible to sell expensive jeans.
What would be number of premium denim brands in  US , specially in L.A?
I don't know how many brands are there right now. I know that in the last few years you would see a new brand popping a up  almost every week  . Specially in L.A because you had access to  the contractors, the laundries, the fabric sources – so it was comparatively easy to put together a line. And Quite frankly , a lot of people would think , 'wow' those people are making so much money selling jeans – why not do the same thing. Everybody just jumped the bandwagon without having knowledge of the product .
As a consulting company what kind of value do you add to the profile of the brands you consult?
Our company offers a pretty comprehensive range of services . It goes from initial concept development , custom product development , research, development of fabric, development of styles . We can do trims & accessories , we can do patterns, washing – pretty much the whole package up to production . We also do marketing and branding . A couple of projects that we are doing right now specifically over branding and positioning initiatives.
Thanks Stefano. I hope that  your business keeps on increasing and so does the business of the denim world!
I don't think we are going to see denim disappear any time soon. It evolves , it changes – but its always going to be around for us !
Stefano Aldighieri can be contacted at this email address.