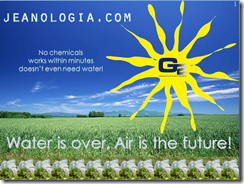 Jeanologia is  a company from Spain dedicated to providing eco friendly finishing solutions for  garments – specially denim.  With a corporate tagline of  "The Science of Finishing" it has been their mission for last 15 years to enhance industrial garment finishing through technology & know how.
The concept of 'Sustainable Denim' – an eco friendly approach to denim is being enhanced by their various machines , the foremost of which is the G2 Waterless Washing Machine. This is a unique washing machine which washes denim jeans with about 60% less water  and almost no chemicals…….!!  In  Hongkong, Jeanologia had a large hall dedicated to their "Truth & Light show" where they displayed their uniquely washed garments.  The visiting denim experts were asked to select , from pairs of jeans, the jeans which had naturally aged and the one which had been made by Jeanologia with the help of their laser technology and unique G2 washing machine.Most of them could not differentiate between the two . It was an interesting way to understand that real aging effects could be achieved with eco friendly washing methods.
How does G2 work ?
Air from atmosphere is transformed into a blend of active oxygen and ozone called 'Plasma'.This plasma is used to age garments. The plasma is transformed into purified air before it is returned to the atmosphere.
What kind of  washing effects can it provide on the jeans ?
G2 can provide various effects on the jeans like
•Casting:
•Cleaning:
Removes backstaining & loose indigo without detergents
•Bleaching without the bleach!
•Eliminates the need for Potassium Permaganate spraying.
•Blacks and grey denim fade without turning brown.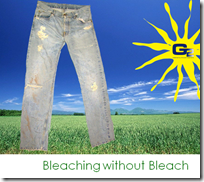 •Eliminates yellow from bleach look.
•Improves crocking in dark finishes.
•Provides various other fashion finishes.
If so less chemicals are used, how are these washing effects attained?
Jeanologia use laser technology instead of chemicals to mark the washing details.If desired, further effects can be given manually by grinding and scraping. The laser maps out the washing details required and then the garment is given a short wash. The garments are then placed in G2 where the laser effects are brought out with the plasma. The garments are then rinsed and dried. This is how the washing details are attained.
Is it possible to duplicate washing effects of an existing jeans ?
Yes, with their laser technology, the washing effects of an existing jeans can be mapped out and then replicated on new garments . This does away with the trial and error approach to replicating vintage washing effects.
What is capacity of the G2 machine in terms of load factor ?
The machine has a capacity of 50 kgs ie it can wash about 3000 jeans in a day. G2's programmable software system automatically adjusts gas concentrations to reflect load conditions (i.e., jeans, tees, wet, dry, etc).
From a case study of actual production in the US,the company claims that using G2 can result in 67% savings in energy and water, 55% savings in time and 85% saving in chemicals and can thus provide a saving of $0.44 per garment washed besides contributing to environmental protection and reducing health hazards for the workers.
Denim jeans  washing is one of the most environment polluting activity in  the apparel industry . According to Professor John Anthony Allan from Kings College London, a Kg of jeans comes to us after about 10,850 litres of water has been used ie 1 Kg of jeans has this much of embedded water . Of course this includes even the water used in growing cotton. But the carbon  footprint of jeans is very high.  In the recent years , the increased requirement for specialized washes has further increased the environmental impact of denim production. In such a scenario, any technology that makes it possible to cater to fashion requirements and at the same time contributes to environmental protection, should be welcomed .
Here is a slideshow presentation on G2 Machine
Jeanologia can be contacted here : Michelle Branch