This fall 2019, GUESS launched GUESS Eco: a collection for men and women made with environmentally conscious materials and manufacturing processes. The collection supports the brand's sustainability goal to develop 25% of its denim and source 20% of its materials* according to its GUESS Eco guidelines by 2021. The GUESS Eco collection started in Europe in 2016 and is now offered globally every season.
Utilizing water-saving techniques and environmentally friendly practices, all GUESS Eco denim this season, as well as select non-denim styles, features Lenzing's TENCEL™ Lyocell. TENCEL™ branded fibers are derived from responsibly managed forests protected from illegal forest management practices.
GUESS's Eco Luxe denim, available in six different styles and washes, features TENCEL™ lyocell with REFIBRA™ technology – an innovative process that helps to reduce industry waste by upcycling cotton scraps from manufacturing. The brand's classic 1981 Skinny and Sexy Curve fits have been developed with Eco Luxe denim fabrication, and can be outfitted with logo and graphic t-shirts and tanks made with 100% Organic cottons well knit tops and dresses made with Lenzing's TENCEL™ Modal. For men, Eco Luxe slim tapered denim jeans in light to medium washes are seen alongside Super Skinny and Skinny style fits.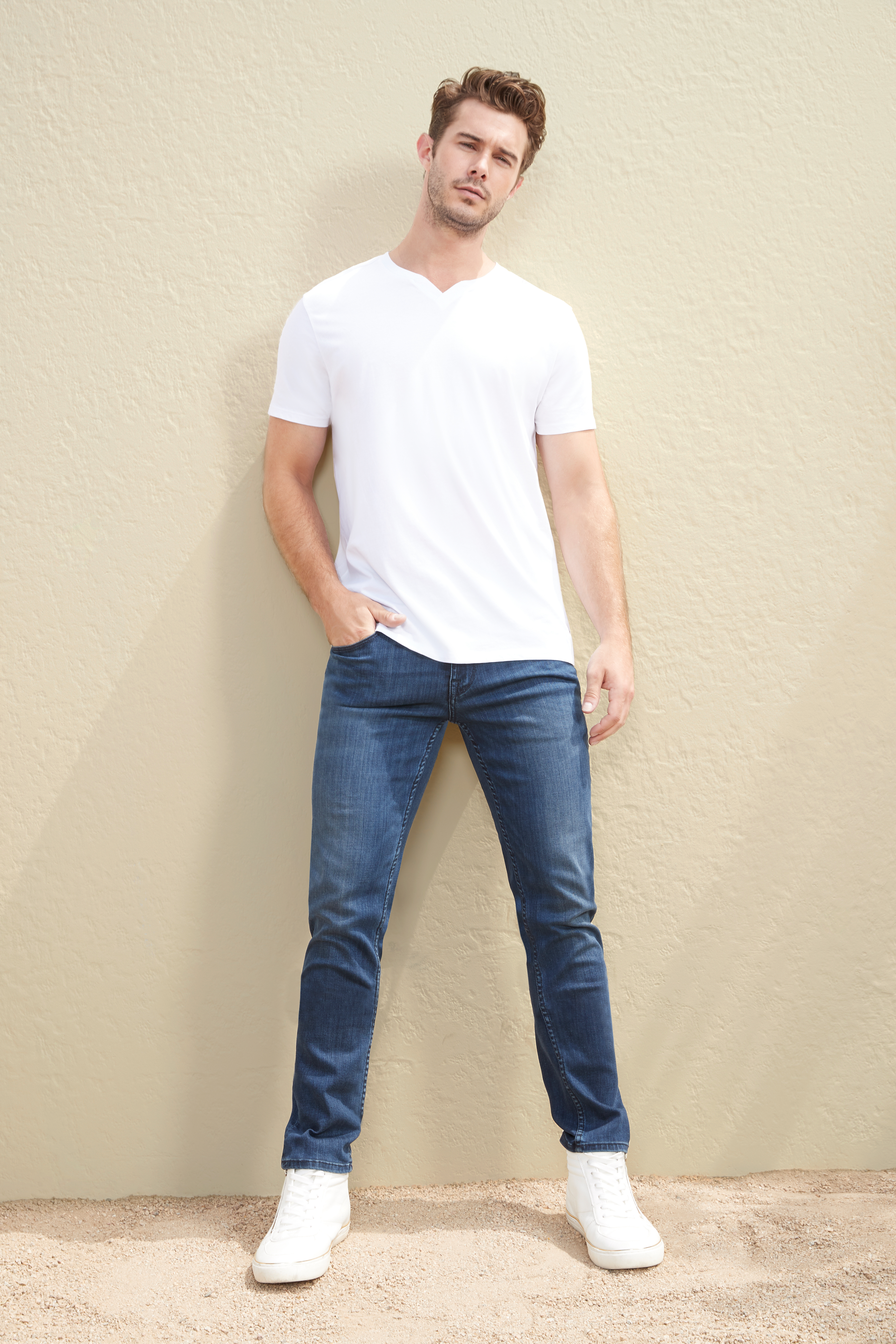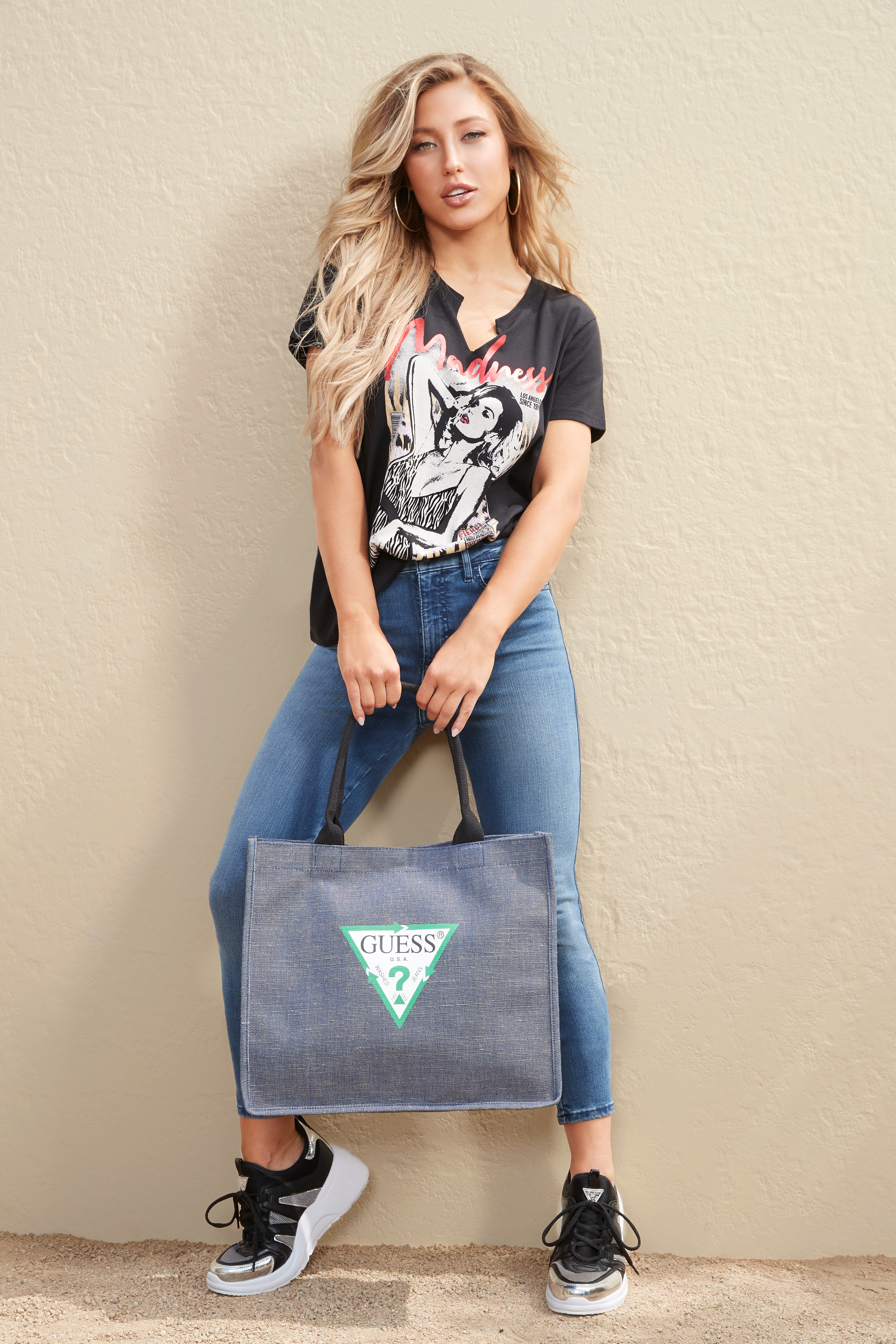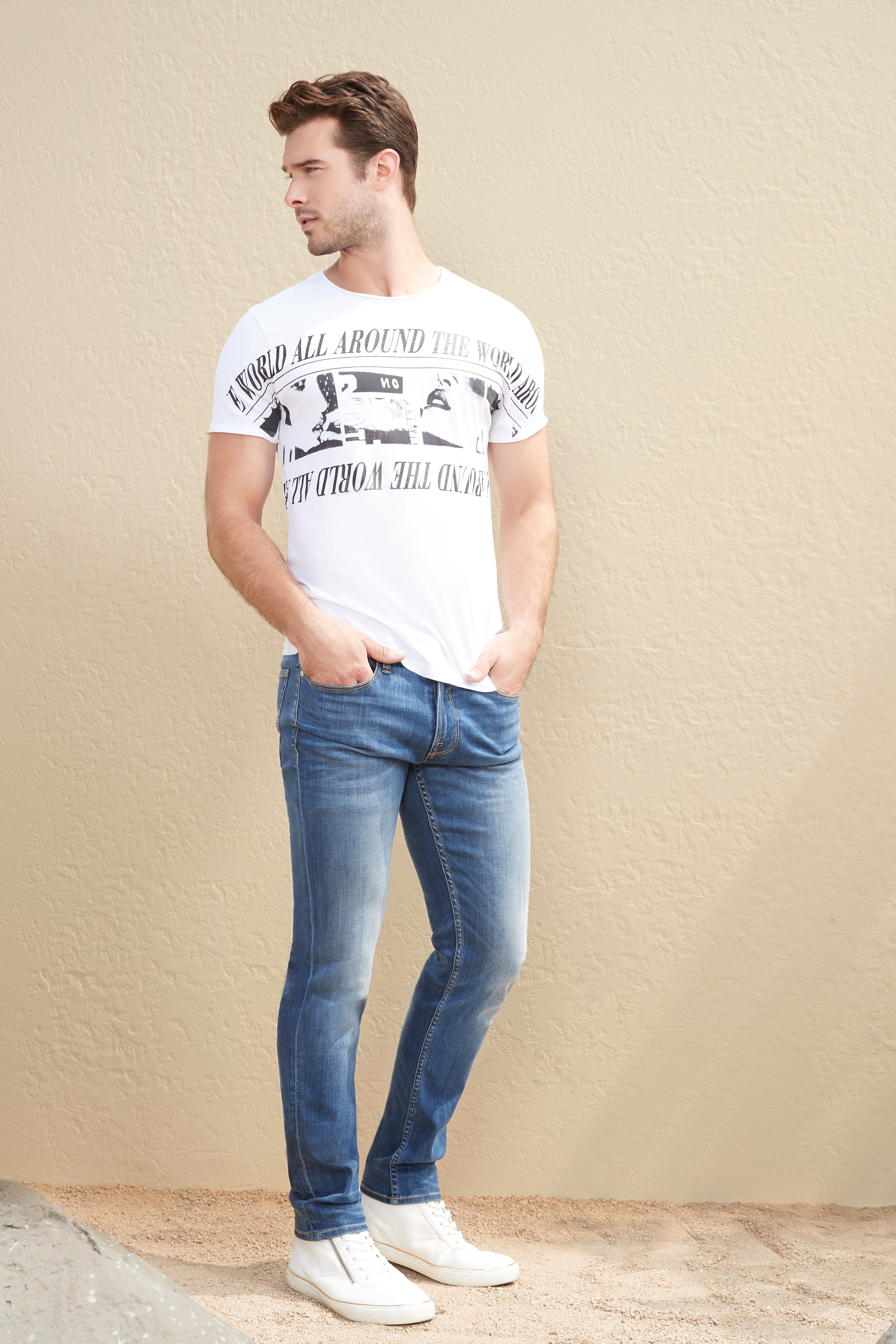 "Guess Eco started as a grassroots initiative from our sustainability and product design teams, and has quickly grown into an important Company initiative. At GUESS we are responding with our resources and our strong commitment to change. The world is watching iconic brands like GUESS and asking ever more demanding questions about the impact we create with everything we do. Our promise is to make a conscious effort to offer high quality products designed with the environment and our communities in mind. I am very proud to see how our associates are using this incredible business as a force to make this world a better place." – Carlos Alberini, CEO of GUESS?, Inc.
"The evolution of the GUESS Eco denim to include TENCEL™ x REFIBRA™ brings circularity to denim by utilizing cotton scraps without compromising quality or aesthetics. With the technology in fiber developments, GUESS is on a path to reduce its environmental footprint. We are pleased to partner with GUESS as they raise consumer awareness with educational messages across digital and retail platforms." – Tricia Carey, Director of Global Business Development, Lenzing.
Denimsandjeans Spoke to Guess and Tencel to understand more on this special collection :
Q&A with Guess – Ms Cecilia Hands
You have a sustainability goal of reaching 25% denim and 20% of materials as per Guess Eco guidelines. Can you tell us more about it?
Sustainability is a growing movement in our company and we wanted to set short term goals we could reach to benchmark our progress. So far, we are on track to meet or even exceed these goals. The 25% denim goal pertains only to GUESS Brand. The 20% materials portfolio goal pertains to all GUESS brands.
Please tell us the background of your collaboration with Tencel and how does this collaboration help you to achieve your sustainability goals recently unveiled?
TENCEL is a branded, certified sustainable material from Lenzing. Lenzing is a preferred fiber provider because they are industry leaders in sustainable fiber production. Their processes are certified at every stage of the fiber production process as sustainably sourced, energy efficient and waste efficient.
How is Eco-Luxe Denim Collection different from your previous collections?
The Eco Luxe Denim is a fresh iteration on our classic denim styles, with sustainable components that never compromise quality.
Do you have long term plans to reach higher goals of sustainability as some other brands are targeting?
Our 2021 GUESS Eco goals are ambitious yet achievable. We intend to meet our goals so that we can set the bar higher for ourselves and our products in the long term. However, our sustainability reporting is third-party verified to assure the trust and integrity of reporting, which can sometimes require us to be more conservative than our peers, who do not have 3rd third party validation of their sustainability metrics.
Do you think the final consumer is ready to pay extra to buy sustainable denim even though a the cheaper but not sustainable option is readily available?
Our goal is to recreate our classic styles in sustainable fabrics without compromising our price points. Although sustainable apparel can sometimes be more costly, we strive to offer our customers a luxury experience at accessible pricing.
Q&A with Lenzing Fibers (Tencel) – Ms Tricia Carey
Lenzing has been working hard towards increasing the sustainability of the global fashion industry. How important is a collaboration with Guess in this direction?
It was important to collaborate with Guess to support their strategic goals lowering the environmental impact, without compromising style and quality. Guess established a viable fiber strategy, as well as an educational platform for their team. Throughout the development process the Guess team was inquisitive and eager to learn.
Your most products have different elements of sustainability. Refibra is one of them. Can you enumerate how you would rank your own products from a sustainable angle?
The Lenzing portfolio of fibers includes LENZING™ ECOVERO™ viscose, TENCEL™ Modal and Lyocell; all produced under our global pulp policy. We offer manmade cellulosic options to support the sustainability strategies of brands and retailers across various product categories and price levels. One of our latest developments is TENCEL™ Lyocell with REFIBRA™ technology bringing circularity to textiles using cotton scraps to make new TENCEL™ lyocell fibers. There is no compromise to strength or comfort with TENCEL™ x REFIBRA™ Denim.
How good, do you think, is the march of the global denim industry towards sustainability?
Each season the denim industry is attempting to tackle the global sustainability challenges from fiber to finished products to consumer use. It is complex to address the water, chemical, energy, social issues and more impacting the denim industry. At the same time we are faced with the factors of increased consumption, investment costs, greenwashing and price demands. There certainly is a realization that we have to change our ways during this era of global sustainability revolution.
Here are some images from the launch of Guess Eco Luxe Denim Collection :