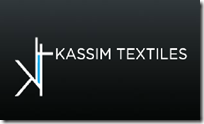 Pakistan is continuously developing as a large centre of denim production. With over 30 denim mills, it becomes important to understand what is happening in this part of the denim world.  Today we are featuring an interview with Mr Arsal Kassim – the Creative  Director at Kassim Denim .
1. Please tell us something about Kassim Denim and its history
Kassim Denim falls under the umbrella of the Machiyara group, which already had a strong corporate presence of about 25 years before jumping on the denim bandwagon. But when we started out with Kassim Denim in 1991 we had absolutely no background in denimology. We just had one mission in mind – to respond to the global denim demand.
Rebels with a cause, we started a sustainable revolution with a vertically integrated setup. Out of affection for this absolutely wonderful planet that we inhabitate, our denim ambitiously reaches for a higher reading – It's our platform to conscious couture. Combining the details, manufacturing techniques and fabrications that make denim so desirable, we painstakingly engineer and meticulously research sustainable fibres at our well equipped labs to produce high quality organic denim.
Twenty two years down the lane, we continue to build a culture of intelligent consumerism producing eco-responsive denim that finds its way into responsible closets. Today, Kassim Denim fabricates 31.2 million metres of eco-responsive denim annually and accounts for 5% of the national denim production.
2. What are the main product strengths of your company? What kind of customer base do you cater to?
Injeanuity is our only strength, really. We respond to the ever changing fashion scenario by showcasing timely innovations that aid in keeping denim's momentum moving forward. We are always trying to redefine denim. We keep on asking ourselves – is denim simply a mix of spun yarns dyed in indigo, or is it much more beyond that? We have never stopped thinking about how to make some of our fabrics even softer while others stiffer. How to add more sheen to the fabric, how to make our fabrics stronger, how to create more washing effects? We are even thinking of what kind of washing effect, what color of threads or cutting could match our fabric best. Being the serious denim heads that we are at Kassim Denim, you get more than just a piece of fabric. We are constantly experimenting on new sustainable concepts like recycled polyester and cotton, Tencel®, spare denim and hemp. Catering to the expanding sketchpad of possibilities for denim, we employ visionary technological processes to produce an assortment of weaves, colours, finishes and details. Our innovative role in exploring and developing new sustainable production techniques makes us lead the way.
Kassim's meticulously researched and ecologically sustainable denim is then shipped to the finest "denim-centric" manufacturers, wholesalers and retailers globally. Our eco-friendly nature makes us popular with the Europeans, which also gives us the chance to get a preview of the hottest global trends. From street wear to haute couture – our denim adapts European runways to cosmopolitan boulevards across the globe in Turkey, Italy, Germany, Spain, Bangladesh, South America, and Egypt.
3. We hear of some interesting products from Kassim for S/S14. Can you throw some light on it?
We are constantly looking at new and innovative ways of using denim and experimenting with different techniques for that all important new season favorite. But at the same time we defy glamour. Denim is something which forms into second skin by the user so our collection has to reflect the feeling of everyday life. For summers, two major introductions are lightweight fabrics in vivid colors and knitted denims. Color has made a comeback with a bang. The female color palette is sugary pastels – all milkshake and ice cream inspired. We are featuring matt and chalky pastels and vivid flat brights in a range of primary shades giving a vintage look to powdered pinks, peaches and brighter blue shades.
We are also doing natural yarns, including linen and hemp, which update lightweights with neppy textured character. Partly in response to the need to reduce cotton consumption and also for the interesting textural qualities these fibers impart. Our finishing is imitating aged denim finishes with powdered coatings and vintage looks. We are also blending linen with our premium cotton combed yarns for a stunning effect, producing super-soft, subtly flecked denim. The slubby and neppy nature of linen and hemp gives an authentic textural interest to apparel weights. Hemp and nettle are also to be seen alongside a cotton/paper blend. Uneven smoked effects are another highlight. We are also doingTencel® and Modal® denim which is a brilliant, super-soft fabric. It breathes, feels cool in the heat and warm in cooler temps. At the same time, it makes the apparel extremely easy-care and crease-resistant. Summer at Kassim is very colorful, very exciting. Definitely worth watching out for.
4.    Your company is an integrated manufacturer – from yarn to finished fabric. How does it help you add value for your customers?
We aim to create clothing in classic, timeless styles that are constructed out of the finest materials to the highest standards. There are 1,400 people at our manufacturing plant with only one job – to inspect our denim at each stage of the production process. We are actively involved in the full life cycle from the selection of the type of cotton we use to weave our denim and the design and preparation of our yarn, through to the application of various finishing processes. Being a vertically integrated setup gives our clients the edge to custom made denim at each stage of production.
We make denim as a labor of love. We use only the best long staple cotton farmers can harvest – result is that our denim is surprisingly soft to the touch. Our spinning department employs customized technology from the best European machinery suppliers which enables us to produce the most intricate blends of yarn with a fine eye for quality. At our dyeing unit while we propagate Indigos for denim, our choice for the environment remains clearly green. The technology for loop and rope dyeing is the latest from Italian experts. Our weaving department is supplied with flawless beams, where we believe in really pushing the limits of the denim loom. Our assorted collection of over 4,000 fabric types emphasises the impact of mystique and is showcased bi-annually to the high end fashion industry through our team of Turkish and Italian consultants. The finishing unit puts a modern spin on the original denim. Our collection comes in finishes that range from super soft silicone rinses to extremely technical vintage replica effects. This amount of control over the raw materials and the production processes gives us the opportunity to produce fabrics that are not only consistent but are designed to give the most brilliant and natural wash down effects.
Quality control at Kassim borders on the insane – we share the same sensitivity that our clients do. Our collection is eventually housed at Zara, Bershka, G-Star, Jack & Jones, Levi's, H&M, Cheap Monday, Mango, and River Island – speaking volumes for itself.
4. What are the trends emerging that you see for denim?
The denim industry has been taking a sharp turn into a digital dimension. We should be witnessing exciting stuff with forward pushes into technical, graphic arenas and a new age of smart denim with a more premium look and feel. The introduction of laser technology is also positive, which is leading to a fresh wave of digital and graphic designs. Denim fans can expect to see a strong progression of dramatic, high-contrast colors as well as digitally engineered photo finishes. Also regarding the construction of denim, reports are showing a focus on weave innovation like 3-D technology to create a hybrid of denim that is texturised and visually woven. Denim experts are pioneering several technological advancements used within the laundry and construction that are going to be driving new breeds of denim into the next season.
6. Denim has undergone a massive transformation over the last two decades. In early 90s denim used to be a 14.5 oz standard product and today all kinds of fibers, dyeingtechniques, weaves ,finishes etc are used . How much future scope do you think is left to take these developments further?
The story of denim is well-known and better told through the wealth of well-researched books on the subject. The key point is that generation after generation, denim devotées simply cannot get enough of the blue jean—the global anti-uniform and nonconformist fashion statement. But many of today's workers are more likely to wield a computer mouse than a pickaxe. They need a new kind of denim – casual yet dressy, relaxed yet professional.
Manufacturers have answered this schizophrenic request in a variety of ways. Today's denim comes in new styles, fabrics, weights and colors, all rolled into garments that can be worn both on the construction site and in the penthouse suite. To achieve this corporate casual look, manufacturers offer a variety of fabrics, including twill, chambray, cotton/linen blends and denim/oxford blends. On the surface, denim appears to be a unique and easily identifiable fabric. But it can be disguised as twill or blended with a variety of natural and synthetic fibers. And that is how over the decades, designers have evolved denim and its place in our wardrobes. Denim manufacturers are diversifying by producing garments that can be worn in a corporate environment. Denim is more and more frequently blended, and some manufacturers are even trying the denim weave with other fabrics entirely. Mixing it with Spandex or Tencel gives it form and a closer, smoother fit, while other fabrics offer a completely different feel.
All these different fabrics and blends are necessary, to keep the denim market competitive, to cater to the needs of promotional products distributors and to help differentiate between the increasing number of denim producers. I think the market is going casual but dressy, with lighter fabrics.
Manufacturers are also experimenting more with textures, and lighter weight fabrics. They are cautiously expanding their color base as well to include non-traditional hues. In an effort to appeal to a more fashion-cautious corporate market, manufacturers are introducing new styles every day. The story is simple – the future of denim is in the retail, while that of the manufacturers in creativity.
7.    Europe was undergoing some difficult times and now seems to be on recovery path. But with Pakistan getting GSP benefits, Pakistan manufacturers are getting some advantage. Do you think it makes EU much more imp for Kassim.
Pakistan has an important place in denim fabric and apparel manufacturing. It's not only our production volume of jeans and other denim apparel that sets us apart. A lot of local mills including ours are heavily investing in research and development, thus innovation in various stages of denim manufacturing is our major strength.
Pakistan's trade with EU mainly comprises textiles that are 55 per cent, followed by leather products. EU remains Pakistan's largest trading partner receiving 18 per cent of Pakistan's exports and providing nine per cent of its total imports. The overall volume of trade between the EU and Pakistan is worth $8,256 million with a trade surplus of $729 million in Pakistan's favor. Most of our clientele is based in EU andwith EU granting duty free status to Pakistan (backed by Germany which receives 20% of Pakistan's total denim exports to EU) we are definitely looking forward to exciting ventures. Overall this will also improve the sustainability of our manufacturing sector and will create additional businesses and job opportunities.
8.    How do you see the growth of Pakistan denim industry in the coming years?
The denim component has been developing the fastest in the last decade – with Pakistan touching almost 600 million square meters of denim fabric production per annum. There are about 40 major players in the denim industry of Pakistan, producing about 50 million square meters of finished denim fabric monthly. Denim is the mainstay of the Pakistani textile industry.
The top global denim fabric exporting countries including China, Hong Kong, Turkey, Italy, Pakistan, the USA, India, Japan, Spain and Brazil together accounted for as much as 83% of world denim fabric exports. Almost all of these countries witnessed a decline in their denim fabric exports in 2009-10. The only exception was Pakistan, whose exports rose by a remarkable 75% during the year 2009-10. On the other hand export of cotton denim fabrics from Pakistan increased from 45 million sq meters in 2005-06 to 229 million sq meters in 2009-10, thus showing an average increase of 50% per annum in terms of quantity.
A series of advantages including a falling currency, cotton fiber and yarn availability, modern equipment and strong incentives have progressively built a wealthy denim industry, which aid in denim apparel production and direct denim fabric exports to other Asian countries and also to Turkey. The continuously depreciating currency of Pakistan has majorly helped in maintaining the competitiveness of the industry but it is not a factor which can sustain the industry in the long run. Some mills in Pakistan have definitely tried to invest heavily in product development and innovation and this is probably the best way which will keep the industry going strong in the coming years.
9.    Do you see Pakistan becoming even more important player in the world denim industry considering China slowly reducing their capacities?
Denim manufacturers in Pakistan are looking to reposition themselves in the global market as Chinese companies are reducing their production, owing to their increasing energy and labor costs. While individual companies like ourselves will continue to make their best efforts to get a share of global business, this opportunity needs to be leveraged at the country level. China has denim capacity of 2.5 to 3 billion meters compared to Pakistan's current capacity of around 600 million meters. We will have to wait and watch how much production is being cut by China and which customers will come to Pakistan instead of China. At this point, we cannot single out one generic competitor. The global denim market is clearly segmented into premium denims, fashion denims/value for money denims and mass denims. In premium denims, Pakistan's competition is with Italy, Japan and a couple of Turkish mills. In fashion denims, our competition is with Turkey, Thailand, some Chinese mills and a couple of Indian mills. And in mass denims there is competition from majority of Chinese, Indian and Bangladeshi denim manufacturers. Pakistan has the advantage of having duty free access to consuming markets like Europe and Canada. With strong policies at government level we shall be able to make Pakistani denim industry more competitive and benefit from China's production cut, adding more growth value at about 15% per annum.
10.   Lastly, how do you think Kassim would like to add value for its customers?
We are fortunate to have a leadership that defies the conventional confines of the boardroom and is actively involved in everything every day. The blueprint of our successful manufacturer-customer relationship lies in being fair, being real and urging others to do the same. This moral fibre woven into our culture supports our courage to make bold decisions on the fringe, making injeanuity matter – always. That is our contagious attitude in a nut shell and this is exactly what helps us add value in our own unique way.
For more details on Kassim denim, contact at this email address