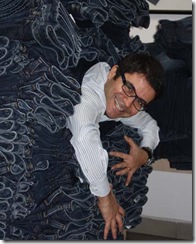 Martelli is one of the most reputed name in washing laundries around the world . For over 50 years Martelli Lavorazioni Tessili, provides new ways to add personality to the fabric and garments, bringing to the world of fashion its vibrant colours and effects, mixing creativity with the style sense of great fashion leaders.
I spoke to Mauro Maria Angelini – MD Martelli Europe – to learn more about the company and the latest trends in denim washing.
Please tell me something about Martelli and its operations  in various countries.
The Martelli Group is present in Italy, Romania, Turkey, Morocco and Tunisia. Romania was the first international Facility.In general we try to follow our manufacturing customers  and most of these have moved to these countries for labor costs reasons. It is much harder for Martelli to move because of the complexity of our plants and start-up costs, however we are going in this direction.
How do you think is Martelli different from other washing laundries in Europe?
I think the main difference is the fact that we are fortunate that the owner and founder of Martelli has always invested heavily in systems and technologies. The other difference is that we satisfy all our customers both big and small , for us the customer is sacred.
How important is denim washing in your total washing operations?
Denim washing is a major part of our business. Our strength is in garment finishing as dyers which is more technical and chemical orientated, however we are also experts in laundry and denim treatment. Now probably denim is the core business. It is true that today it is no longer enough to be an expert in washing and dyeing, but we must be able to offer our customers solutions ranging from 'import-export  to supply chain organization, when required.
We hear you do washing for all major denim brands in Europe. Could you name a few?
At group level I think almost all popular brands were and still are our customers. This happens because Martelli has over 50 years experience and was one of the pioneering companies in garment finishing. Our customer base includes Diesel, Armani, Levi's, VF, Replay, D & G and many others, the list is long.
What are the washes your customers demand the most .
Complicated washing, resin treatment and complex manual work.
Vintage denim washing.Has it peaked or do you think it will still grow in popularity?
Fortunately, a simple rinse is not required anymore, we just specialize in vintage finishing and our customers continuously ask for more
What are the basic requirements of a denim fabric to be given severe vintage washing effects?
Resistant fabric, low fault, the yarn should only be indigo dyed and indigo ought to be dyed without the addition of sulfur dyestuff or hydronic.
I believe you developed some great washes on hemp denim. Can you tell us something about them?
Thank you, these are washes that I love very much. In fact the Martelli Hemp Project was born on a known debate among experts on your Denim People's Group on Linkedin. For me hemp is a very interesting material, for example in Italy there was a tradition for this material in the past. Now I see it is less than probable it will completely replace normal cotton which has a market niche , this seems to be correct since it has good features and is probably a step towards environmental sustainability. We wait the response of customers.
What do you think about the rebound of the acid wash trend? How is it different from that of 80s trend?
In the 80s Acid Wash was intended primarily for a discoloration with permanganate, after it passed the dichloro (but gave problems on metal accessories, such as rivets) today there is a clear return of washes where the request is for the total discoloration indigo thread. They are very beautiful and evocative, we are working on this with the help of new raw materials (chemicals).
What do you think about the increase in the  popularity of Organic Denim? Is it really useful for environment in the current form?
I think we do our best to take into account environmental and the eco-sustainability of products. Organic denim is a trend that I see well because it opens up the debate on product although many industry insiders have doubts, I think the organic denim will drive a series of products with reduced environmental impact. In my humble opinion, we need more consistency by all, such as our plant is certified ISO 14001 (as well as ISO 9001 and OHSAS 18001) we very open to requests from customers on environmental issues, we only ask to be compared not only for the final price, which of course will be a little higher than competitors who do not respect the law or the environment.
What, according to you, are the most popular washes this summer of 2010?
Acid Wash, Overdye, Vintage Look.
Where do you think a washing laundry adds more value to a denim garment – in dry processing or wet processing?
On reviewing the rigid garment from manufacturing  you see the added value from laundries. Both processes, wet and dry are crucial. It is not easy to discuss seperately because they are complementary, however if I have to give my opinion  then laundry is always necessary and indispensable.
Conciousness about the environmental impact of denim washing is increasing. Has it started impacting the denim washing processes?
For the moment there is no change and I think to be more environmentally friendly washing does not automatically mean ugly or unattractive. Furthermore, we as a company are ready to invest again and to meet requests coming in this direction. To me it seems that in general customers are not willing today to pay a little more in return for products with low environmental impact. All this will happen when the mass market will require more of these type products, I think there will be a push on this from top-down and there will almost certainly have an impact in the coming years, in the meantime, we should develop and offer these products to the brands.
We hear about a lot of new machines,chemical products which help in saving water, energy etc. Do you think these  kind of products make a difference ?
Of course new technology helps us, also I think we have to consider the suppliers as sources partners and not only press them for cost reduction. In this direction and cooperation I am sure we could find the solution. For me business environment and natural environment move together.
Any washing advice you would like to give to our readers – many of whom are denim manufacturers ?
My suggestion is visit us at one of our locations! Thank you very much Sandeep.
Mauro Maria Angelini has a law and an MBA degree and is the Managing Director of Martelli Europe since 2001.
Martelli Europe Washing Plant