JAPAN BLUE is a jeans brand created by legendary Japanese denim fabric mills – COLLECT – in 2010. COLLECT has a
deep routed tradition of denim making in Kojima, Okayama. Collect is also the fabric maker the same fabric manufacture behind Momotaro denim and has a deep routed tradition of denim making in Kojima, Okayama.
JAPAN BLUE does spent most of time developing and creating materials.
Because they feel that  material is a key factor to determine the quality of jeans.Selecting cotton,spinning cotton, dying the yarn and finally weave a fabric, JAPAN BLUE considers all four processes an creates a fabric best suited at that time.  Using Zimbabwe, Memphis and other special cotton, Japan blue creates magic with their fabric and jeans.
We  had a chat with  Mr Hiroki Kishimoto , the designer and over all manager at Japan Blue Jeans to understand their principles and ideals of jeans making.
  Hi Hiroki. Can you tell us about Japan Blue Group?
Our group has two company, COLLECT co.,ltd and RAMPUYA & co.
COLLECT started in 1992 for fabric maker. COLLECTsupply fabric to a lot of brand, not only jeans maker but also other fashion brand now.Main customer are Japanese brand. of course we work overseas brand too. RAMPUYA started in 1996 for in order to master natural indigo and is owned by the same person -Mr.Manabe. We make own factory to dye natural indigo at first. We dyed yarn, tshirts,shirts,pants, leather, wood! . Mr Manabe started  Momotaro Jeans in 2005. We want to make jeans that has vintage, Japanese traditional, luxury, NO.1 jeans.
And I starter Japan Blue Jeans in 2010. I  want to put different concept to Japan Blue. I  produced Japan Blue with vintage and innovative mixed. I can produce a lot of variety fabric. But our fabric customer (COLLECT customer) buy some of them. A lot of fabric which was excellent couldn't appear to the world.
So I  produced Japan Blue Jeans. This is one of reason for the launch of the brand.
Japan Blue focuses a lot on the material – the fiber, the yarn spinning, dyeing , weaving etc. Do you think it makes a huge difference ?
Of course. I think jeans making equal fabric making. If I change small detail, huge difference will be coming after wearing.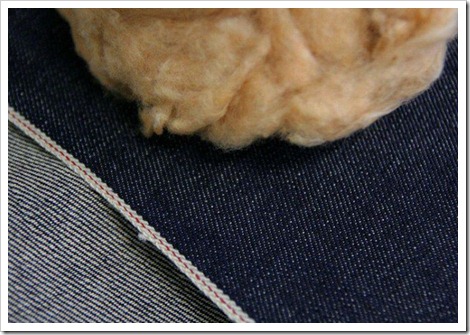 How did you get into the denim business? What Were there any big hurdles you had to overcome?
I met owner Mr.Manabe by chance before graduate university. We talked a bit, and he said, come to my office.I worked fabric business about 15years.  Designed, production, sales,,, sometimes dying , grow cotton…I talked other jeans maker designer, he said, "I want to wear jeans by COLLECT  fabric for personally.So I made so made small pieces jeans at first.
Big hurdles are craftsman, factory. We loose good factory and good craftsman every year. We are concerned that made in Japan product is shrinking.
How is Japan Blue different from competitor brands , say Evisu or even your own sister brand Momotaro. Who would you count as your main competitors?
I think Japan Blue is quite different to some Japanese jeans brands. Almost Japanese jeans brands pursue vintage jeans individually.Of course I use some vintage detail, machine for Japan Blue. But not everything. I compare which is better vintage or modern tech for every product..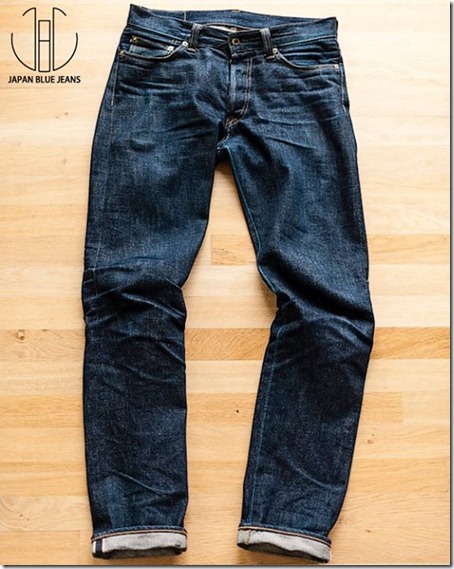 Do you think Japanese denim fashion is different from rest of the world ?
Some parts are different, some parts are similar. Eg, I produced jeans for US market. But Japanese also likes that model. There is also reverse. But there are not same time, different season. So there will be similar someday.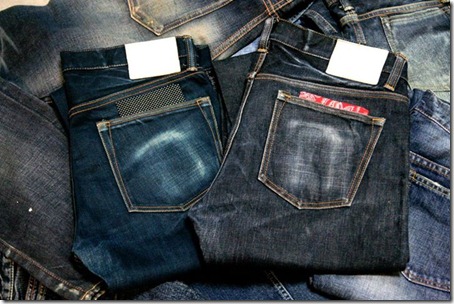 What according to you is the definition of a great denim ?
Something which people wear every morning.!
Why do you think Japanese denim is so famous worldwide
I think the  quality is the  best.
Is it because of good craftsmen who have been working for a long time?
That is one of reason. and, Japanese jeans designer require to craftsman very difficult denim fabric.
So the designers push the innovation ?
I think so. designer want to make vintage jeans. So craftsman consider how to make.
But why so much focus on vintage jeans? Why not something very modern and different?
Because of unique market only in Japan. In Japan, we pursue vintage fabric, sewing detail, cut, everything. Actually, i worked to produce fabric and  a lot of designer sent vintage jeans. SoI reaserched vintage.
What do you think is the most imp thing for making vintage denim ?
i think balance is imp, cotton, spinning , dying , weaving. vintage jeans did not think fading, or some design. they use very bad condition machines.
Do you mean the old looms?
Old looms and old spinning machine, old dying machine, old sewing, everything old..
So using these old machines is an advantage or a disadvantage ?
Of course disadvantage for almost people, but advantage for a few  jeans freaks over 20years ago. I produced fabric for some  jeans freaks at that time.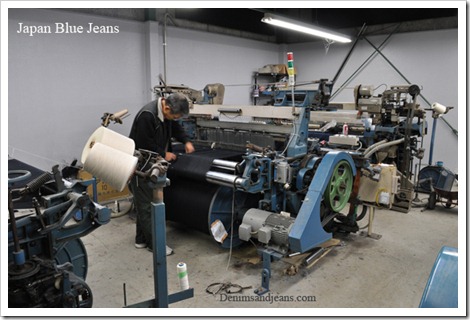 Really ! which year you started?
Our company started 1992. i started 1996.
Your brand Japan Blue – is it selling mainly in Japan ?
We sell
50:50 Japan and other countries.
1st year – only showed designs and did not sell.
2nd year – sold  only to overseas markets.
3rd year – sold to Japan.
Ok that's great.. I see that you also make heavy denims like 16.5oz Monster selvage. What is the heaviest ounce you make ?
28oz.
Wow ! what kind of customers wear 28oz fabric jeans?
I do not recommend to wear this fabric for daily use. Only if you go to very cold area or ride on bike.
But  jeans must be very stiff and rough ? Must be breaking many needles during sewing .
That's right. very difficult to sewing. they need hammers!!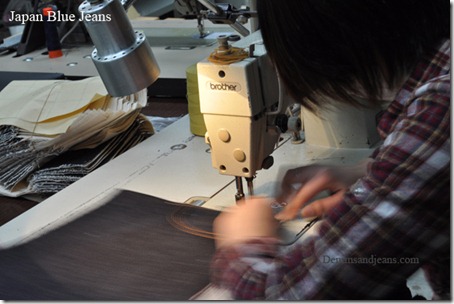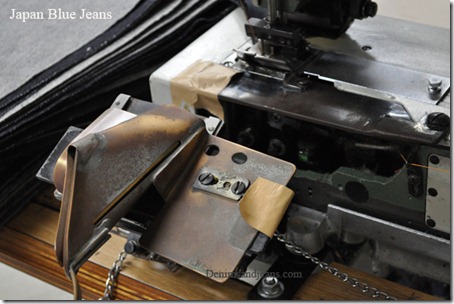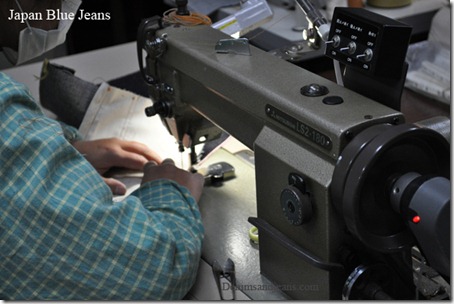 So normally you must be doing about  max 16-17oz .
Yes, but our 16.5oz is soft and comfortable. i can produce 16.5oz  soft, So i make jeans. If i produce more heavy jeans with comfort, i will make those  jeans. Eeven 16.5oz is not so easy to make soft .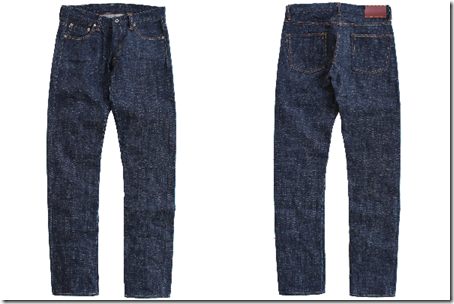 Where can customers buy your Japan blue jeans?
We have 70 dealers in Japan and 80  overseas. and 1 own store in japan. Some dealers can send world wide. Blue owl, AND, Okayamadenim , Cultizm,,,,and more,,
Please tell us something  about your latest jeans articles .
Some of the famous ones are
16.5oz Monster selvage .I produce JB0412/Tapered cut and JB0212/Skinny cut to this fabric.This fabric is heavy, but very soft feeling after wash.
JBM04A3   10oz freedom jeans. We use indigo knit fabric to this jeans. Very soft, comfortable.
JB0414  10.5oz Joker jeans. We use selvage stretch fabric to this jeans. Of course comfortable. And good fading coming.
5 colors jeans : JB0211 and JB0411 has 5color(cobalt, ruby red, forest green, carrot, egg plant)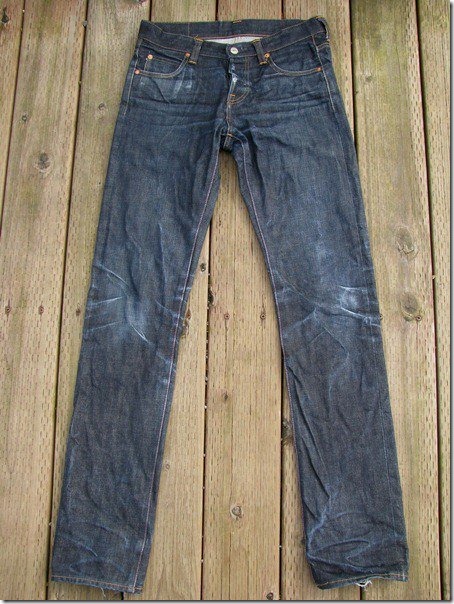 Is there something we can expect from Japan Blue in  the coming years?You have talked a lot about quality. Having been in the denim scene for a while; nowadays do you see a marked difference in what people are looking for in terms of quality, where the garment is made or how it is washed?
I want to produce jeans which nobody have never seen someday.Of course I brush up current model. And we always produce new fabric, jeans. I just enjoy making fabric! Actually, I can't expect Japan Blue in the coming year. I will try wash jeans too. so I produced fabric for wash jeans. Maybe it will be  released in near future.