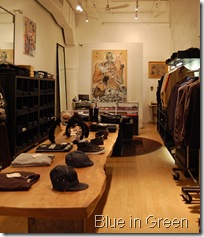 For the denim fanatics , Japanese denim is the holy grail. And for such people, there is one store in New York which is a must visit  – Blue in Green Soho . This is one of the most famous denim shops in the US because it stores and sells a number of very well known Japanese denim brands exclusively .
During my recent visit to New York , I felt it imperative to visit this famous store . In the well known fashion locality – Soho – the shop is rather non-descript from outside and you can miss it if you are not looking carefully . However, once you enter the shop, the smell and sights of  raw Japanese denim fills up your eyes.  I met Gordon – the owner of the famous store and got him into talking about his store  . He is quite a shy guy and did not want to face the camera . But it was a really very interesting discussion I had with him and I  learnt  certain  new aspects of the Japanese denim world.
Gordon – Why, when and how  did you start this shop with a unique proposition ?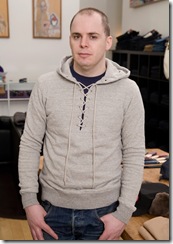 We started in Jan 2006 and the main reason was that my partner and I were designing a clothing line and we were looking around for stores to sell our own  line. During this time ,we came across this place and came to the idea to actually start our own store instead of finding stores to sell. And the idea was taken forth that some brands Japan and Europe would like to be selling in US . Once people started to find that we are catering to these denim brands from Japan – it brought a big interest in this . We started off small and little by little people started finding out and as that grew and we put off our plans for our own line and concentrated on selling these Japanese denim brands.
Why did you chose to sell Japanese brands ?
Aahhhh……  My partner is Japanese and we have been going back and forth  to
Japan for over 12 years . I learnt to speak Japanese and I was kind of into the Japanese culture – so to say – before we opened the store and so when decided to do this , it was a kind of  natural influence on us already and we knew about a lot of stuff that was going on there and wasn't happening in the US. We knew we had to have denim selection in our store but we were not sure we would be able to make popular business with the denim in the US. We knew that people had tried a couple of times and did not succeed very well with doing it . When you start a business, you try to store something that no one has and something which has a different concept specially in a place like New York city where there is lot of competition. We wanted stuff in the store that was as much about craftsmanship as it was about fashion and we tried to follow that up even outside jeans – everything that we buy – our clothing , shoes , jackets our workshoes , we always have tried to chose stuff  at the same level of quality with same  attention   paid to quality , fabrics, fashion and fits . There was another part of the attraction to the Japanese denim and that thing is Raw – I have always liked Raw jeans – whether it was a cheap $25  Raw Jeans…..
So that you could have your persona on the jeans ….?
Right. Actually in the beginning I just liked the dark color . My attraction was – years before we opened the store – it was more about the color and the raw texture .I did'nt get into pre distressed jeans even as a teenager . We knew we wanted to bring the raw jeans and Japanese denim was a natural choice.
How come Japan is making better jeans than US when US has been making jeans for about 150 years?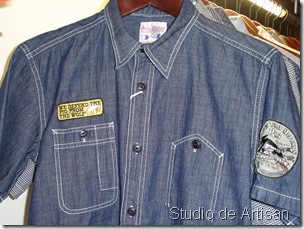 I think …I would'nt say its better . US is just not doing it . In the early days we had several mills that were producing denim on old looms but now probably we really only have one mill with shuttle looms – maybe a couple more about which people do not know . As  denim companies became bigger, they stopped using wooden shuttle  looms  and started using projectile looms . People had no use for them and they were broken down or thrown away, In Japan they also had wooden shuttle looms but they were not really making denim on the same doing  other things like  silk , wovens or whatever they were doing but there were not much emphasis on denim at that time. But when they started getting making into denim themselves, and when they started getting into vintage jeans  and saw the details that the selvedge denim were made on shuttle looms, they realised that they have not thrown away these machines .  When it came time to setup to produce these denim, they had all the tools to make these denim. US does not just have the tools anymore .Its hard to say we can do it as well but we do not have the machinery. And we may not have the talent and the skill of the workers to do it. In Japan and in area  where they are making jeans – Okayama area – they were making school,military and police uniforms . It was a production facility 100 years ago and it still is- it never stopped being so  They have just moved from one product to another . Its always being quality work.
Don't you think the Japanese  put in more passion in their work ?
Japan is about a tenth the size of the US. Living in Japan can be  like living in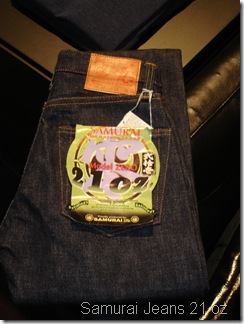 California- sizewise . Imagine that all these people in that area – you can filter in actually a lot of good talent in a smaller place. In a place like US we have people sprinkled around the country , but they are just not in one area . You cannot lock them in one area – one city and if we could , I am sure we could produce amazing work. But there is much more concentration in Japan and when it became a  big  business, they got serious and said hey ' it is a premium product, people are paying for it , they can't produce fast enough. Lets concentrate more ….'. There are people with these skills who  came out and said that hey I can do this , I enjoy this work and I need the work. There is more emphasis on the quality of work , handmade work, craftsmanship of product on a broader scale in Japan. In US it is about how fast and how much you can produce. If we can't ,we will find a country which can do it for us.  In Japan its not like this and they are quite strict on these things where the consumer sort of demands certain level of quality and a lot of time its Japanese quality they want. It is  therefore desirable to keep things within the country. Discerning consumers want home made quality . Japan prides itself on its quality . US wants quality too – but they are not mostly very concerned where its made. Again in Japan I think , its  old  vintage jeans and clothing that a lot of people were attracted to in early 80s when boom started happening for vintage products. When they started dissecting the products, they found that most of the goods are hand made. They did'nt have the automatic controls  or robots which produced them etc and if we want to make like these we have to make it by hand . Its a slower process , more tedious but its true to original and it looks more cool. Its hand made and stitch is not always straight . A little bit crooked ……….
Should not be  too perfect …
And that's another thing which is why this stuff has worked well in Japan. You know what it is  like hand blown glass, drinking glasses,  silverware – the little imperfections is what let people know that its hand made . In US people want things to be perfect , look a certain way -mass produced . I think its not good or bad – its just a different choice.  And I think for people who are into fashion but also want fashion that also has a bit of story and passion in it , things which are hand made will be a bit  more attractive to those people than the things which are mass produced , auto controlled . I think Japan had the right things at the right time – the old machines ,people who could use them , skilled eyes which would pick up on the small details which they knew would attract people that were into these quality goods. Outside of jeans really I feel there is  not much demand from the fashion world for the 'Made in Japan' products. There are High Fashion Japanese brands which too  have demand but not necessarily because they are made in Japan but because they are a brand. But for the guys who are into Jeans – the customers are definitely demanding 'Made in Japan' label.
Which are the Japanese brands that you have in your store and what are their price ranges?
Denime – $298-$325
Eternal – $255
Evisu Japan – $240-$385
Fullcount & Co. – $275-$330
Momotaro Jeans – $250-$315
Oni Denim – $185-$585
Paul Smith Japan – $325
Pure Blue Japan – $169-$559
Samurai Jeans – $275-$665
Skull Jeans – $240-$350
Somet – $210-$295
Studio D'Artisan – $265-$620
Sugar Cane & Co. – $265-$370
Sunrise Japan – $348-$358
The Real McCoy's – $248-$368
Warehouse Co. – $245-$275
We also have started our own label 'Blue in Green' which is made 100% in Japan.
Which brand has the most styles ?
Samurai jeans  has the highest number of styles .This is followed by Pure Blue Japan, Studio D'Artisan, and Somet.
Thanks Gordon. Keep up the good work.
Thanks  Sandeep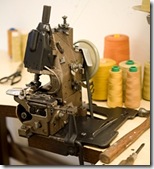 The store also carries a beautiful Union Special machine  from the 1950s for  hemming purposes . This machine is nowadays  quite difficult to find and is much sought after by denim companies. For those who want to visit Blue in Green can go to 8 Greene Street , New York . Ph: 212-680-0556  or  Email here