These are the toughest, strongest, most stubborn jeans in the world, no argument…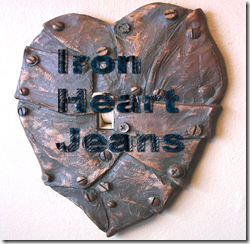 This statement greets you when you visit the website of Iron Heart Jeans . It can leave one wondering whether it could be true . However, made with an average of 21 oz denim , the jeans are really tough and built to last a lifetime. Started over 9 years ago by Japanese bikers in search of the perfect jeans for daily riding, Iron Heart's denim jeans and jackets are nothing short of impressive as they are not only tough but comfortable also.With all styles with a price tag of over $250, the jeans are definitely not cheap – but are worth the price.
We had a Q & A session with Giles Padmore – the person (from UK) who introduced Iron Heart to the world outside Japan .
I believe the Iron Heart jeans were started by Japanese bikers 9 years back.. Can you tell us more about how the brand originated and with what purpose in mind?
Yes, Iron Heart was set up 9 years ago by Shinichi Haraki.  Haraki-san is a dedicated Harley Davidson fan and lover of vintage clothing.  His concept behind Iron Heart was to make clothing that worked perfectly for bikers and took absolutely no notice of fashion. He wanted his clothing to be beautifully made out of the highest quality fabrics, to be absolutely pure in function and last well, but age beautifully.  An interesting and not anticipated side effect is that his clothing is loved by non-bikers too, I would estimate that only 5-10% of the garments we sell outside of Japan are sold to bikers.
How does Iron Heart stand out from other Japanese Denim brands ?
I think that Iron Heart is unique in that it takes zero notice of fashion trends.  We have always concentrated on making the best clothing we can, irrespective of what is happening on the high street.  Our clothes have a timeless quality about them that will not date.
Iron heart jeans are believed to be the heaviest jeans . Is it so ?
Our normal weight denim is 21oz, this compares to 13-16oz for most other brands.  We also do the IH634SR which in its raw state is 21oz, but when washed comes out at a hefty 23oz.  There are a couple of denims out there that claim to be heavier, however our driving force is not to make the heaviest denim you can buy, but to make the best denim for the article we are creating.  Haraki personally designs from scratch all our denims, from the selection of the cotton, to the choice of the dye, to the weaving process.  One thing to note is that our 21oz denim is some of the most comfortable denim you can wear. 
How does Iron Heart maintain the comfort aspect of the jeans in such a heavy fabric eg  -The  23 oz jeans (IH634SR) that you have launched recently?
Because we use the highest quality long staple cotton, the warp and weft do not have to be overly spun to keep their integrity.  The result is that we can make a heavy denim that is really quite soft and comfortable.  Yes, it is true, you will have to suffer a little bit of pain to get the 23oz to submit, but once you have done that, they too are really comfortable.
Is the denim fabric used in  Iron Heart jeans produced in  Japan only ?
Yes 100%.  And more so it is designed from scratch by Haraki.
Who is your typical customer ?
3 main groups:
1) People of all ages, including some still in their teens, who love the philosophy and cult status of Iron Heart
2) People who want a proper pair of jeans made the way they used to be, in the traditional manner and with exceptional quality
3) Bikers who like the idea of having a few extra ounces of denim between them and the tarmac if they have an accident
Which are your best selling jeans ?
IH634S, the 21oz straight cut selvedge jean
Most Japanese denim brands do not believe in volume games and prefer to be niche players. Is this your philosophy as well ?
This is absolutely our philosophy. We want to make sure as we grow, our quality does not suffer.  But partly, that is forced upon us because there is only one denim mill in Japan that can make the heavy weight denim we love to a quality that we will accept – and we take a 100% of that mill's capacity!
What denim trends do you see the strongest in the next year ?
The short answer is that we don't care!  The longer answer is that we see more and more people understanding that Japanese made denim and jeans are in a different league quality-wise than anything else on the market and as a result demand will continue to rise.
What is your advice to denim lovers ?
A pair of jeans is an extension of your personality and soul.  Buy a pair that you feel great in, then wear them as much as possible before washing them, that way they will mould and fade uniquely to your body shape and the way you live.  They will become part of who you are.

Giles  Padmore is the person who introduced Iron Heart to the world outside of Japan and has been working with Haraki-san for well over 5 years now.  He looks after all world-wide sales.  He lives in The UK, but  makes frequent trips to Tokyo to spend time with the Iron Heart HQ team.  He has loved denim all his life, and if he wears anything else, it is a cause for comment !. HE can be contacted on email here . And if you are impressed with jeans, buy them here.