American Eagle Outfitters , the US based apparel retailer , is an important retailer when it comes to denim segment and it would be good to analyse their recently released  Q1'17 results . The results are  positive as the company has managed to increase their net revenue by 2% . The company reported USD 762 Million as the Net revenue at the end of its first quarter in 2017   . However, the Gross profit decreased to $278 million from $293 million last year with a gross margin rate of 36.5% to revenue compared to 39.2% last year, a 270 basis point decline. The margin declined primarily due to increased promotional activity and higher shipping costs related to a strong digital business.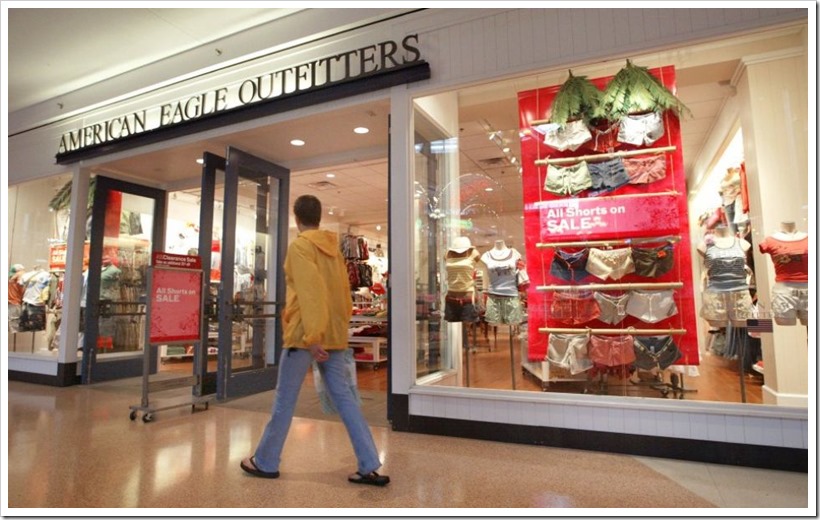 Jay Schottenstein, Chief Executive Officer commented, "The first quarter results reflected mall traffic headwinds, especially early in the quarter, with improved trends over Easter and a strong digital business throughout. As we look ahead, we are taking the right steps to improve our results and adjust our business for today's rapidly evolving retail environment. We are creating efficiencies across our organization, as we aim to continue capitalizing on the strength of our brands, product leadership and other competitive advantages. The six million shares repurchased this quarter reflects the company's strong cash flow, healthy balance sheet and confidence in our brands and long-term strategic initiatives."
AMERICAN EAGLE OUTFITTERS, INC. |COMPARABLE SALES RESULTS BY BRAND | FIRST QUARTER
In the year 2016 , American Eagle Outfitters brand had growth rate of 6% which slowed down to 2% in 2017 in spite of increase in the Net revenue . The other brand like AE  is on the same path with  NEGATIVE (– 1%) as compared to 4% positive growth in 2016 . Aerie Total is the only brand growing at 25% though it is still lower than the growth achieved in 2016.
| | | |
| --- | --- | --- |
| Particulars | Year 2017 | Year 2016 |
| American Eagle Outfitters, Inc. (1) | 2% | 6% |
| AE Total Brand (1) | -1% | 4% |
| Aerie Total Brand (1) | 25% | 32% |
(1) AEO Direct is included in consolidated and total brand comparable sales.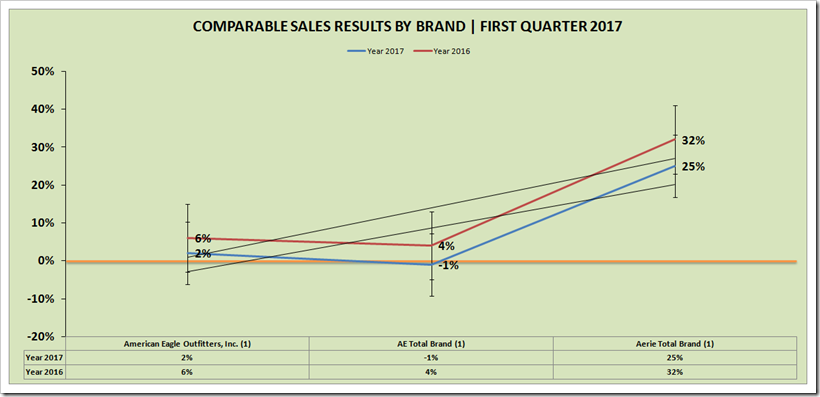 STORE INFORMATION
In fiscal 2017, the company plans to open a total of 35 American Eagle Outfitters and Aerie stores throughout the U.S., Canada and Mexico. Management plans to close between 25 and 40 store locations in 2017. Internationally, the company plans to open 45 licensed stores and close 2 licensed locations. In sum, the brand will not grow in terms of stores.
Post quarter , the performance of AE has not been so good as the company has pulled out of UK less than three years after opening first shop. Of its three UK shops, the company is said to have closed one – in Bluewater shopping centre in Kent – and ceased trading in the remaining two, which are based in Westfield Shepherds Bush and Westfield Stratford.According to Retail Week, American Eagle – which is one of the biggest fashion retailers in the US – has struggled to gain a foothold in the competitive UK fashion market since it arrived in November 2014.
At the time, the firm said it was aiming to have between 20 and 30 stores in the UK and would also look to roll-out its Aerie underwear brand.The Pittsburgh-based company has around 950 stores in the US and targets 15 to 25-year-olds with affordable, preppy fashion.Other American brands that have more successfully crossed the pond and entered the UK fashion market include Hollister, Urban Outfitters and Forever 21.
Particulars

First Quarter

Fiscal 2017

2017

Guidance

Consolidated stores at beginning of period

1,050

1,050

Consolidated stores opened during the period

 

 

AE Brand

3

15-20

Aerie

2

15

Tailgate Clothing Co.

0

1

Todd Snyder

1

1

Consolidated stores closed during the period

 

 

AE Brand

-2

(20) – (30)

Aerie

-1

(5) – (10)

Total consolidated stores at end of period

1,053

1,042 – 1,062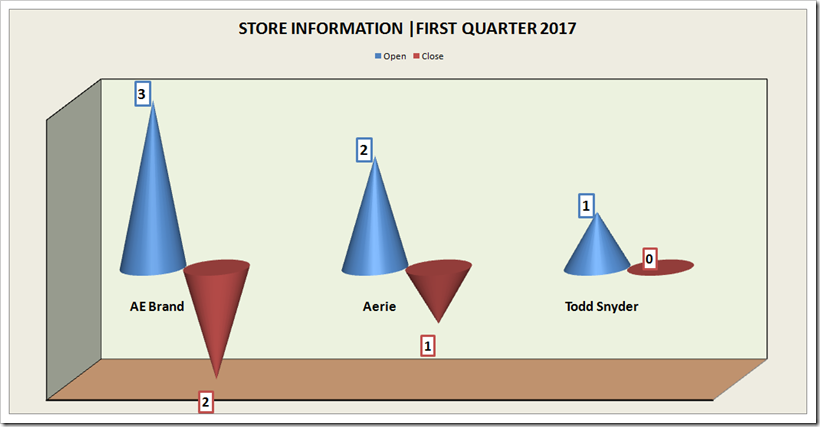 Based on anticipated comparable store sales in the range of flat to a low single digit decline, management expects second quarter 2017 EPS to be approximately $0.15 to $0.17. This guidance excludes potential asset impairment and restructuring charges, and compares to EPS of $0.23 last year. Reported EPS of $0.14 for the first quarter ended April 29, 2017. Excluding restructuring and related charges of $0.02 per diluted share, the company's adjusted EPS was $0.16 for the first quarter. The struggle for AEO is not only for AEO , but due to turbulent economic conditions in the UK, Many of Britain's biggest fashion brands including Next, Marks & Spencer and Debenhams have been struggling to keep up with their online-only rivals, due in part to the higher overheads they must pay that chip away at their profits.
American Eagle Outfitters is a specialty retailer operating in the fashion industry. AEO is a leader in U.S. in the jean segments. The company claims a 33% share in 15-25 Speciality segment in US  which is much higher than that of Old Navy, Hollister, Express and other retailers in this segment. However, this graph is not reflective of overall performance of the retailers comprehensively in jeans segment.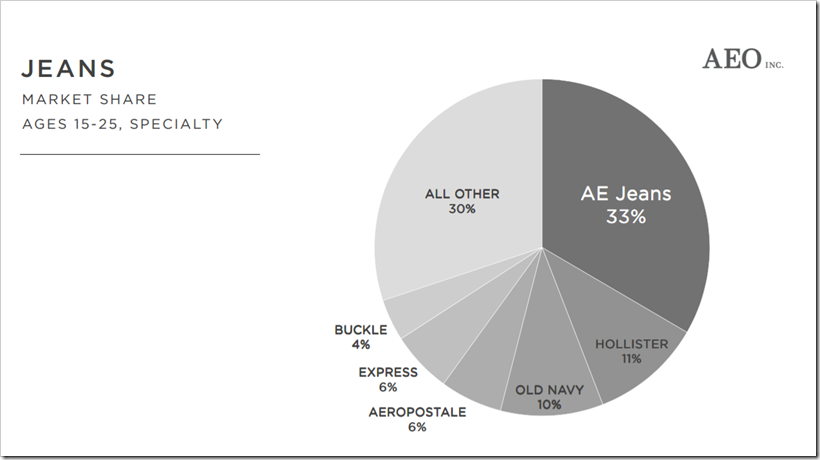 Source : AEO Presentation | Seekingalpha.com
CONCLUSION
Even though the apparel industry is facing pressure from a slowdown in the global economy, AEO has been able to increase its revenues and operating margin in the last 2 years. Improvement of merchandise margins from higher product markup levels and flat cost of markdowns has also impacted the firm's financials in a positive way. In order to stay competitive in the future, AEO needs to anticipate consumer preference trends by innovating its apparel offer. The firm needs to grow its e-commerce business and omni-channel retailing and improve its supply chain efficiency.
About American Eagle Outfitters, Inc.
American Eagle Outfitters, Inc. (NYSE: AEO) is a leading global specialty retailer offering high-quality, on-trend clothing, accessories and personal care products at affordable prices under its American Eagle Outfitters® and Aerie® brands. The company operates more than 1,000 stores in the United States, Canada, Mexico, China, Hong Kong and the United Kingdom, and ships to 81 countries worldwide through its websites. American Eagle Outfitters and Aerie merchandise also is available at more than 170 international locations operated by licensees. For more information, please visit www.ae.com.
---