An interesting report by Li and Fung brings out some of the important aspects of the Chinese apparel market and shows how it is growing rapidly making it an important destination for the brands worldwide.  Here are some excerpts from the report….
Total Apparel Market size in 2010 : 587.1 Billion Yuan(about $92 billion)  . The growth in the market over last few years is given below :

Spending :
Urban households on average spent 1,444.3 yuan on clothing, accounting for 10.7% of their total annual expenditure in 2010; while rural households spent 263.4 yuan, which was 6.8% of the total annual expenditure on clothing in the same year.
Consumers aged 26-35 spend more on clothing compared with other agegroups. Boston Consulting Group's survey results show that urban residents aged 31-35 spent the most on clothing, followed by consumers aged 26-30.
Distribution Channels :
Department stores and specialty stores are major distribution channels for branded apparel in China. Meanwhile, wholesale markets and hypermarkets are popular retailing channels for lower-priced apparel; many of which are with poor brand recognition or unbranded.
Top Apparel Companies
Top apparel companies by sales are :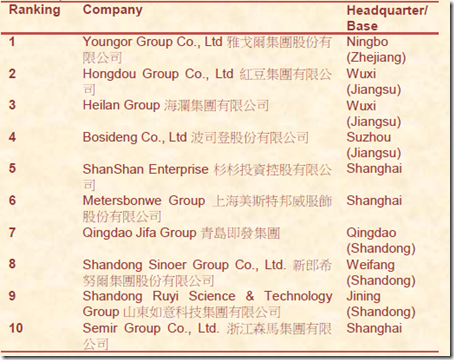 How are foreign brands expanding in China :
Established players accelerate their expansion in China
− Zara planned to expand to 42 cities in China in 2011.
− Uniqlo targets to open 100 stores in China each year starting from 2011.
− H&M expects China to be one of largest expansion markets in 2011.
Some apparel enterprises see Hong Kong as the springboard for China's entry
− FOREVER 21 planned to open flagship stores in the prime locations of Hong Kong in 2011; Abercrombie & Fitch's sub-brand "Hollister" opened its first Asian flagship store in Hong Kong in August 2011.
Recent Developments
Some enterprises, especially luxury companies, prefer to retain full control over the ownership of Chinese operations from franchisors or distributors. − Bestseller, which owns ONLY, VERO MODA, Jack & Jones, etc., retained control of shops in Xi'an and Jinan; it also opened more direct-owned stores. − Burberry bought 50 of its Chinese franchised stores in a deal worth 70 million pounds .
Online Retailing
Online retailing is getting very important in China and accounted for about 3% of total apparel sales in 2010. This is a good number and expected to increase further . Apparel continues to be the most favoured product category for online purchase.
Market Shares
The market shares of top 10 brands in different sub sectors are given in the bar graph below. It is interesting to see that many sectors have a huge share of the market dominated by top players.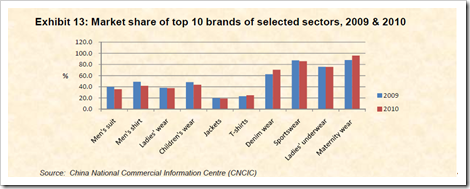 Share of different products
Top Brands in Denim Wear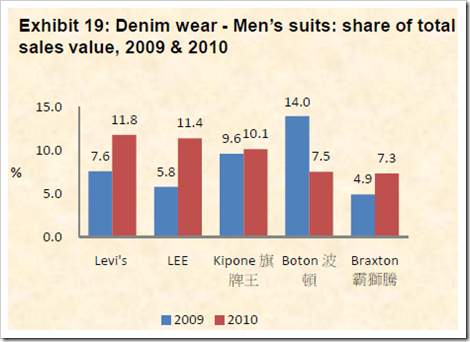 Share in Jackets space :
The Chinese market will get more important as the buying capacity of buyers increases there.
Chinese market is already larger than the US market  when it comes to denim fabric consumption and it is expected that over the years it shall maintain its growth and shall continue to be the  leading country in denim space.