US retail market is highly competitive and a large number of Speciality stores, Brand Stores, Discount stores, Departmental Stores compete with each other – continuously striving to get the attention of the American customer who is not increasing his spending but is reallocating his funds between different brands and retailers. This reallocation of money by buyers is benefitting some retailers while others are losing . Gap , unfortunately, is finding its place among the latter. The most sought after casual brand in US may not remain so in the coming years as Gap's share of US apparel market fell from 5.1% to 4.7% over the past five years with a recovery not in sight. Let's see how Gap stacks in comparison to other apparel retailers in US.
1. Multi brand retail chain Macy's : 9% approx.
2. General Merchandise retailers
Wal Mart – 7% approx.
Target – 5.4%

Gap – 4.7%

JC Penny – 3.3%
American Eagle, Aeropostale and A&F – 2% each approx.
The remaining 65% share is held by a number of private label brands , pure online players, fast fashion players , department stores etc. Here is a break up of the market share as per Forbes.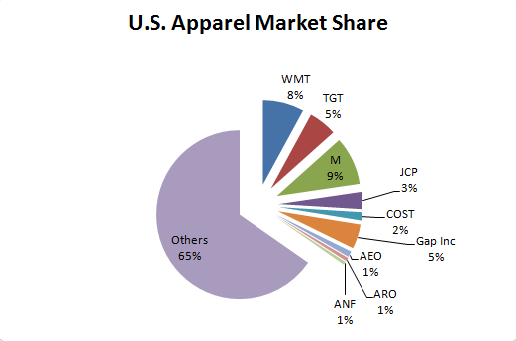 Source : Forbes.com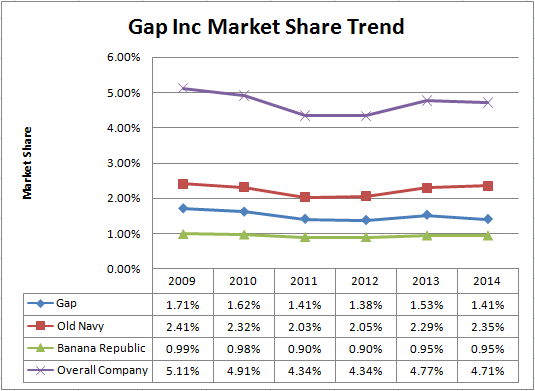 Source: Forbes.com
Whereas Gap's market share has reduced from 1.71% is 2009 to 1.41% is 2014, that of Old Navy and Banana Republic has also fallen. The reason for growth of share from 4.34% in 2012 to 4.71% in 2014 has been the growth driver brands Athleta and the acquisition of Intermix.
One of the major reasons for Gap losing its market share has been the growth of fast fashion retailers like the Inditex , H&M and to some extent Forever 21. There has been a constant movement of buyers from casual clothing to affordable fast fashion. Today's teenagers are getting less attached to brands and are more concerned over having a fresh look every few days. Technology is pushing this trend. With the proliferation of 'Whatsapp', 'Viber','Facebook' and the likes , the SELFIE culture is becoming a dominant youth phenomenon constantly pushing these young ones to look better and share . This trend is helping fast fashion retailers like Inditex and hurting the long established ones like GAP. This has become one major factor affecting GAP's performance .And related to this has been the other reason of underperformance – poor performance of GAP's women's business – while its other business including men, kids and baby are doing reasonably well.
The result has been clear for GAP. It has planned to close 175 of its speciality GAP Inc stores –with 140 going down this year and balance in the year next. After these closures it will have about 800 stores in US. It is expected to lose about $300 million from these closures- an amount which is expected to be covered from better performance from other channels including Online.