Sri lanka is an important apparel producing center with important apparel groups like Brandix and Hirdaramani and others who are world renowned .Sri Lanka's apparel industry has grown to be one of the largest contributors to the export revenue of the country. The country having established itself as a reliable supplier of quality garments at competitive prices, also upholds ethical practices backed by legislation, thus being identified as a producer of "garments with no guilt" .Being the single largest employer in the manufacturing sector the apparel industry provides close to 75% of Sri Lanka's employment either directly or indirectly. The industry has been positioned as a socially responsible and preferred destination for apparel sourcing.  Sri Lanka is also the only outsourced apparel manufacturing country in Asia having signed up to 30 of the ILO conventions. It stands out as a reliable source that pays fair wages to its workers while discouraging sweat shops and child labor in its businesses.
Apparel exports from Sri Lanka is over $6 billion . But the share of denim apparel exports is a small part of this total . Though exports to EU are still higher, exports to US are limited. Lets look at the figures of exports of  all denim apparel to US for the period 2006-12.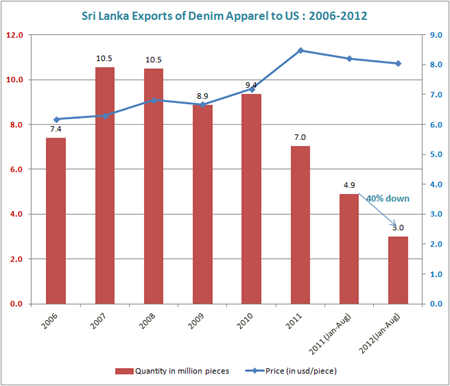 The exports to US have hardly crossed 10 million pieces in a year since 2006 and have been continously falling since 2010. The year 2012 is no better either . For the period 2011 (Jan-August) the exports have been about 5 million pieces while those in the same period in 2012 have been about 3 million pieces. This shows a sharp fall of 40% ! .
Sri Lanka is in no position to compete with other Asian countries like Bangladesh , China and Indonesia and it is able to serve the higher end of the market only. The average prices for the last 2-3 years have been over US $ 8 /piece.
Check out – Buyers of denim apparel in Sri Lanka