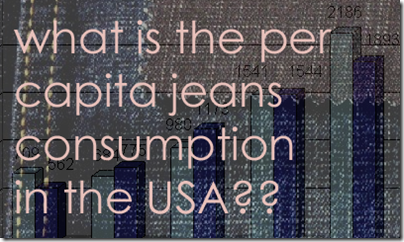 USA consumes almost 30% of world denim jeans production. Being such a large market , the figures related to this market are generally of great interest. One such figure is that often surfaces in various news reports  is that of ' Per Capita Consumption of Jeans in USA ' ie how many jeans does every resident of USA buys on an average in a year..
I have seen that the figures that surface range from 1 Jeans per person p.a to 7 jeans per person p.a .. I thought it would be a good idea if we could arrive at a calculated figure which does away with the ambiguities related to this .
Now, the main point to remember is that almost all of the jeans consumed in US is imported from outside. Premium denim jeans are an exception as they are mostly made in USA. But though premium denim jeans are very important due to their high value, their share of the total volume of jeans consumed in US is quite low. So lets look at the figures below:
Imports Of Jeans Into USA in the Year 2008
 
2007(million pcs)
2008(million pcs)
Imports of Mens/Boys Jeans
273.94
292.00
Imports of Women's/Girls Jeans
249.55
269.53
Production In USA
(approx.)
  20.00 
  20.00
Total Consumption
523.49
561.53
Population of USA
301 million
304 million
Per Capita Consumption of Jeans in USA
1.80 Jeans
1.91 Jeans
Note: Import figures are sourced from US Customs
 
The figures for production of Jeans in USA are an approximation and taken after considering various reports in this regard, though there are no authentic figures available in this regard. However, the production of jeans is a small percentage of imports and hence a slight variation (+ or –) will not make much difference.
These figures also clearly show that the consumption of denim jeans is on the rise in US as reported in various posts before here  ,  here and many other places. Just search the site and you will find some more reports in this regard.
I have done my best to put up the most updated figures. However, if any viewer finds any better figures , I would be most happy to update them here….:)