We all know that Tunisia enjoys the EUR1 benefit from  EU.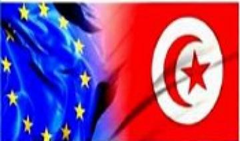 A EUR-1 certificate is an origin form with which a reduction or exemption on the import duties can be obtained in the country of destination. These reductions or exemptions are part of a preferential agreement. The tariff preference on the ground of a EUR-1 Certificate is only granted in those countries with which the European Union have concluded a free trade agreement. These foreign countries are
Switzerland
Norway
Iceland
Liechtenstein
Turkey (only for expressly named agricultural goods and EGKS products)
Syria
Egypt
Jordan
Lebanon
Morocco
Tunisia
Algeria
Ceuta and Melilla
Faeroe Islands
West Bank/ Gaza strip
Israel
South Africa
Mexico
Chile
Macedonia
Croatia
Bosnia Herzegovina
Albania
Montenegro
Serbia
Tanzania

Tunisia has become a large center for production for conversion of  fabrics received from EU countries and exporting the garments back to EU.

Lets see how much denim fabric is being sent from EU to Tunisia for conversion in the last couple of years .
Denim fabric Imported Into Tunisia From EU 2008-2010
| | | |
| --- | --- | --- |
| Year | Million Sq mts | Average Price in Euro / sq mtr |
| 2010 | 23.73 | 4.2 |
| 2009 | 24.65 | 3.7 |
| 2008 | 30.35 | 3.65 |
Over the 3 years from 2008 to 2010, the fabric being sent from EU to Tunisia has reduced by over 20% – showing a logical reduction in manufacturing activity in Tunisia related to denim garment manufacturing due to increasing costs and also the effect of EU slowdown. However, we have seen that in the year 2011 , the imports of denim jeans into EU has actually increased. Hence , the reasons for reduced conversion in Tunisia are related more to increasing costs than the economic situation in EU.
Denim Job : Technical designer needed by a Denim company in Vernon, CA