The denim players have seen some tough times in the last 1 and half years. With the cotton prices going through the roof (having almost doubled), the mills were  previously hard pressed to make their buyers understand the increase in costs and tried to get the prices increased. The process was slow as getting sharp increases in prices from buyers is never too easy. However, the awareness of the cotton price increase was there among buyers and many of them , reluctantly , agreed to increase the prices . Now, with cotton prices crashing, the strike by garment manufacturers against govt. duties , reduced demand etc has suddenly led to a situation of oversupply of denim fabric with prices falling . According to reports, most of the mills have large stocks   and the next 2 months look tough for the denim market. The players who were specializing mainly in the polyester denims and with no exports have been hit more hardly. The prices of polyester denim seem to have fallen about Rs 15-20 per mtr (35-45 cents/mtr)  and those of cotton in the range of Rs 10 (2o cents approx). However, with festive season sale starting from July, it is expected that the demand would stabilize during this period.
Cotton Prices

Cotton price increase in the last one year  have actually played a spoilsport and have not helped anyone – neither the mills, nor the retailers and of course not the consumers. It has created a lot of uncertainty in the market and is still doing so. The cotton prices  had increased dramatically last year and peaked during Feb this year. However, suddenly the prices have started crashing with a better forecast of cotton production.  In India, the prices have come down from almost Rs 65000 a candy (35 to Rs 42000 a candy – about 33% fall  in 2 months !! Internationally , also prices have been reducing on a similar note :
| | | | | |
| --- | --- | --- | --- | --- |
| Month | Price Per Candy | Price Per Kilo in Rs | Price per kilo in USD(@Rs45/USD) | Difference |
| Feb 2011 | 63000 | Rs 177 | 3.93 |   |
| May 2011 | 42000 | Rs 118 | 2.62 | -33% |
The movement of international cotton prices over the last year can also be seen here.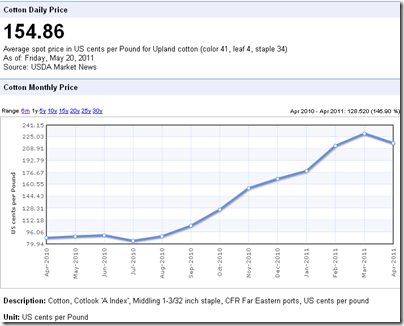 The outlook of future prices of cotton also do not look that good. The crop for 2011-12 is expected to be very good at about  127 million bales with cotton planting around the world projected to rise by 7% in 2011/12 to 36m hectares– the largest in 17 years.. The cotton futures market in US is projecting prices much lower than current levels . See below :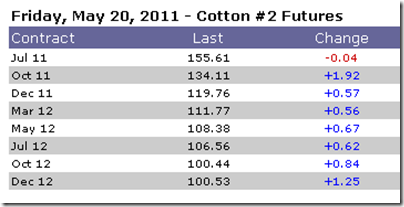 The international retailers too had to bear the brunt of the cotton price increases. Many of them could not pass on the price increases in the denim and other fabrics to their consumers.  Eg GAP management said late thursday
"….second-half product costs per-unit, factoring rising cotton and other costs, are now expected to rise about 20%, more than it anticipated, as it began to purchase goods for the holiday season. Its lower-priced channels such as Old Navy and the outlet stores that compete on price would be hit the hardest and would have the least room to pass on any cost increases….."
As a result the share price of Gap plunged 18% – its biggest fall in a decade -on hearing this news of increased costs.  Chief Executive Glenn Murphy said
  Gap has been testing the depth, frequency and length of discounts to help offset margin pressure. It plans to be less promotional and experiment with marketing ideas to drive traffic that do not involve discounting.For instance, at the company's struggling Gap brand in the U.S., instead of having a 40% off the entire chain, the company plans to have promotions such as 40% off women's products excluding denim, he said.
Similarly , many other retailers have not been able to pass on the increase in sourcing costs to their consumers and are feeling the heat of increased costs.
Now, with falling prices of cotton, the mills will be faced with the prospect of reducing prices for the retailers and other customers when already many of them have a stock of 3-4 months of cotton at higher prices. It would be a double whammy for the mills as they try to deal with their customers again and try to hold on their prices as costs have not gone down.
Another problem related to exports for denim mills in India would be the DEPB – a scheme under which they got incentive of about 7.5% on exports is coming to an end and being replaced by Duty drawback scheme where they would get almost 4% less. This would further shave off another 4% from the margin of exporters and will not give any help .
As mentioned before, the strike by garment manufacturers in India – which lasted about a month , left a huge impact for both fabric and spinning mills. The companies are reeling under the impact of the reduced production for this time which can hardly be covered up . Most of the spinning mills are running under capacity and holding huge stocks with prices of yarns falling on a daily basis.
It is hoped that the market would get some sanity after end of June when demand starts to pick up for festive season .
Follow us on   FACEBOOK   or   TWITTER to get more reports on denim industry directly.