India, the second largest market and 3rd biggest economy in the world is again attracting the International Retailers as the taxation and ease of doing business are becoming more favorable for the foreign investors.  In 2016, the Indian retail market stood at a whopping USD 641 billion. With a compounded annual growth rate of 10 percent, an India Business of Fashion 2017 report estimate that by 2026 the retail market in India will be worth USD 1.6 trillion. Retail trade has already been acknowledged as the country's largest service sector employer. During this year's budget, the government threw a surprise by declaring 100% FDI in multi-brand processed food retailing. Thus sending a positive sign for global retailers to set up shop in the country. In FY16 32 foreign fashion retailers set up online shops in India, while 22 chose the brick-and-mortar route. It is worth noting that as many as 44% of the foreign fashion online retailers were from the UK. Also, most of the brands which opted to set up stores chose Mumbai and Delhi as their preferred geographies.
What seems to be a positive indication for the Indian market, more than 50 global retailing chains are set to open approximately 3,000 stores in India in the next six months, reports The Economic Times.The report cites a data report compiled by Franchise India that has tied up with these 50-plus retailers including 26 Apparel and Lifestyle brands , to help them launch the stores in small and untapped markets in the country. Some of the brands that customers will be able to avail include Korres, Migato, Evisu, Wallstreet English, Pasta Mania, Lush Addiction, Melting Pot, Yogurt Lab and Monnalisa. Some US and Singapore brands will also be a part of the retail chains planning to open stores in the country. The retailers are expected to pump in big investments to open 3,000 stores, in the backdrop of India's expanding economy and improved ease of doing business.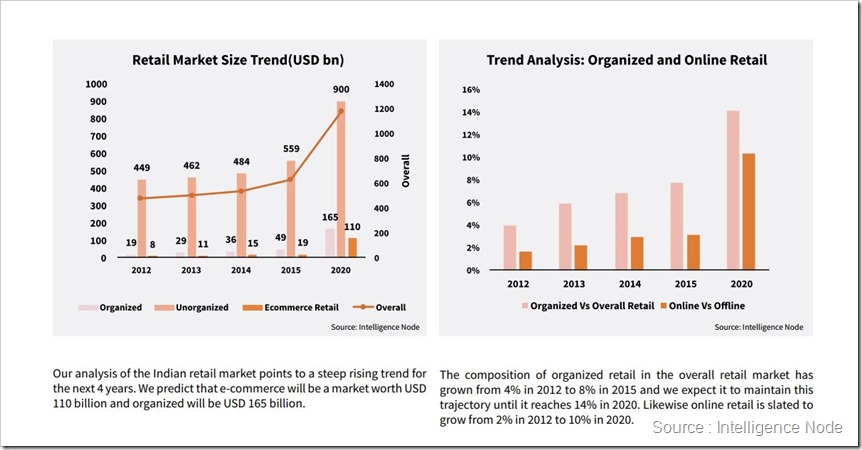 This influx of brands wanting to start businesses in India is due to India's retail market dominance, propelling India to become the "most promising retail market in the world", as per an AT Kearney report. There has been an increasing trend of native retailers failing in their own country, forcing them to explore other beaming markets like the one flourishing in India. The trend of foreign brands opening establishments in India is also due to the government's directive, allowing 100 per cent foreign ownership in business-to-business (B2B) eCommerce organisations
International brands including Zara, H&M, Mango, Guess, GAP etc. have made deep inroads in the Indian apparel market. Indian consumers increasingly prefer these brands for their perceived quality, fit and style. Sourcing from India, Bangladesh , Turkey and some other countries , they make an offering which makes it dificult for Indian brands to emulate. On the contrary, Indian brands, such as Fab India, W, BIBA, AND, Allen Solly, Van Heusen etc., which have been quite successful in the domestic market have failed to replicate a similar fan following in the global arena. However, as the size of these brands increase, we can probably see some of them taking international forays . As the image below explains, H&M has already achieved a turnover of USD 75 million in their first year and turned profitable from only 12 stores. They expect to open another 50 stores in next 2 years.  Zara is at about USD 140 million , M&S at about USd 120 million and seem to be changing strategies to achieve a better growth like H&M.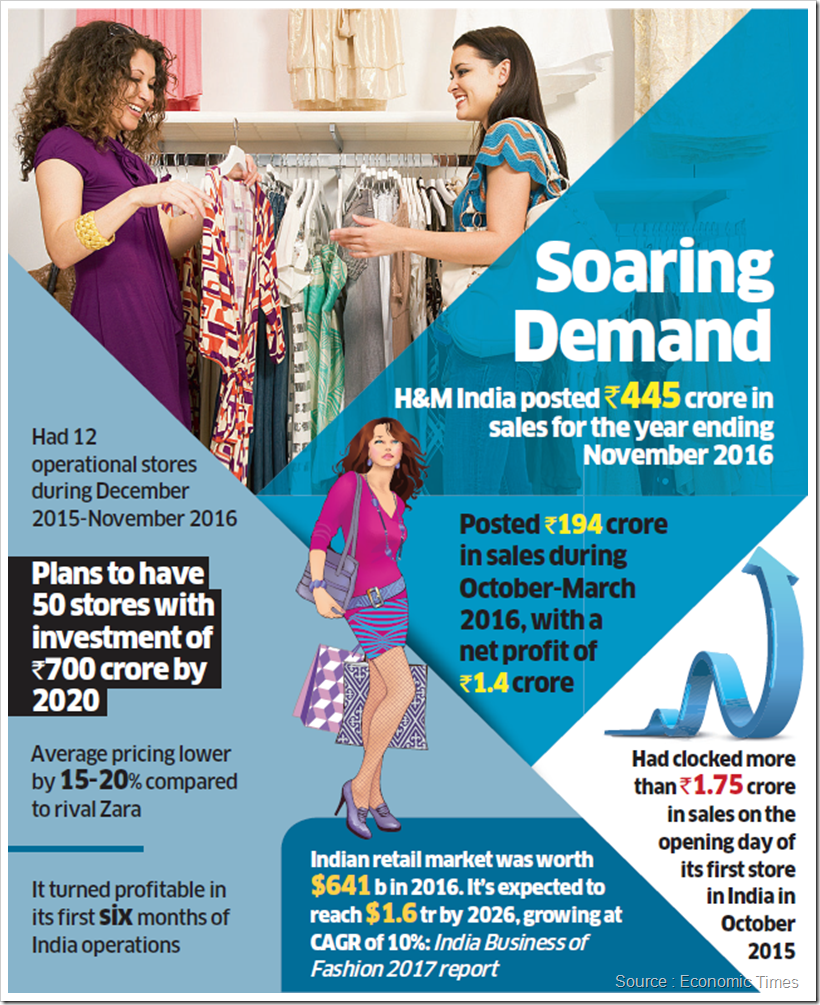 Below are some encouraging figures coming from Indian Retail Industry:
India has occupied a remarkable position in global retail rankings; the country has high market potential, low economic risk, and moderate political risk .

India's net retail sales are quite significant among emerging and developed nations; the country is ranked third (after China and Brazil) .

Overall, given its high growth potential, India compares favorably with global peers among foreign investors .

With investment of around US$ 511.76 billion, the first half of 2016 witnessed the highest annual private equity (PE) in the retail sector, since 2008.

By 2020, food & grocery segment is expected to account for 66 per cent of the total revenues in the retail sector, followed by apparel segment .

Demand for Western outfits & readymade garments has been growing at 40–45 per cent annually.
The Indian retail industry has emerged as one of the most dynamic and fast-paced industries due to the entry of several new players. It accounts for over 10 per cent of the country's Gross Domestic Product (GDP) and around 8 per cent of the employment. India is the world's fifth-largest global destination in the retail space.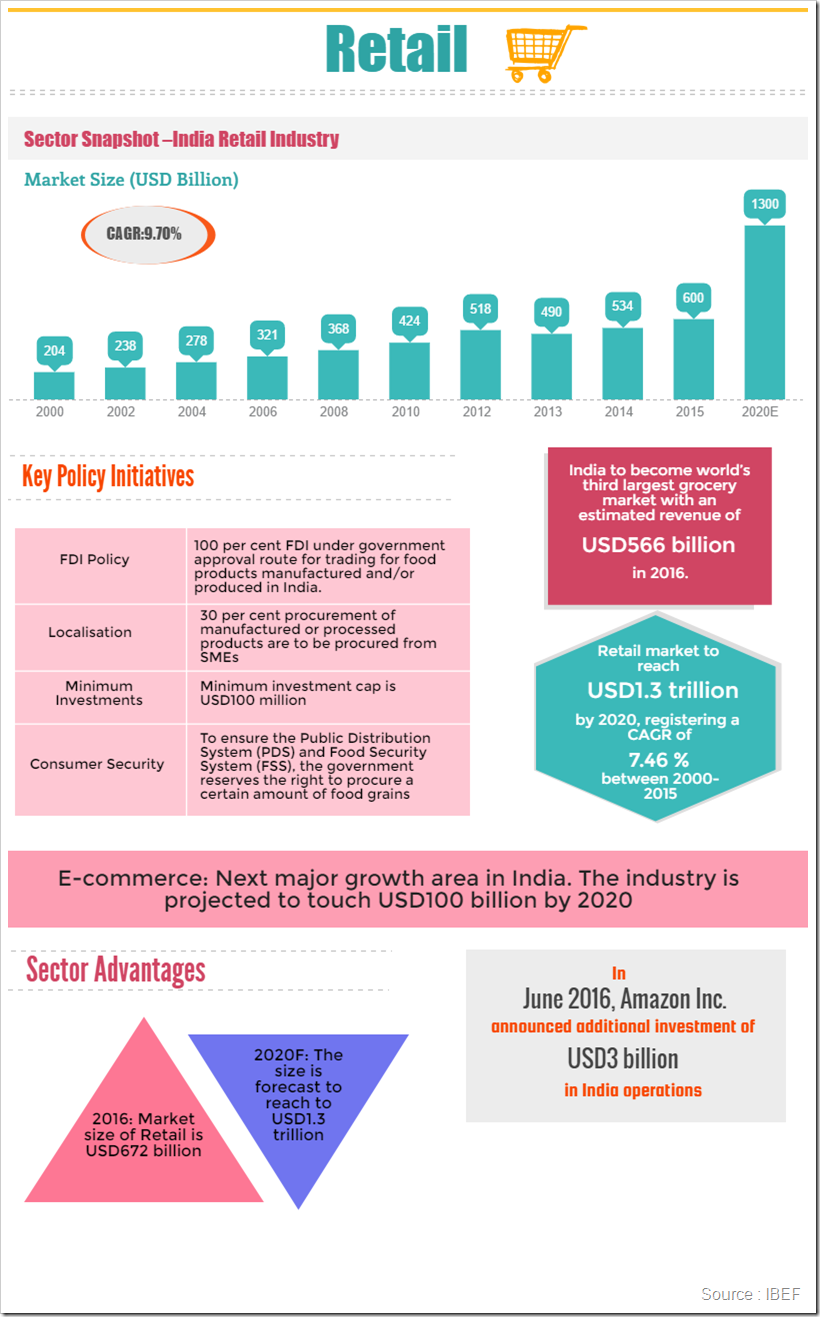 E-Commerce
India is expected to become the world's fastest growing e-commerce market, driven by robust investment in the sector and rapid increase in the number of internet users. Various agencies have high expectations about growth of Indian e-commerce markets. Indian e-commerce sales are expected to reach US$ 100 billion! by 2020 from US$ 30 billion in FY2016. Further, India's e-commerce market is expected to reach US$ 220 billion in terms of gross merchandise value (GMV) and 530 million shoppers by 2025, led by faster speeds on reliable telecom networks, faster adoption of online services and better variety as well as convenience.
Apparel sales has been witnessing a great jump in the last 2 years with lot of mergers and acquisitions happening in the industry. The Bangalore based Myntra is expected to touch an annual turnover of USD 1.6 billion in 2017-18 surpassing all major brick and mortar retailers. It controls about 60% of online apparel retail market alongwith its subsidiary Jabong. Amazon is making quick investments to capture a larger pie of this market followed by Reliance Ajio which has been created last year to dive into this fast growing segment of online apparel retail.
Apparel Tie-ups And Investments
With the rising need for consumer goods in different sectors including consumer electronics and home appliances, many companies have invested in the Indian retail space in the past few months.
US apparel retail major Gap Inc, has tied up with Arvind Group's fashion portal NNNow.com to sell its products online, which will help the retailer expand its presence beyond metros and tier-I cities.

Adidas India Private Limited, outlined plans of opening around 30-40 big flagship stores across Delhi, Mumbai and Bengaluru, by 2020.

Hennes & Mauritz (H&M), the Sweden-based clothing retailer, is in advanced talks with Mumbai-based Prakhhyat Infraprojects Pvt Ltd to lease around 275,000 square feet of space at Bhiwandi, Maharashtra, to set up its first warehousing hub in India.

Future Group has partnered with UK clothing and hardware retailer Laura Ashley to make and sell merchandise as well as wholesale distribution in India.

Amazon, has stated that India continues to be viewed as a long-term opportunity and the company would continue to invest aggressively in Indian operations.

Aditya Birla Fashion and Retail Limited (ABFRL) has announced that it will acquire exclusive online and offline rights of Forever 21, an American fast fashion brand, in the Indian market.

Massimo Dutti, a premium fashion brand from Spain offering sophisticated women wear, menswear, footwear and accessories, has entered India by opening its first store at the Select Citywalk mall in New Delhi.

Neil Barrett, one of the leading Italian fashion brands, has forayed into the Indian market by establishing its retail presence through an exclusive partnership with Fervour, a multi-brand boutique that stocks international designer brands.

New York-based designer brand Kate Spade will be launched in India later this year and will set up a network of stand-alone stores across major cities, thus becoming one more global brand entering the Indian retail space after the Government of India relaxed single brand retail norms recently.

Gurgaon-based e-commerce firm Shopclues has raised US$ 150 million from Singapore government's GIC and its existing investors Tiger Global and Nexus Venture Partners, at a valuation of US$ 1.1 billion, thereby becoming the latest among several e-commerce companies from India reaching a billion dollar valuation.

Adidas AG, renowned for its Adidas and Reebok sports brands, has become the first foreign sports company to get government approval to open 100 per cent foreign-owned stores in India.

Walmart India plans to add 50 more cash-and-carry stores in India over the next four to five years.

Aeropostale, an American teen fashion retailer, has chosen to enter India over China, and expects India to be among its top three markets over the next four years with revenue target of Rs 500 crore (US$ 74.12 million).

Textile major Arvind Limited has announced a partnership with Sephora, owned by LVMH Moet Hennessy Louis Vuitton, a French luxury conglomerate, in order to enter into the beauty and cosmetics segment.
Government Initiatives
The Government of India has taken various initiatives to improve the retail industry in India. Some of these are :
Government of India has allowed 100 per cent Foreign Direct Investment (FDI) in online retail of goods and services through the automatic route, thereby providing clarity on the existing businesses of e-commerce companies operating in India.

The Government of Andhra Pradesh signed pacts worth Rs 1,500 crore (US$ 222.36 million) in a wide range of sectors including retail and steel and gas with Walmart India, Future Group, Arvind Lifestyle Brands Ltd and Spencer's Retail, during the Partnership Summit in Visakhapatnam, while also unveiling a retail policy aimed to attract retail businesses to invest in the state.

The Government has approved a proposal to scrap the distinctions among different types of overseas investments by shifting to a single composite limit, which means portfolio investment up to 49 per cent will not require government approval nor will it have to comply with sectorial conditions as long as it does not result in a transfer of ownership and/or control of Indian entities to foreigners. As a result, foreign investments are expected to increase, especially in the attractive retail sector.
Road Ahead
E-commerce is expanding steadily in the country. Customers have the ever increasing choice of products at the lowest rates. E-commerce is probably creating the biggest revolution in the retail industry, and this trend would continue in the years to come. Retailers should leverage the digital retail channels (e-commerce), which would enable them to spend less money on real estate while reaching out to more customers in tier-2 and tier-3 cities. Both organized and unorganized retail companies have to work together to ensure better prospects for the overall retail industry, while generating new benefits for their customers.
Nevertheless, the long-term outlook for the industry is positive, supported by rising incomes, favorable demographics, entry of foreign players, and increasing urbanization. A number of merger and acquisitions have begun in Indian retail market. PWC estimates the multi-brand retail market to grow to $220 billion by 2020.A 2012 PWC report states that modern retailing has a 5% market share in India with about $27 billion in sales, and is growing at 15 to 20% per year.There are many modern retail format and mall companies in India.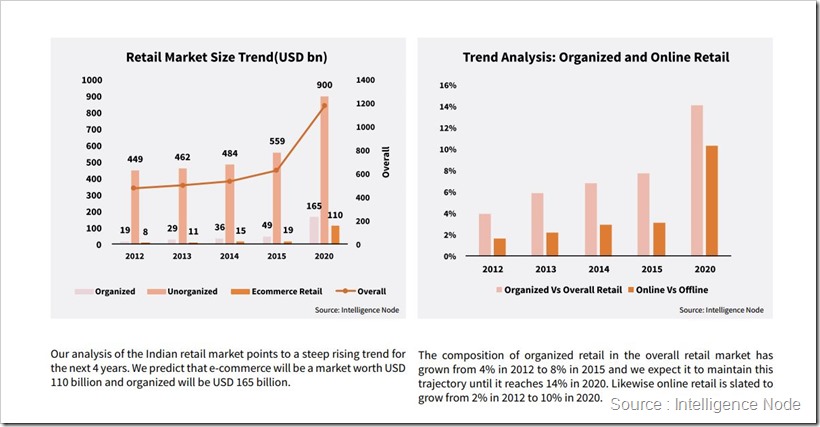 Impact on Denim Market
Denim is one of the most robust apparel category in India and India already has the distinction of being the second largest consumer of denim apparel after China currently . The market is expected to keep on growing over 10% p.a over a large base creating a huge market of over 900 million pcs of denim in 4-5 years. Online retail is expected to give a big fillip to the jeans consumption as Online retailers take this segment more and more seriously . Large apparel companies like Aditya Birla Fashion are expecting to double the sale of their jeans and other denim apparel in the coming 2 years.
GST- Goods and Services Tax | An Impact
The largest financial reform in India since Independence is kicking off on July 1 creating a single unified market in India controlled under a single Goods and Services Tax. About 15 types of taxes will be done away with and one single tax will be implemented in its place. This reform will have significant impact on all the businesses in India including the apparel business :
Organized retail will get a big boost as the implementation of GST will make it important for companies to come into the taxation system. Eg in Denim sector, less than 15% of sales are in organized sector. With the implementation of GST , the organized sector will significantly improve its growth enabling the organized brands and retailers to increase their sales considerably.

Creation of new apparel brands : As more and more players come from the shadows to the organized segment, the local unknown brands will gain recognition and new brands will be created .

Improved credit availability : The garment manufacturers will be able to get credit from banks more easily enabling them to buy directly from the source. Financing and risk coverage from the banks would be easier to get enabling credits to be available for longer periods at cheaper rates.

Imports will be cheaper : This will be a matter of concern for the local industry as imports of apparel and fabrics will get cheaper as the import taxes like CVD will be done away with .
On the whole, there will be huge changes coming in the Indian markets in the coming few months and will set tone for a leap forward for the retail markets in India and apparel would be one of the sectors most benefited with local and international players trying to vie for a bigger pie !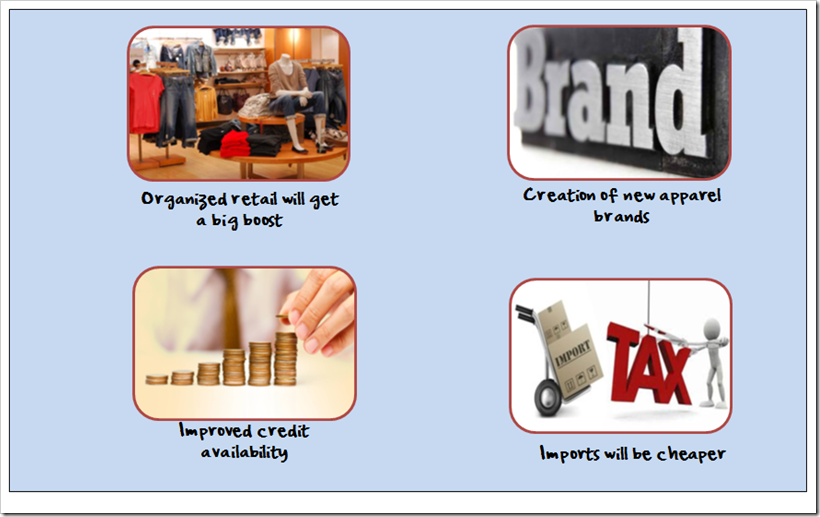 All theses researches and potential growth stories made Denimsandjeans India to believe that this is the right time to launch the India's First International Denim & Sportswear Supply Chain show to enable the global apparel industry to see the immense opportunity in the Indian Market . The show is scheduled on September 25-26 at Hotel Lalit Ashok , Bangalore with a theme – DENIM FLEXX MENN . Over 35 International and Domestic Denim Companies will be participating and will be exhibiting their latest collections and innovations . Some of the top international & domestic retailers including Inditex , H&M , Tesco , Levis from Europe and HongKong are expected to  visit at the show .For invitations please register at  www.india.denimsandjeans.com/invite . For more info , drop a mail at info@denimsandjeans.com .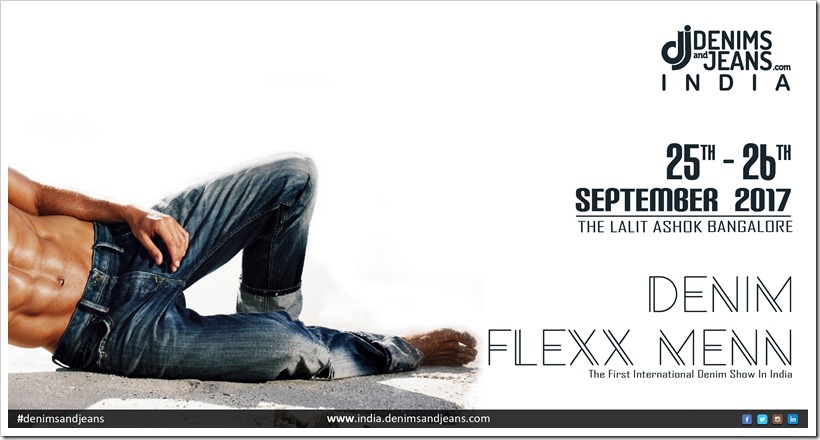 Source Of Data