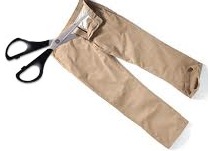 The retailers worldwide are resorting to increases in prices to make up for the increased costs – most of which have been attributed to the increase in cotton prices. Though the cotton prices have started to ease, the impact on the supply chain will be visible for some time to come.  As previously mentioned , GAP announced its forecast of reduced earnings leading to the largest fall of share price in over a decade . Businessweek now reports that the apparel brands are finding that they do not have much pricing power over budget conscious consumers and the only way to fight the increased prices is to cut costs .
Companies are resorting to "Deconstruction Experts" – companies who help to reduce the cost of the garment . These companies , eg Kurt Salmon – are helping a number of their clients to find the ways to cut costs without making the change felt to the consumers.
Various suggestions being given by these experts to cut costs. Fabric comprises as much as 50 percent of a garment's costs. Cutting it more carefully to reduce waste can reduce by a few cents, Zippers that come in a big roll are cheaper than ones custom-made for specific garments .Brown – Vice Chairman , Kurt and Salmons ,  recently examined a pair of men's khakis that sell for $29.50 and spotted a coin pocket. Eliminating it zaps a nickel, he says. Watch pockets are an easy cut, since few men use them anymore. So are logos and decorative stitching inside the waistband—visible to men only when they put on their pants.
However, this cost cutting cannot be taken beyond a point . The customers can easily switch over to another brand if they find cheaper plastic buttons, smaller pockets  or reduced quality of waistband or other visible changes.
However, i feel  that the brands/retailers which have been able to absorb these increased costs and have not made significant changes to their prices or product quality will be able to get the benefits in the next one year. The impact of increased prices of cotton is  going to go away as we are seeing the prices of cotton falling and the retailers will not have to work too much on cost reductions. We might see GAP's share price rising in the next 6 months again !!!!