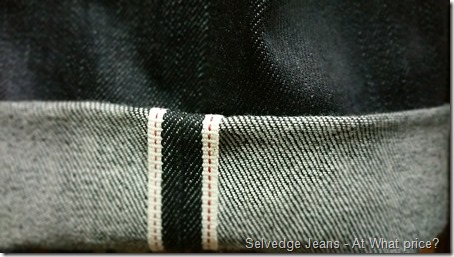 Selvedge denim is considered the epitome of denim craft and loved by connoisseurs and longed to be understood by the novices. The vintage manufacturing process of making this fabric on old shuttle looms – which are not maufactured any more – by master craftsmen adds to the mystery and enigma of the fabric. Connoisseurs wear it raw for as long as possible without washing and let the jeans create the story of their life on it with individualized patina . In short its just pure love for the denim heads . Japanese selvedge denim is famous for its quality and used by niche and boutique brands who create their masterpieces and retail at high prices – often going upto $300 or more. The price levels ensured that the normal consumers – who did not understand selvedge properly- kept away as they found it difficult to understand why these jeans should be sold at such prices when intricate dry and wet washing processes were also not applied on the jeans. Also there is limited supply of such fabric ensuring that the highest price consumers could get the fabric and maintain the price levels and the 'selvedge brand value'. Thus the enigma of selvedge denim sustained and ensured that only real denim heads would go deep down into their pockets to shell out the price for such jeans. But apparel industry has often been turned upside down by aggressive retailers who want to serve the masses with high fashion at most affordable prices. Selvedge denim being a small niche remained away from the radar of such mammoths and ensured it remained accessible to few. However, there is a paradigm shift when you find that mass retailers can lay their hands on such premium products and sell them at their normal retail prices. We give below prices from few different retail brands who are selling selvedge denim in Europe (Spain and France) at prices which were unimaginable before. Most of them have tried to introduce different versions of selvedge including blacks, stretches and other variants. We just mention one or two variants from each.

Pull and Bear , a part of Inditex  Group, is getting aggresive in this category and retailing at Euro 29.90 in Spain . With prominent slub character in the warp the and low crotch , the jeans is again a cool addition to their portfolio and retails at the lowest price among the retailers checked out.. It was quite an unexpected price specially considering that there were no special sale schemes going on.

Uniqlo has grown on the strength of its excellent sourcing capabilities and is able to sell high quality products at reasonable prices. They are supposed to be using mainly Japanese fabrics in their selvedge lines and  were currently retailing  at Euro 39.90/- . A deep dark color slim fit jeans with high sheen and in raw finish is available at this price. The jeans are available in washed versions also to satisfy the uninitiated customers but it really makes no sense to prewash the selvedge jeans.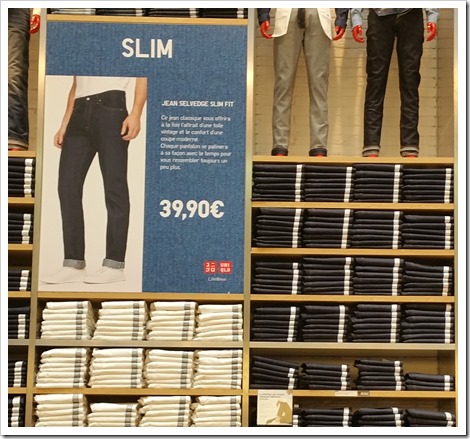 Strange thing was that the retail price for these jeans was same as that of their normal jeans with non-selvedge fabrics. So basically, there was no premium charged for the selvedge and they were not retailing the jeans as special quality deserving special price point.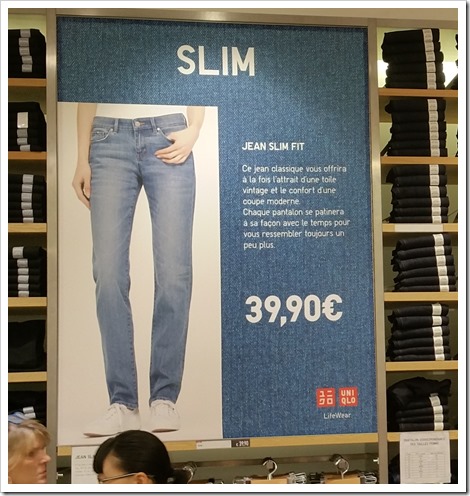 H&M selvedge jeans were found to be priced at Euro 49.90 , the jeans are again ones with a clean look with deep mid shades and a nice indigo sheen . They were  more expensive than the Uniqlo and Pull and Bear – though really it cannot be claimed that the quality difference can be justified. Again not a special price for Selvedges.

C&A retails their selvedge line of jeans at Euro 49 – same as H&M in deep indigo as well as very light indigo shades. The quality of make up did leave something to be desired as that typical selvedge look was missing. But it is also to be understood that these retailers are trying to sell these jeans to normal consumers who want normal jeans look in their jeans.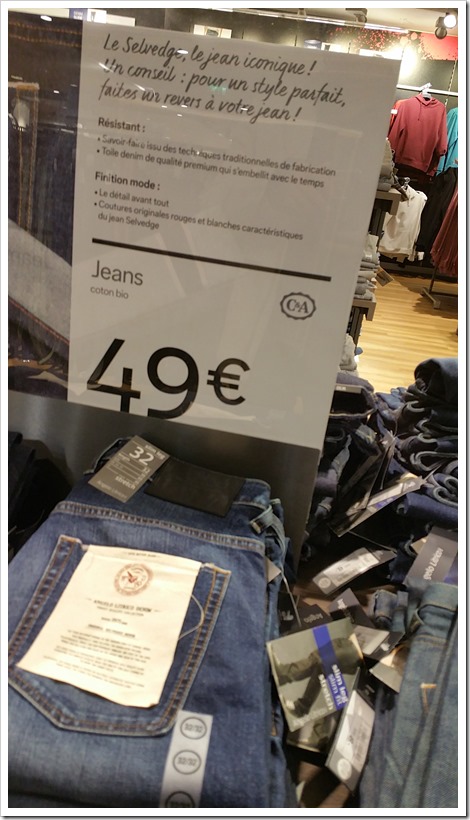 As a matter of curiosity , we also explored Levi's store to see at what levels are they placing their selvedge jeans. Priced at Euro 109.90 the jeans were much more expensive than the above three. But then , Levi's is a denim pioneer with a high brand value among its fans and does get the benefit of the strength of its brand recognition. This was definitely a special price as a selvedge jeans. So basically , only Levi's (among the above) placed selvedge jeans as a special category deserving a higher price.
How are mass retailers able to sell their selvedge jeans at such prices?
Normally selvedge denim fabrics are supposed to be quite expensive . Japanese selvedge denims normally start from $8 per mtr and go much above , Turkish fabrics are slight lower, while many Asian mills are selling at still lower prices. The difference at two ends could be over 100%. But still it does not justify the price differences at retail level (from Euro 30 to over Euro 400 ) if we do not consider the brand marketing and markup strategies.
But then the question does arise – what would be the future of selvedge jeans if the mass retailers are able to make impact on the selvedge jeans . Would it be easy for the niche and premium brands to sell their selvedge jeans easily at prices they are currently selling at ? Will they be able to convince their customers that their fabrics and quality are so much superior that they can command the price difference ?
The retail price difference of a jeans can possibly be – in a very crude way –  attributed to 3 different parameters – fabric quality, make up quality/fit and brand value. If the consumers perceive that the fabric quality and make up quality differences are not much , would they be paying huge difference for the brand value – specially considering that washes do not play much of a role in selvedges. Of course , it is not easy for most to define the quality difference easily  and its difficult to calculate the value of a brand for a consumer as it is a very deep and personal preference , it is quite likely that some consumers could cross the fence. Also there would be new consumers who had never before tasted the selvedge denim and would be entering the hallowed precincts by checking out what this hullaballoo is all about.
Anyway, we see the positive side and hope there is more of selvedge jeans available and this category expands with the efforts of these retailers and that the customers worldwide would appreciate a real selvedge is and what it really stands for.
As a closing note, our personal preference from the above 5 selvedges was Uniqlo – for its clean , crisp quality, deep color and that real selvedge look.