Fashinza is a B2B manufacturing marketplace that solves apparel/fashion supply chain challenges by connecting fashion brands to experienced manufacturers. Fashinza is a creation of diverse team of individuals united by a shared love for technology and sustainability. Their leadership comes with 15+ years of experience in the fashion and IT industries. The Co-Founders – Pawan Gupta, Abhishek Sharma and Jamil Ahmad – launched Fashinza to solve the existing challenges which make the fashion supply chain inefficient, rigid and unethical.

As Fashinza joins our Denimsandjeans India show , we speak to one of the founders – Pawan Gupta – to find what really is Fashinza doing and how they intend to solve the myriad problems in the fashion industry including denim.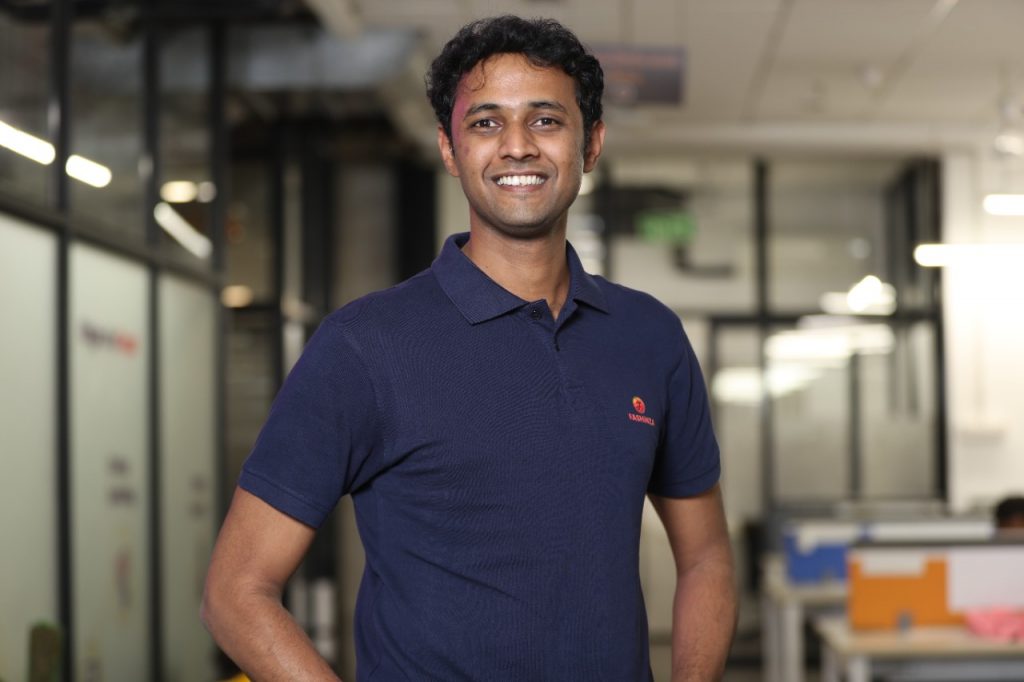 Fashinza is a B2B manufacturing marketplace that solves apparel/fashion supply chain challenges by connecting fashion brands to experienced manufacturers.
Yes, Our recent funding announcement of $100Mn created a buzz in the media across the globe.
Fashinza is an AI-driven B2B marketplace that seeks to fix manufacturing for fashion brands and retailers. We are creating a 21st-century supply chain for fashion that is fast, transparent, and sustainable — all through a single-stop technology-powered platform.
Global brands can find vetted cloud-connected manufacturers, browse exclusive designs, place bulk orders online, monitor daily production status, and chat with manufacturers directly through our platform. Our FactoryOS powers assembly lines in small to mid-sized factories with a powerful mobile-driven AI platform that completely digitizes the shop floor and helps them tremendously improve efficiency, quality, and speed. Fashinza allows brands to cover as low as 50 pcs with turnaround times as fast as 45 days.
What weaknesses do you see in the current sourcing model which necessitate bringing an alternative one?
The current sourcing model is not designed for scale without human intervention. A typical sourcing cycle involves numerous calls, e-mails, visits, and multiple back & fourth process to arrive at closure. All of this creates a lot of unnecessary redundancy and dependency. This is further compounded by the fact that inventory is still not "just-in-time" and a lot of brands have to deal with shortages or excess inventory at the end of the season. That is where we come into the picture, our control and predictability over the production process help brands plan better, keep a tab on red flags, and reduce wastage.
How has been your client experience at the platform till now and how do you want to improve it further
We've had success in getting brands to use our platform to place and manage orders. At the same time, our supplier also likes the fact that there is a single platform to deal with all the ongoing queries and order management. From here on, we are looking to double down our efforts towards a mobile-first approach to entire order management along with deep tech integration like RFID scanning, and line planning to improve the predictability for our customers.
With a huge series B funding of $100 million recently and perhaps many more to come, how do you Fashinza's growth in the coming 1 year
Yes, We will invest our series B funding in two primary areas: supply chain technology and expanding our base globally. This means that we aim to:

Create a sustainable (i.e., net positive) supply chain by 2030 that doesn't cost extra
Invest in deep supply chain technology, IoT, and Industry 4.0 solutions for SMB manufacturers
Expand our presence in the US
Expand the supply chain in India, Bangladesh, Vietnam, Turkey, Central America, and hopefully the US
You are participating in our Denimsandjeans India show in Bangalore. What would be your main focus during the show and what do you expect during the same.
Our main focus is to collaborate with relevant brands to understand the current challenges & pain points of their supply chain & sourcing issues. Also, it will help us to exchange ideas and innovations happening in the industry.
How can Fashinza help the denim industry become more efficient?
Yes, We are helping brands from denim category to be more efficient on
1. Pricing: we can bring technical know-how of what is happening in the supply chain from across the world (China, Bangladesh, Vietnam, etc.) – which will reduce costs for suppliers and eventually, to the end buyer.
2. Production Time(TAT): We are giving the entire design to delivery solutions for buyers with our catalogue launch, on ready fabrics – which eventually reduces TAT for any delivery.
3. Low Quantity (MOQ) – we have capability to do low MOQs – which reduces a brand's working capital requirements
Can you delve more into the AI behind the Fashinza platform and how specifically it works to help address supply chain issues in the fashion industry?
Manufacturing is a very data-intensive process. In absence of data, people rely on their intuition to make decisions and more often than not end up with suboptimal outcomes. With our FactoryOS, Fashinza's AI technology, we are bringing data-driven decision-making and projections to SMB fashion manufacturers. We use data to optimize quality checking, assembly line planning, throughput projections, and matching the right suppliers based on 80 different parameters. The result is that Fashinza FactoryOS-powered factories have very low quality-related wastage, higher throughput, and higher profitability while being faster, reliable, and automated.
To know more about Fashiza and to meet them at Denimsandjeans Show in Bangalore on June 8-9, 2022 ,